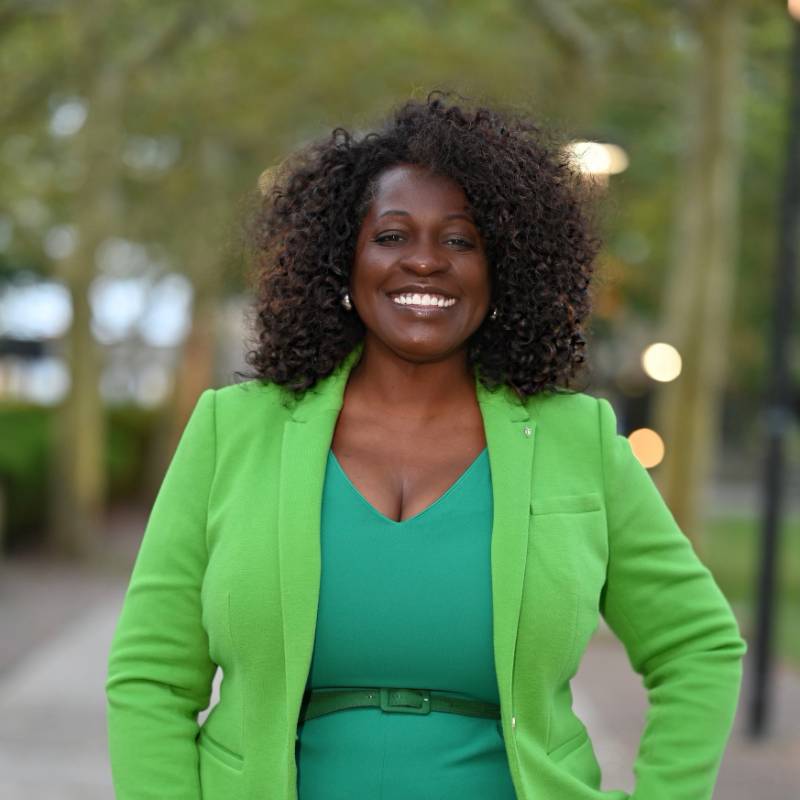 Claudia V. Schrader, MA, Ed.M., EdD
Dr. Claudia V. Schrader took the helm as president of Kingsborough Community College (KCC) of The City University of New York (CUNY) in September 2018. She is the College's 7th president, and she holds the distinction of being the first African-American in the College's history to hold that office.
Education has served as a vehicle for Dr. Schrader. She was born and raised on St. Croix, the largest of the United States Virgin Islands. She earned her undergraduate degree from Rutgers University and her Master of Arts, Master of Education, and Doctorate of Education from Columbia University, Teachers College. Dr. Schrader also obtained a certificate from the Institute for Educational Management at the Graduate School of Education at Harvard University.
Prior to becoming president at Kingsborough, she served as provost and senior vice president at Bronx Community College, CUNY; as associate provost at William Paterson University of New Jersey; and as associate provost at Medgar Evers College, CUNY, where she also held faculty rank with tenure. Dr. Schrader also taught as an adjunct at Teachers College, Columbia University, Bank Street College, and the College of New Rochelle. Her professional service includes serving as a peer evaluator for the Middle States Commission on Higher Education; membership on the American Association of Community College's (AACC) National Council for Black American Affairs; and a 3-year term on the AACC Commission on Diversity, Inclusion and Equity.
In 2021, the Aspen Institute College Excellence Program selected her as one of 25 leaders for the 2021-2022 class of the Aspen New Presidents Fellowship. Dr. Schrader currently serves on the Boards of ITHAKA and the Higher Education Resource Services (HERS). Dr. Schrader was recognized as one of three recipients of the 2022 AAC&U-Cengage Inclusion Scholarship. Awarded by the American Association of Colleges and Universities (AAC&U) and education technology company Cengage, the scholarship is awarded to currently serving campus presidents in recognition of their outstanding leadership to advance equitable liberal education. In 2021, she inducted into the Rutgers African American Alliance Hall of Fame and was recently named as part of the Power Women of Brooklyn an honor for women who make Brooklyn the thriving and vibrant place it is to work, live and do business.
Dr. Schrader believes strongly in giving back to her to both her local and global community. Recognizing that incoming students were missing out on the excitement of beginning their college experience on campus, in 2020 she created the KCC Welcome Wagon. Dr. Schrader traveled around Brooklyn and throughout NYC's other boroughs to meet incoming students at their homes and jobs to welcome them to KCC and assure them that they would find KCC and its President accessible, available, and ready to support their success. Her efforts have been featured in the NY Daily News, InsideHigherEd.com, Forbes, Positive Community Magazine and in number of other local newspapers. Dr. Schrader is a Life member of Alpha Kappa Alpha Sorority, Incorporated® and is an active member of the Eta Omega Omega chapter in the Bronx, where she has served as Recording Secretary, co-chair of the Rites of Passage Program for Teenage Girls and chair of the Leadership Committee. Since 2006, she has served her global community as a volunteer with the Habitat for Humanity Global Village program, building 21 homes throughout countries in Africa, Asia, Central America, and Southeast Asia.