Office of Institutional Effectiveness
Strategic

Planning
Kingsborough Community College's Strategic Planning process is crucial in ensuring that the College is always working toward its mission of offering high quality, affordable, innovative, student-centered programs of study that prepare graduates for transfer and the workforce. The process involves taking a look at the history, past, and future of the College and determining the needs of our diverse students, faculty, and staff, and using that look to set goals and develop strategies that will meet those needs.
Strategic Planning starts with the strategic roadmap of the City University of New York. The newest version of CUNY's Strategic Plan is CUNY Lifting New York, which was approved in Summer 2023. This document provides direction to the University system as a whole and ensures that each individual College is working alongside the other Colleges to ensure student success.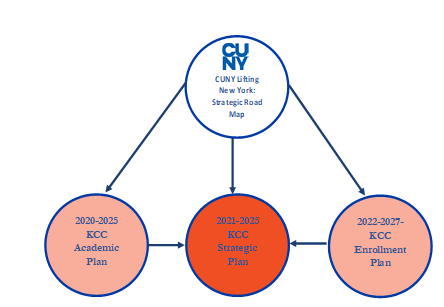 In Spring 2022, Kingsborough Community College approved its current College-wide Strategic Plan, which is used to guide the work of all areas in the College and ensure that each area of the College is working together to meet our goals.
In addition to this over-arching Strategic Plan, the College also has more targeted plans which work alongside the Strategic Plan and focus on specific aspects of the College's function. The Academic Plan specifically focuses on academic aspects of the College, and the Vision 2023 Enrollment Plan specifically focuses on streamlining and enhancing work related to recruitment, admissions, and enrollment.
Strategic Plan 2021-2025 CUNY Lifting New York: Our New Strategic Plan KCC 2020-2025 Academic Plan KCC 2023-2027 Enrollment Plan