The Men's Resource Center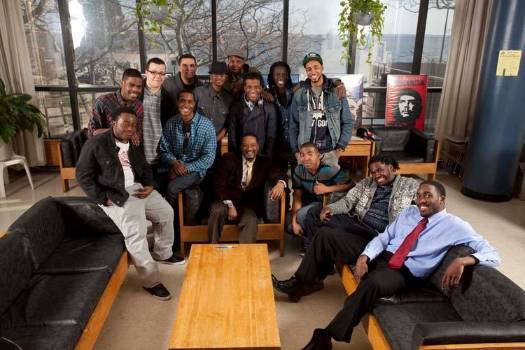 The Men's Resource Center at Kingsborough community college provides academic and peer support to self-identified men of color to help empower them and improve their college experience.


We help students achieve their goals through:
Peer to peer mentoring
Intensive academic supports
Networking with other students Career exploration
Cultural and educational focus trips and activities
Lending library
Open house for all students each semester
Men's support group
Programs
Summer and Winter Institute:
The aim of the Winter and Summer Institute is to introduce incoming freshman and continuing students to academic and cultural experiences designed to solicit critical thinking and problem solving in the areas of history/philosophy, mathematics and literacy. Students read and analyzed excerpts in selected areas of history/philosophy and literature, and participated in classroom discussions. Written assignments were drawn from readings and discussions. Instructions in writing skills were provided as students complete written assignments. The goal of the institute is to engage incoming and current MRC student's in an effort in increase student recruitment and retention. Instruction was designed to strengthen participants' critical thinking skills and address the social and cultural obstacles confronting them.
Mentoring:
Our professional mentors are a diverse group of college Mentor's that will work one on one with mentees to manage the academic challenges financial aid issues and social aspects of the college experience. Our peer mentors are fellow students who have already achieved some success at KCC. They will listen to concerns, share their experiences, and help create your own path. Students who become men are responsible, committed and motivated.
External Mentoring Partnerships
Multicultural High School
The MRC has collaborated with Multicultural High School to offer an on-site mentoring program. Members of the MRC visit Multicultural High School weekly to facilitated a series of workshops for their at-risk students. This partnership culminated in a visit by students from Multicultural High School to Kingsborough Community College on June 3, 2018.
Olympus High School
The MRC began a collaboration with Olympus High School, located in Canarsie, Brooklyn. The MRC conducted 8 workshops focused on the socio-emotional development. Student received 1 credit in either, English, Health or Gym to participate in the program.
Workshops:
The Men's Resource Center runs a series of academic & professional workshops designed to engage and activate student in order to create self-awareness and instill a sense of direction purpose in our students.
M.I.T.: Men in Thought
This introduction to Philosophy course is facilitated by Professor Joseph Terry, from the Philosophy department at Kingsborough Community College. Men In Thought is strategically walks students through a critically and reflective examination of philosophical ideology's specifically Platonic Philosophy.
Student Lecture Series
A weekly interactive lecture session that is student led and facilitated by an MRC student volunteer. Students are encouraged to take a leadership role and lead a discussion with their peers. Student provide informational lectures on a variety of topics that speak to the interest of their fellow students.
"Be the Leader" Workshop Series
Developed by the MRC Program Manager, this introduction to leadership series is designed to enhance a participant's overall leadership capabilities, improve leadership skills and promote leadership opportunities at Kingsborough.
MRC Men's Support Group
The MRC has launched, under the guidance of Gerald Maître, a support group designed to help young men better understand themselves and the world around them. The group meets each Wednesday during the Spring and Fall semesters at 3:00 p.m.