INFORMATION SESSION
Join us on 12/18 at 12pm or 6pm for an Information Session that will allow you the opportunity to hear from program directors, ask questions and learn about our Early Bird special!
Register Now
Dear Community,
Welcome to the Division of Workforce Development, Continuing Education and Strategic Partnerships. We are committed to providing quality, affordable, and accessible learning opportunities to all those within our community. A student-centered focus is at the core of the workforce training, adult basic skills, and continuing education programs and support services. Our programs are developed through the strong collaborative effort of both industry relevant advisory committees intentionally aligned with workforce recognized certification- all to give you the best opportunity in meeting your academic, personal and professional goals.
Now is the time to prepare for that next step in an in-demand industry, learning English through our ESL programs, earning your GED or any of the varied options we offer for lifelong and continued learning.
We hope you find our e-catalog useful and informative in helping you reach your goals.
Dr. Simone Rodriguez
Vice President, Workforce Development, Continuing Education & Strategic Partnerships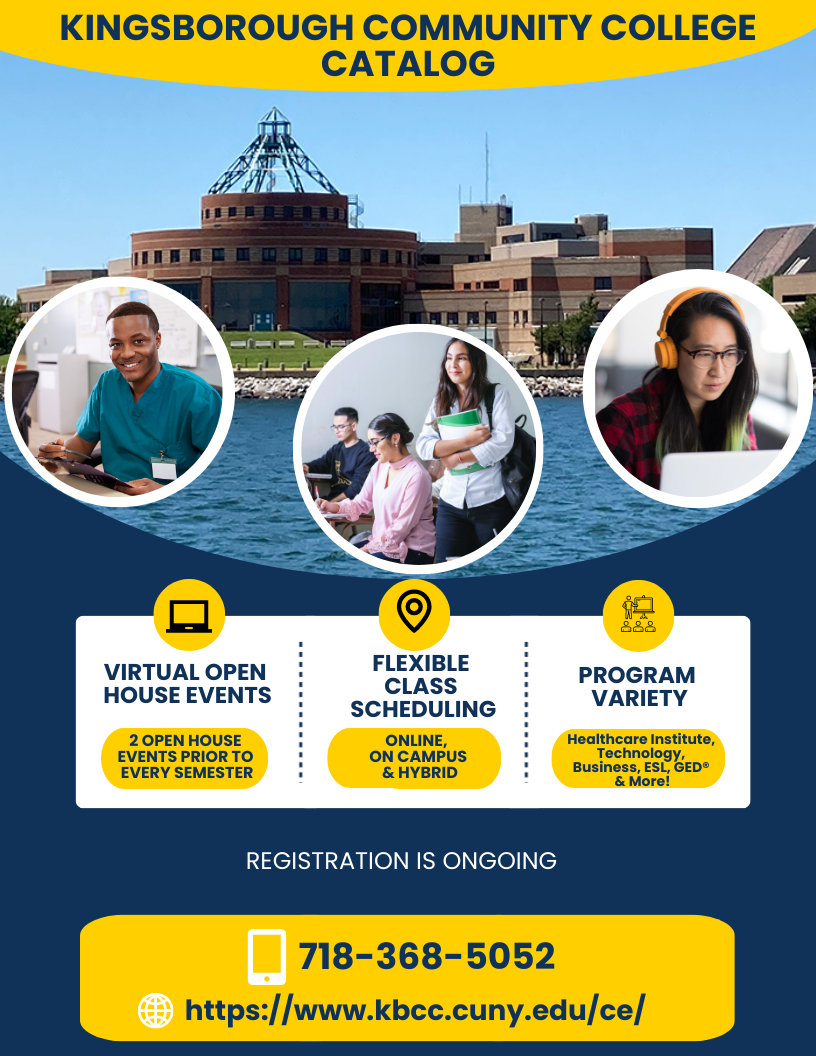 CATALOG
Continuing Education Program
---
The Office of Continuing Education designs its programs to accommodate the needs of working professionals by offering flexible schedules, small class sizes and affordable tuition. Through a wide range of comprehensive certificate programs such as Healthcare, Accounting, Paralegal, Event Planning and EMT, we are committed to providing salient career opportunities in a challenging job market. Register for classes today!
Ready to be a student? Student Success 101
Room T4141
For information call (718)368-5052
To register over the phone call (718)368-5050
Request a Certificate
VIEW/DOWNLOAD CATALOG
Student Testimonials:
"I want to express my sincere thanks for all that my instructor did to make this class such a success. With his help and encouragement I could achieve what I did. He was always ready to help, sharing his experience and patience to explain everything I needed. I will always be grateful of his support, inspiration and everything he taught me. I am happy I had a chance to spend all those 5 months with such a fantastic instructor."


-Anonymous-
"Wanted you to know that I took the Notary Public exam and received a notice last Friday that I passed Yayay!Thanks to your course, Prep for the Notary Public Exam, at Kingsborough Community College, I passed the exam. Your anecdotes, test-taking techniques, and more provided me with solid foundation (and confidence) to do well and advance my career."


- Sara
"I learned about your program from a friend who introduced me to College For Kids. I have been in awe ever since. My son loves your program and I could not be any more pleased. This program has truly made an impact on my son's life and for that I am grateful."


- Sabine B Justete