Welcome to the Access Ability Services webpage.
Here you can find information about our services, how to register with us, request accommodations, our polices, how to contact us and much more. To find out more about us click the + In This Section to access the other pages on our site, Home would be a good next page to visit.

CURRENT AAS STUDENTS
For current students already registered for our services that wish to make use of our services, please reach out to our office by calling 718-368-5175, emailing us at aas@kbcc.cuny.edu, or emailing your counselor directly (check our contacts page for the email addresses for our entire staff).If you would like to make an Accommodation Letter Request, Test Request or request that in-class or other accommodations be arranged, please log in to Accommodate, the system we use to manage requests.
NEW TO AAS
To sign-up for services, students need to complete our AAS Application for Academic Accommodations Once we receive the application and supporting documentation, our counselor will review for processing. Applications can take 2-3 weeks to process. We will send any follow-up emails to the email address included on the application so please be sure to include a working email address. We encourage you to review this webpage to find out more about the services provided through AAS. Should you have any questions regarding the application process or need assistance with completing it, please call our direct line 718-368-5175 or email us at aas@kbcc.cuny.edu. Virtual meetings may also be arranged. You should NOT submit disability-related documentation to any other KCC office and/or individual. AAS is the only office on campus with the authority to receive and process applications for accommodations. We wish you safety and health in these trying times. Access-Ability Services.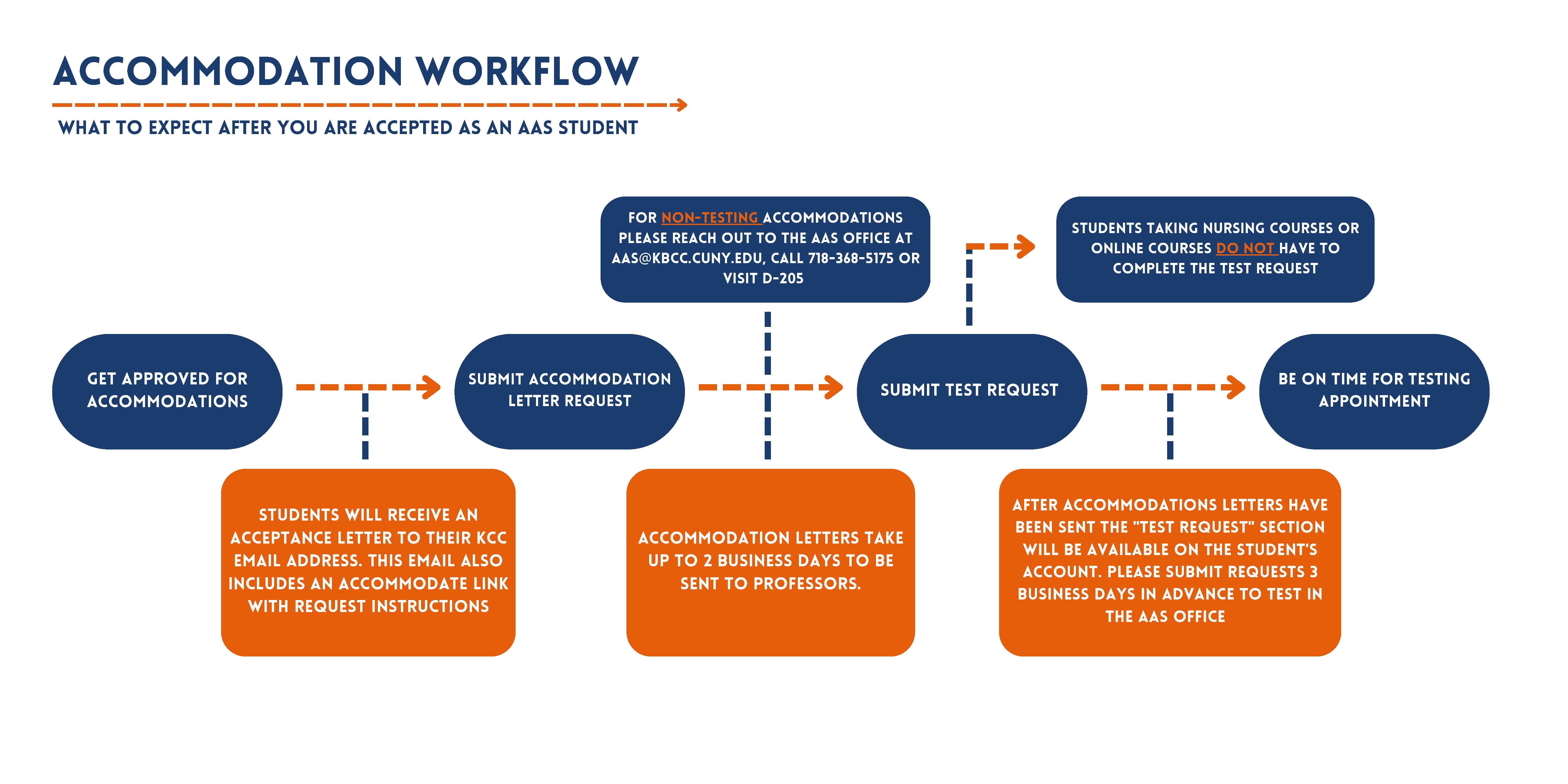 Accommodation Workflow of Using Testing Accommodations as an AAS Student
Get Approved for Accommodations by applying at https://kbcc-accommodate.symplicity.com/public_accommodation/

Students will receive an acceptance letter to their KCC email address. This email also includes a guide to using Accommodate with instructions on how to make requests through the Accommodate system

Submit accommodation Letter Request so that your professors are aware of your accommodations

Accommodation Letters take up to 2 business days to be sent to Professors
After Accommodations Letters have been sent the "Test request" section will be available on the student's Accommodate account.

SUBMIT TEST REQUEST when you have an exam you will be taking in person (Please submit requests 3 business days in advance to test in the AAS Office)

Students taking Nursing or online courses do not have to complete the test requests, accommodations will be provided by Nursing Department or by professor in the case of online courses

Be on time for testing appointment
For non-testing/In-Class accommodations

check in with AAS at the below contact information to arrange these accommodations