Employer Information
Kingsborough Community College welcomes the opportunity to work with all businesses and organizations. For over 25 years, we have held career-based events that bring together students and recruiters. The response from each event has always been overwhelmingly positive. The Career Development Center is always interested in hearing from you about how we can work with you more effectively.
Join us for career fairs and special events (

Employer Registration Form

)
Post jobs and internships on Handshake
Participate on guest speaker panels
Staff a table to recruit students in a high traffic areas on campus
FALL JOB FAIR
Register for the On-Campus Fall Job Fair on September 27th here:
https://www.kbcc.cuny.edu/career/jobfairform.html
The Fall Job Fair assists New York Area businesses with getting ready for the busy Holiday Season as well as providing students with needed part time and full time employment. In the past, the program has attracted a turnout of over 300 students and has helped companies fill their staffing needs.
SPRING JOB FAIR
The Spring Job Fair is designed for students who are looking for part time and full time positions in their career fields, but also students who are seeking summer employment and internships. This fair also attracts over 300 hundred students.
ON-CAMPUS RECRUITMENT
Many companies, organizations, and agencies maintain a visible presence on campus throughout the academic year by setting up a table to meet with our students to disseminate information about their organization and actively recruit interested students. If you are interested in setting up on-campus recruitment, please complete and return the form below with a list of preferred dates and times.
TARGETED RESUME REFERRAL
Targeted Resume Referrals enable the Career Development Center to directly submit students' applications and resumes to companies and organizations that match their interests. If there is a position you would like to fill using this process, the Career Development Center can provide you with resumes and arrange on-campus interviews with those students who meet your employment criteria.
PANEL DISCUSSIONS
Panel Discussions allow students to hear from representatives from various organizations on trends and employment opportunities within certain industries. The ability to meet with representatives allows students to gain insight and help guide them with their career exploration. Students are also given the opportunity to ask questions of the featured panelist.
INFORMATION SESSIONS
Information Sessions allow employers to meet with students in a group setting to discuss possible job opportunities with the organization. Employers can share information regarding the organization's mission, culture and expectations, as well as, the application process. Students have the opportunity to ask questions of representatives prior to an interview. Information sessions are an excellent way to share information about your organization in an informal setting.
During the academic year, the Career Development Center arranges visits to various New York City companies. Students have the opportunity to meet current employees, tour facilities, and familiarize themselves with professional environments. If you are interested in having KCC students visit your organization, please email us at
careerdevelopment@kbcc.cuny.edu
.
Policies
All employers must be deemed legitimate organizations with verifiable: business name, physical address, email address, phone number (website is desirable) and the name of a contact who can be reached at the address listed and by telephone and email.
All employers must agree to the National Association of Colleges and Employer (NACE) Principles for Professional Conduct.
Upfront Costs or Required Activities
We will not post positions requiring students to pay special fees, purchase training materials, or participate in multi-level marketing as a preliminary condition of employment.
Accuracy of Job Description
Employers are responsible for ensuring that their job or internship description is an accurate reflection of the duties of an employee.
Discriminatory Practices
Federal laws prohibit job discrimination based on race, color, sex, national origin, religion, age, equal pay and disability. These guidelines are available from The U.S. Equal Employment Opportunity Commission. In addition, The New York City Human Rights Law prohibits discrimination based on gender (including gender identity and sexual harassment), sexual orientation, marital status, and partnership status. As part of CUNY, Kingsborough also adheres to The City University of New York Non-Discrimination Policy, which "is committed to engendering values and implementing policies that will enhance respect for individuals and their cultures." The Career Development Center will not post positions which do not adhere to any of these non-discriminatory guidelines.
Safety
Employers will offer students a safe and appropriate work environment for students.
Harassment
Employers will not engage in sexual harassment as prohibited by the Policy Against Sexual Harassment of the City University of New York available here.
For more information contact:
Marisa Joseph
marisa.joseph@kbcc.cuny.edu
Director, Career Services
Kingsborough Community College
2001 Oriental Boulevard
Brooklyn, NY 11235
Phone: 718-368-5115
Fax: 718-368-5366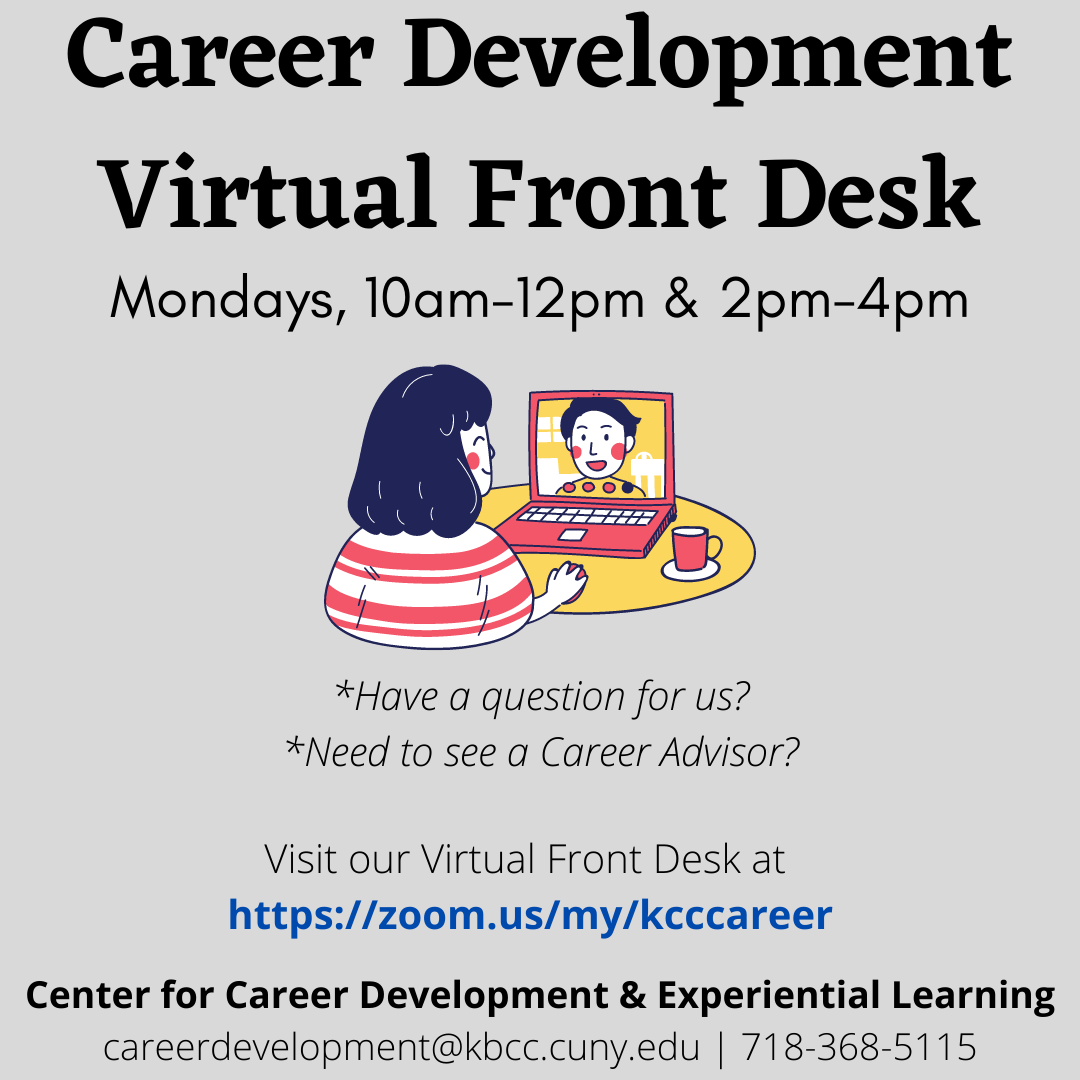 Follow Us On:
Stay current with up to the minute news on all our services and programs.