Welcome Students
The Center for Career Development & Experiential Learning offers various resources to assist you with your job search and career exploration. In addition to this website, we offer many different opportunities for you to develop your career goals including help with choosing a major, workshops, internships, and job search assistance. Career Advisors are available to give you individualized assistance. Appointments are from 9:30am to 4pm and typically last between 30 minutes and an hour. To make an appointment with an advisor, email careerdevelopment@kbcc.cuny.edu, call 718-368-5115 or visit us in Room C-102.
Programs and events, which allow students to explore various career opportunities, include the following:
One-on-one counseling oriented to explore issues related to values, interests, skills, training and career goals. Incorporated into the individual career counseling sessions are vocational assessments such as the Strong Interest Inventory, Resume and Cover Letter review, Job Search Strategies, and Interview Preparation including Mock Interviews.
Want to know what occupations match your interests, values, skills, and personality? Check out the assessments and find out.
Myers Briggs Type Indicator
The MBTI assesses personality preferences which may help identify occupational settings most compatible with an individual's personal style.
Strong Interest Inventory
The Strong Interest Inventory examines the relationship between a variety of interests (i.e., school subjects, amusements, occupations... etc.) and careers which may satisfy those interests.
Career Coach
Discover majors and in-demand careers and education based on your interests!
The following workshops are offered weekly for our students as well as classes concentrating on Interview Skills, Job Search Strategies, Resume and Cover Letter writing and Choosing a Major:
Resume-athon!!!!
Learn to develop and design a professional, marketable resume that will be well received. This workshop will cover content and information what employers are looking for in a resume. Bring in a rough draft and get suggestions for how to make improvements.
How to Land a Job
Can't find a job? Attend this workshop to learn the ins and outs of an effective job search. Find out how to utilize networking as a job search technique and to identify the most successful job search strategies you can use.
How to Ace an Interview
How do you prepare a personal pitch? How do you respond to challenging interview questions? What questions should you ask and avoid asking? How do you close the interview? This workshop will allow students to learn the steps to follow before, during and after the interview to increase your chances of landing the job you want.
Major Confusion
Choosing an academic major? Planning your career? Discovering and clarifying your values can help provide a focus for academic, career, and life decisions. This workshop is designed for students who are uncertain about their choice of a major. It will also aid you in exploring different major options here at Kingsborough.
Navigating the KCC Jobs Board
Introduction for students to our on-line Jobs Board (powered by College Central Network). Students will be shown how to register for the program, how to upload their resumes and how to search for jobs.
Getting the Most Out of a Job Fair
The scene can be overwhelming, hundreds of people navigating through dozens or hundreds of exhibition tables filled with potential employers. This workshop will provide with techniques on how to approach a job fair and work through the various employment opportunities.
Internships 101: The Nuts and Bolts of Landing a Great Internship
Students and employers alike can mutually benefit from internship arrangements. In this workshop, students will learn about: what an internship is, the benefits of including an internship experience as part of their career exploration process, effective strategies for landing a great internship, and making the most of their selected internship.
Career Planning In A Tough Economy
The current economic crisis presents challenges for students and recent graduates. In today's job market, it may take longer to find a job than in previous years. What knowledge and types of experiences should students be obtaining in order to be competitive candidates? This workshop highlights "recession-proof" fields, how to search for jobs, the importance of an internship, and how to properly network.
Social Media Etiquette
Is what you are posting on social media sites important? And can you find a job through social media sites? The answer to both is yes!!! This workshop will highlight how companies are examining social media of potential employees, as well as help participants understand the utility of social medial sites in networking and finding a job.
Professional Etiquette


Learn the basics of workplace etiquette that will make you a successful employee as

you start your career
Would you like to request a workshop for your club? Complete our Workshop Request Form and we will gladly present one of the workshops above or customize a presentation for your needs and at the time that best works for you!
You can also check out our Videos (http://www.kbcc.cuny.edu/career/videos.html) for additional content.
FALL JOB FAIR
The Fall Job Fair assists students with landing jobs in the New York Area businesses for the busy Holiday Season as well as providing students with needed part time and full time employment.
SPRING JOB FAIR
The Spring Job Fair is designed for students who are looking for part time and full time positions in their career fields, but also students who are seeking summer employment and internships.
Students can apply directly for career opportunities, posted by various employers, by posting their resumes on our online jobs board powered by Symplicity. Students can also view upcoming events on this web site.
Sign Up for Career Wave
On-Campus Recruitment allows employers to disseminate information to students about employment opportunities. Students are able to learn about a variety of job opportunities. On occasion, on-campus interviews are also conducted. To find out about who is scheduled to recruit, visit C-102.
Panel Discussions allow students to hear from representatives from various organizations on trends and employment opportunities within certain industries. The ability to meet with representatives allows students to gain insight and help guide them with their career exploration. Students are also given the opportunity to ask questions of the featured panelist(s).
During the academic year, the Career Development Center arranges visits to various New York City companies. Students have the opportunity to meet current employees, tour facilities, and familiarize themselves with professional environments. For more information, students can drop-by our office (C-102) or call us (718) 368-5115 to find out about upcoming visits.
The Career Development Center offers a course through the Student Development department that gives students who are undecided about their major or career the opportunity to engage in a career exploration internship. For more information about current internship opportunities, visit our
Featured Internships page
. To inquire about the one-credit independent study course, please stop by C-102 or call (718) 368-5115 to make an appointment with an Internship Advisor.
If you are looking for a job on campus
Visit the Human Resources office in Room A-201 and complete a Student Aide application
Visit the Financial Aid office if you're eligible for Federal Work Study
We encourage you to visit C-102 to have your resume reviewed before applying.

Job Opportunities RSS Feed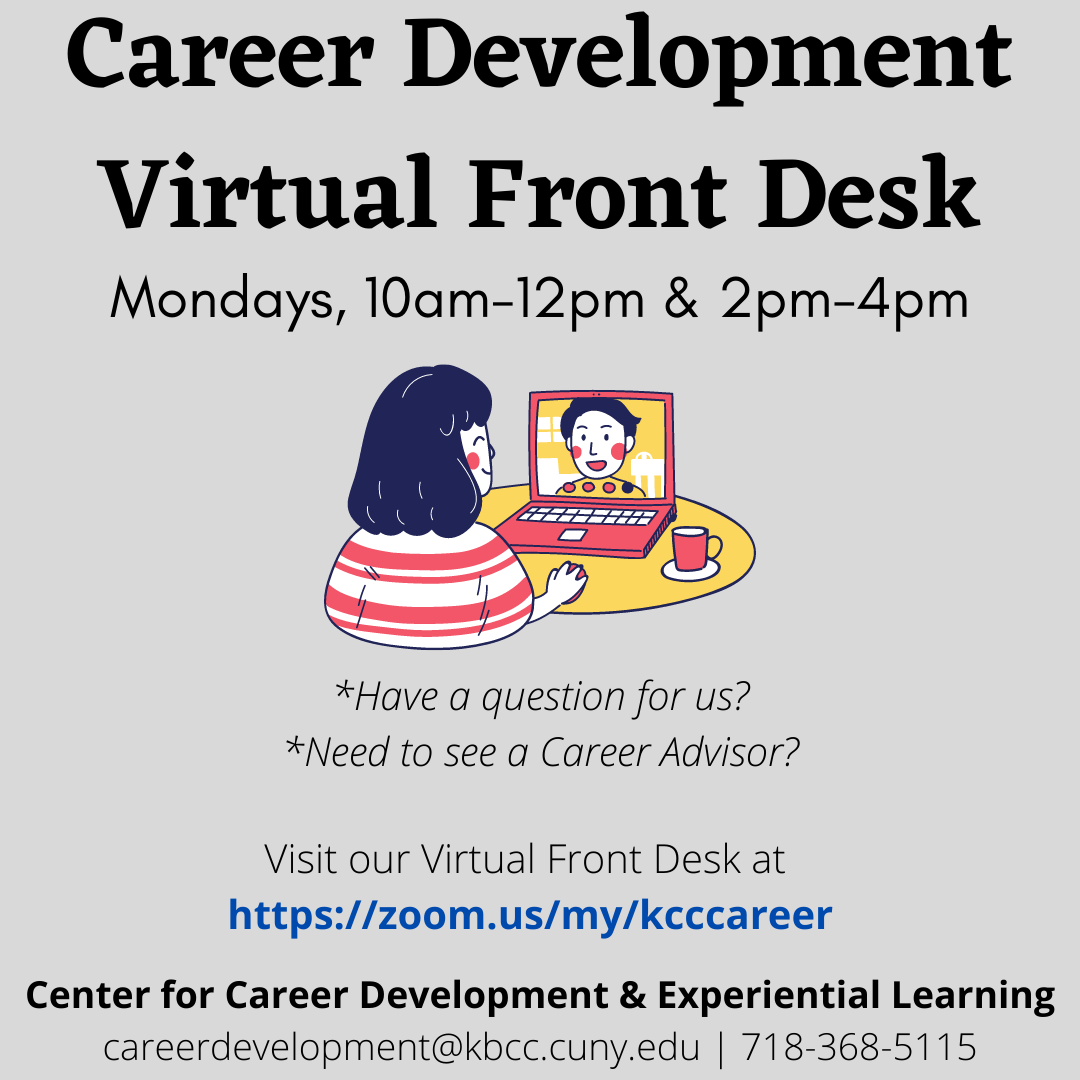 Follow Us On:
Stay current with up to the minute news on all our services and programs.
---

The NACE Salary Calculator is a service of the National Association of Colleges and Employers in partnership with Job Search Intelligence, LLC.
Find salary information for more than 1,000 occupations in 560+ regions nationwide.
---

---

---