The Career Development Center wants to ensure that KCC students are educated about the importance of planning for their careers while working toward a college degree. To that end, we would like to partner with faculty and staff to offer the following class presentations:
Etiquette in the Workplace
Unsure how to behave in a professional setting/work environment? This workshop will provide you with information on how to professionally interact interpersonally with supervisors, coworkers and clients to build and enhance your relationships. The workshop will cover workplace behavior, nonverbal communication, correspondence via email and phone, and dining etiquette.
Internships 101: The Nuts and Bolts of Landing a Great Internship
Students and employers alike can mutually benefit from internship arrangements. In this workshop, students will learn about: what an internship is, the benefits of including an internship experience as part of their career exploration process, effective strategies for landing a great internship, and making the most of their selected internship.
Navigating the KCC Jobs Board
This class presentation will introduce students to our on-line Jobs Board (powered by Symplicity). Students will be shown how to register for the program, how to upload their resumes and how to search for jobs.
Resume-athon
This workshop helps students to develop and design a professional, marketable resume that will be well received by potential employers. This workshop will cover content and information about what employers are looking for in a resume.
How To Ace The Interview
This workshop teaches students the steps to follow before, during and after the interview to increase their chances of landing the job they want. It helps students to prepare a personal pitch, respond to challenging interview questions, and to know what questions they should expect as well as those they should ask potential employers.
Career Planning In A Tough Economy
The current economic crisis presents challenges for students and recent graduates. In today's job market, it may take longer to find a job than in previous years. What knowledge and types of experiences should students be obtaining in order to be competitive candidates? This workshop highlights "recession-proof" fields, how to search for jobs, the importance of an internship, and how to properly network.
How To Land A Job
This workshop provides students with the ins and outs of an effective job search. It teaches them how to utilize networking as a job search technique and how to identify the most successful job search strategies available.
Major Confusion
This workshop is designed to provide guidance to incoming students who are uncertain about which major to pursue. It provides them the opportunity to think about and clarify their values in order to provide a focus for academic, career, and life decisions. It will also aid students in exploring different major options here at Kingsborough.
Social Media Etiquette
Is what you are posting on social media sites important? And can you find a job through social media sites? The answer to both is yes!!! This workshop will highlight how companies are examining social media of potential employees, as well as help participants understand the utility of social medial sites in networking and finding a job.
Workshop presentations last approximately 40-50 minutes. All workshop requests must be submitted at least 2 weeks in advance of the date you wish to hold the workshop. If requesting the Navigating the KCC Jobs Board workshop, please allow extra time for the reservation of a computer lab. A maximum of 4 workshops are allowed per class and professors are expected to be present on the day of the workshop.
To request a workshop, complete the Workshop Request Form (using the link above). Please feel free to contact Marisa Joseph via email (marisa.joseph@kbcc.cuny.edu) with any questions you may have about the workshops we offer.
We look forward to working with you!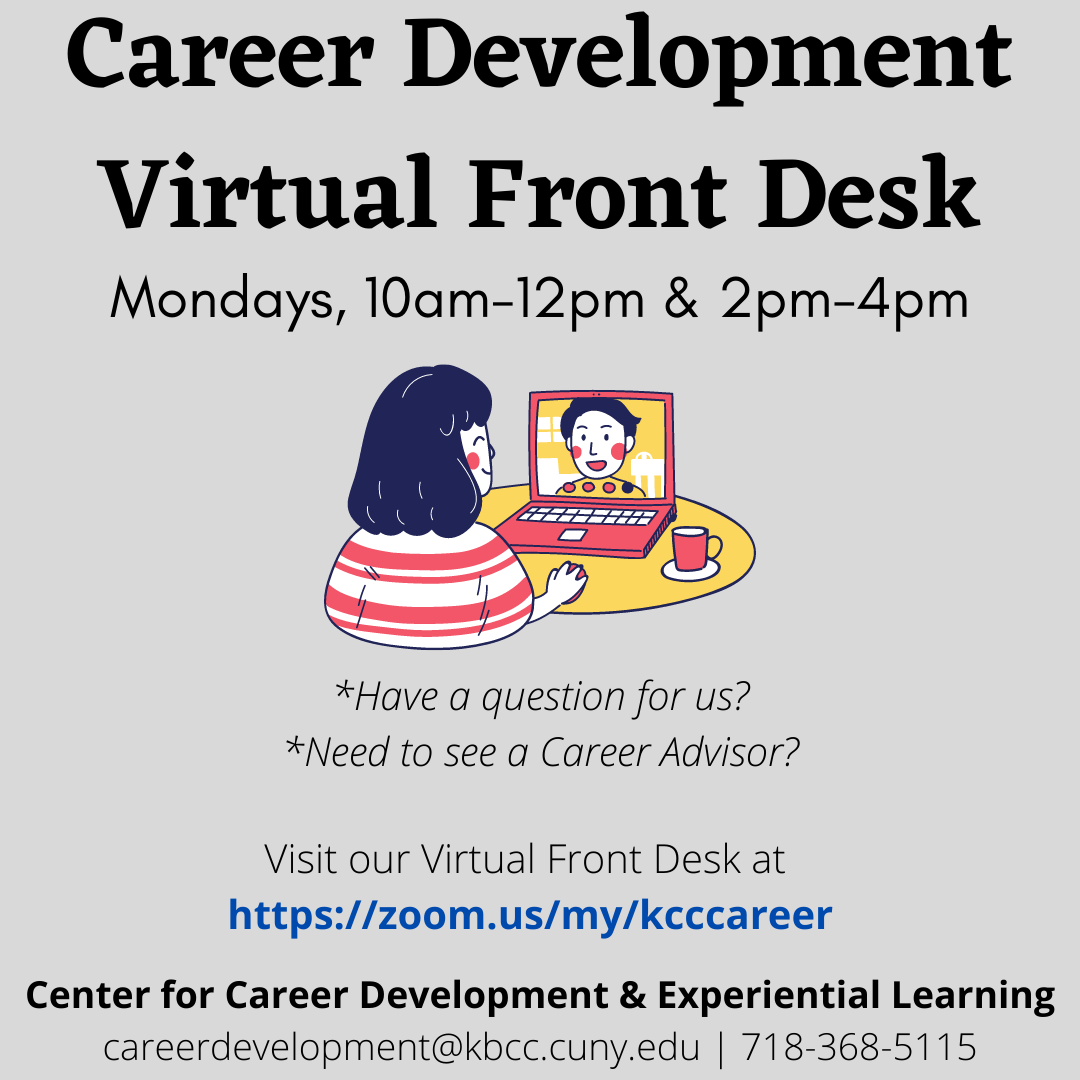 Follow Us On:
Stay current with up to the minute news on all our services and programs.