Education/Justice Internship Opportunities
CUNY 311
The CUNY 311 Project is a collaboration between the NYC Department of Information Technology and Telecommunications (DoITT) and the City University of New York. It provides qualified CUNY students with the opportunity to work as part-time Call Center Representatives within New York City's Customer Service Center. CUNY 311 Project is officially recruiting for NYC311 Call Center Representative Interns.
Pay Rate: $19/hr.
DEADLINE: October 20, 2023
---
Hispanic Association of Colleges and Universities (HACU) National Internship Program (Spring)
Gain valuable work experience through paid internships at federal agencies nationwide such as NASA, USDA and the Library of Congress. HACU matches a student's career interests, educational background, and previous work or volunteer experience with the needs and demands of our federal and corporate partners. Students receive paid round-trip airfare, housing arrangement assistance, emergency medical insurance, biweekly stipend, and attend an intern orientation. Throughout the internship, students also have the opportunity to participate in professional development, networking, and cultural activities.
Pay Rate: $16.10/hr.
DEADLINE: October 31, 2023
---
Second Day Impact Fellowship Program
Launch a career in social impact by getting matched to a paid internship at a nonprofit or social enterprise. Impact Fellows also have access to professional development, mentorship, and individual career coaching. The Impact Fellowship matches you with a paid internship at a mission-driven organization.
Pay Rate: $15/hr. - $25/hr.
DEADLINE: November 17, 2023
---
New York Amsterdam News Winter/Spring Internship
Intern positions are available in our editorial and digital departments. Amsterdam News interns must be located in the New York City-area and have a passion for writing about the Black community. Interns will be required to participate in weekly video conference meetings with staff, editors and the internship coordinator. Interns are provided with significant opportunities to boost their professional profiles plus ongoing references as they seek opportunities in media or other fields.
DEADLINE: November 17, 2023
---
Manhattan District Attorney General Spring Internship
The internship enables college students to gain first-hand exposure to the criminal justice system and local law enforcement in the borough of Manhattan. Students work closely with Assistant District Attorneys and other staff who are investigating and prosecuting criminal cases, providing support to crime victims, assisting with investigations, and analyzing pending legislation, among other tasks. Internship assignments will be based upon the student's interests, skills, and the needs of the office.
Academic Credit Available
DEADLINE: November 15, 2023
---
LifeSci NYC Internship
LifeSci NYC Internship Program is the City of New York's innovative, paid internship program to develop the city's next generation of life sciences leaders. The program provides quality internships for undergraduate students, while offering curriculum and training support with refined "hard" skills in the sciences and "soft" skills of professional and personal development. Work with NYC industry partners to develop relevant and attractive experiences, including frameworks, resources, and structured activities to expand, diversify, and cultivate the city's emerging talent pool.
Pay Rate: $15/hr.
EARLY DEADLINE: December 31, 2023
FINAL DEADLINE: March 31, 2024
---
Office of U.S. Senator Charles Schumer
Your interest in Senator Schumer's internship program is a positive indication that you are an informed member of your community with a willingness to learn and contribute significantly to the Legislative branch of our government. This internship presents an opportunity for both a unique learning experience and an inside look at the political process. Applicants must be hard-working, have strong writing and communication skills and have a demonstrated interest in public policy. While applicants from all backgrounds will be considered, students from New York are strongly encouraged to apply. Interns in the state offices assist staff with constituent service work, our scheduling team or are press team. Paid internships are available to interns who have been accepted into the internship program and are able to certify financial need and meet eligibility criteria.
Pay Rate: $1,000 – $1,500 Stipend
Applications Accepted on a Rolling Basis
---
The Dream.US Internships
Exciting news! Through a partnership between Kingsborough Community College, TheDream.US, and #ParkerDewey, TheDream.US Scholars now have access to exclusive, flexible, real-world, PAID experiences! Scholars, you can create your profile in less than 10 minutes and start applying today! These internships will enable TheDream.US Scholars to gain and demonstrate skills, explore career paths, and build professional networks.
Applications Accepted on a Rolling Basis
---
The Borgen Project Internship
The Borgen Project have several internship and volunteer openings that may be of interest to you, these range from HR, PR/Marketing to writing and journalism. All internship and volunteer programs provide experience in advocacy, mobilizing and fundraising, coupled with real industry exposure and an insight into the nonprofit world. Borgen Project remote internships are work from home roles, weekly deadlines must be met, meetings will be held online and a weekly update of your progress submitted.
Academic Credit
APPLICATIONS ACCEPTED ON A ROLLING BASIS
---
Melissa Riggio Higher Education Program
The Melissa Riggio Higher Education Program is a team of dedicated professionals focused on providing individuals with meaningful college experience, relationships and life. Currently, we are establishing a team of devoted college student mentors to provide support to students with intellectual disabilities. College Mentors will provide academic, internship, community and social supports to students enrolled in Melissa Riggio Higher Education Program.
Mentors are thoroughly trained and supervised by our program coordinator and are involved in a variety of activities with our students.
PART-TIME | FLEXIBLE | $15/hour POSITION
APPLICATIONS ACCEPTED ON A ROLLING BASIS
---
To apply to these and additional internship opportunities, please visit Career Wave (Handshake):
https://kingsboroughcc.okta.com/
Your resume MUST be approved by a Career Advisor to apply to these opportunities.
More

Opportunities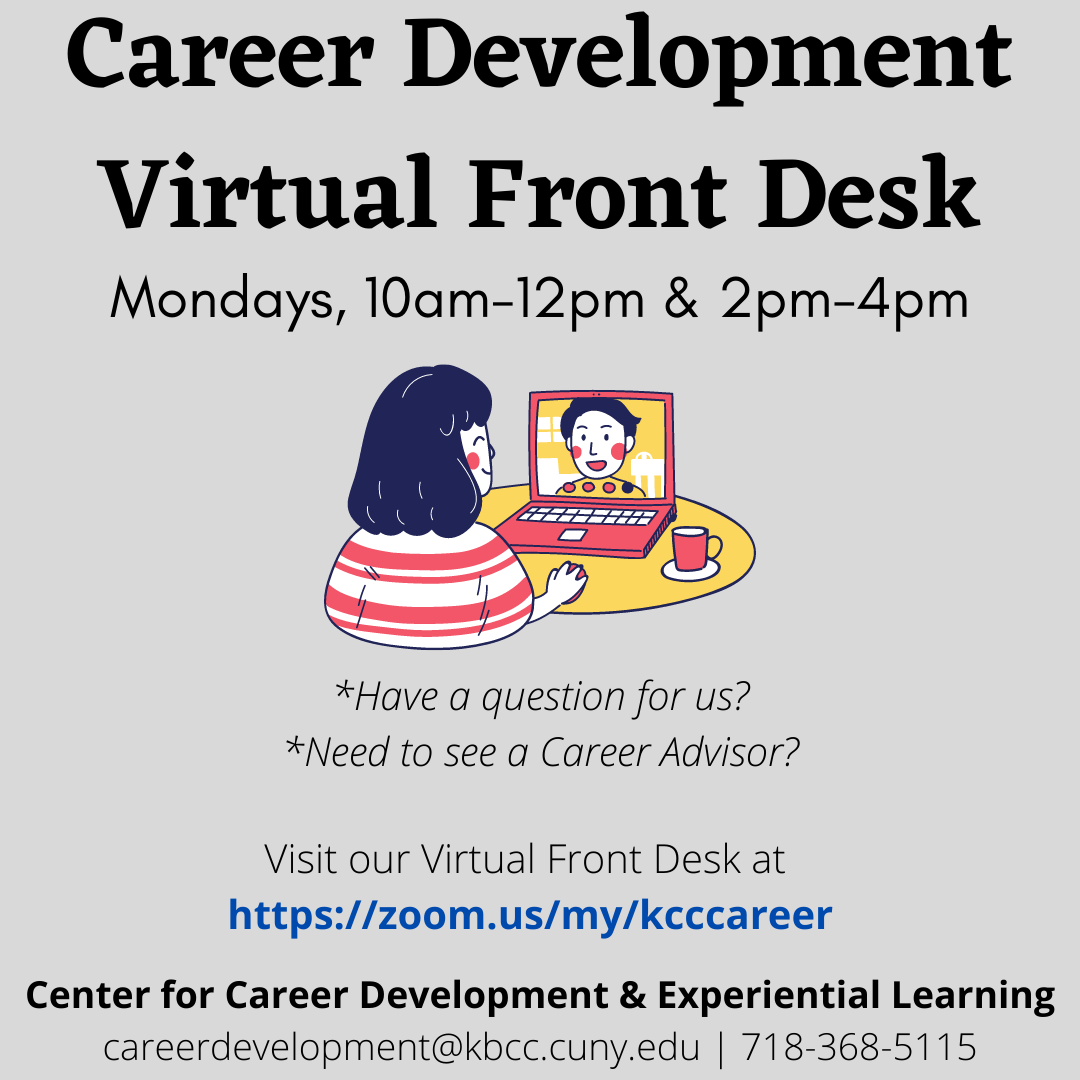 Follow Us On:
Stay current with up to the minute news on all our services and programs.