Business Internship Opportunities
The KMARIE Project Internship
The purpose of this internship is to provide ambitious college students with real-world experience that enables them to put everything learned into action. This internship allows Business of Fashion or Fashion Design majors the opportunity to gain skills that can be applied to future jobs. The internship fosters a growth for innovative fashion trends, understanding and developing entrepreneurial methods and marketing promotion. This career is extremely interesting as it always evolving with fun ideas from a creative mind. It is the length of the fall semester.
DEADLINE: September 18, 2023
---
CUNY Spring Forward
With a CUNY Spring Forward internship, you are paid to explore your future career and learn on the job! Spring Forward internships are designed for CUNY undergrads like you who have had no internship experience. CUNY offers training to all Spring Forward interns to ensure you can hit the ground running and provides support throughout the program.
Pay Rate: $19/hr.
DEADLINE: October 2, 2023
Future Leaders in Public Service Spring 2024 Internship
This program helps bring diverse young talent to government and offers students the opportunity to apply their educational training to work at a federal agency. The program is actively recruiting for the spring 2024 cohort to join the National Science Foundation and the Small Business Administration as paid interns. Undergraduate students from all academic disciplines are welcome to apply. Fully remote and in-person opportunities are available.
Stipend: $3,200
DEADLINE: October 23, 2023
---
Hispanic Association of Colleges and Universities (HACU) National Internship Program (Spring)
Gain valuable work experience through paid internships at federal agencies nationwide such as NASA, USDA and the Library of Congress. HACU matches a student's career interests, educational background, and previous work or volunteer experience with the needs and demands of our federal and corporate partners. Students receive paid round-trip airfare, housing arrangement assistance, emergency medical insurance, biweekly stipend, and attend an intern orientation. Throughout the internship, students also have the opportunity to participate in professional development, networking, and cultural activities.
Pay Rate: $16.10/hr.
DEADLINE: October 31, 2023
---
Second Day Impact Fellowship Program
Launch a career in social impact by getting matched to a paid internship at a nonprofit or social enterprise. Impact Fellows also have access to professional development, mentorship, and individual career coaching. The Impact Fellowship matches you with a paid internship at a mission-driven organization.
Pay Rate: $15/hr. - $25/hr.
DEADLINE: November 17, 2023
---
Service Desk Technician Internship
In partnership with the NYC Office of Technology & Innovation Citywide Service Desk, interns will provide technical support to City workers requiring technical assistance. Interns will provide telephone and queue management technical support on hardware, software, network, and telephony issues and perform password and account management support.
Pay rate: $15/hr.
DEADLINE: Dec 30, 2023
---
Mobile Device Technician Internship
In partnership with the NYC Human Resources Administration, CUNY has an exciting internship position available for undergraduate students. Some of the responsibilities include but are not limited to executing upgrades and patches for MDM applications and supporting tools, Servicing mobile device maintenance, installation and performance optimization using specialized skills associated with enterprise based mobile device management tools and performing special projects and initiatives as assigned.
Pay Rate: $16/hr.
DEADLINE: December 31, 2023
---
LifeSci NYC Internship
LifeSci NYC Internship Program is the City of New York's innovative, paid internship program to develop the city's next generation of life sciences leaders. The program provides quality internships for undergraduate students, while offering curriculum and training support with refined "hard" skills in the sciences and "soft" skills of professional and personal development. Work with NYC industry partners to develop relevant and attractive experiences, including frameworks, resources, and structured activities to expand, diversify, and cultivate the city's emerging talent pool.
Pay Rate: $15/hr.
EARLY DEADLINE: December 31, 2023
FINAL DEADLINE: March 31, 2024
---
The Borgen Project Internship
The Borgen Project have several internship and volunteer openings that may be of interest to you, these range from HR, PR/Marketing to writing and journalism. All internship and volunteer programs provide experience in advocacy, mobilizing and fundraising, coupled with real industry exposure and an insight into the nonprofit world. Borgen Project remote internships are work from home roles, weekly deadlines must be met, meetings will be held online and a weekly update of your progress submitted.
Academic Credit
Applications Accepted on a Rolling Basis
---
The Dream.US Internships
Exciting news! Through a partnership between Kingsborough Community College, TheDream.US, and #ParkerDewey, TheDream.US Scholars now have access to exclusive, flexible, real-world, PAID experiences! Scholars, you can create your profile in less than 10 minutes and start applying today! These internships will enable TheDream.US Scholars to gain and demonstrate skills, explore career paths, and build professional networks.
Applications Accepted on a Rolling Basis
---
Maimonides Medical Center
From primary care to specialized care, Maimonides Medical Center is among the world's finest hospitals and is the third largest independent teaching hospital in the nation.  The 705-bed facility is complemented by over 70 community-based health care centers.  An internationally renowned staff of over 600 physicians is supported by the most advanced technology.  Highly skilled nursing and support staff provide quality patient care, and interpretation is available in over 70 languages.  Maimonides is proud to have over 1700 volunteers and students serve its community each year.
Some Departments Include:
Ambulatory Surgery
Anesthesiology
Breast Center
Cancer Center
Community Relations
Finance/Accounting
Human Resources
Medicine
Pediatrics
Perinatal
Pre-Admission Testing
Surgery
Urology
Volunteer Services
Wound Care
DEADLINE: Applications Accepted on a Rolling Basis
---
To apply to these and additional internship opportunities, please visit Career Wave (Handshake):
https://kingsboroughcc.okta.com/
Your resume MUST be approved by a Career Advisor to apply to these opportunities.
More

Opportunities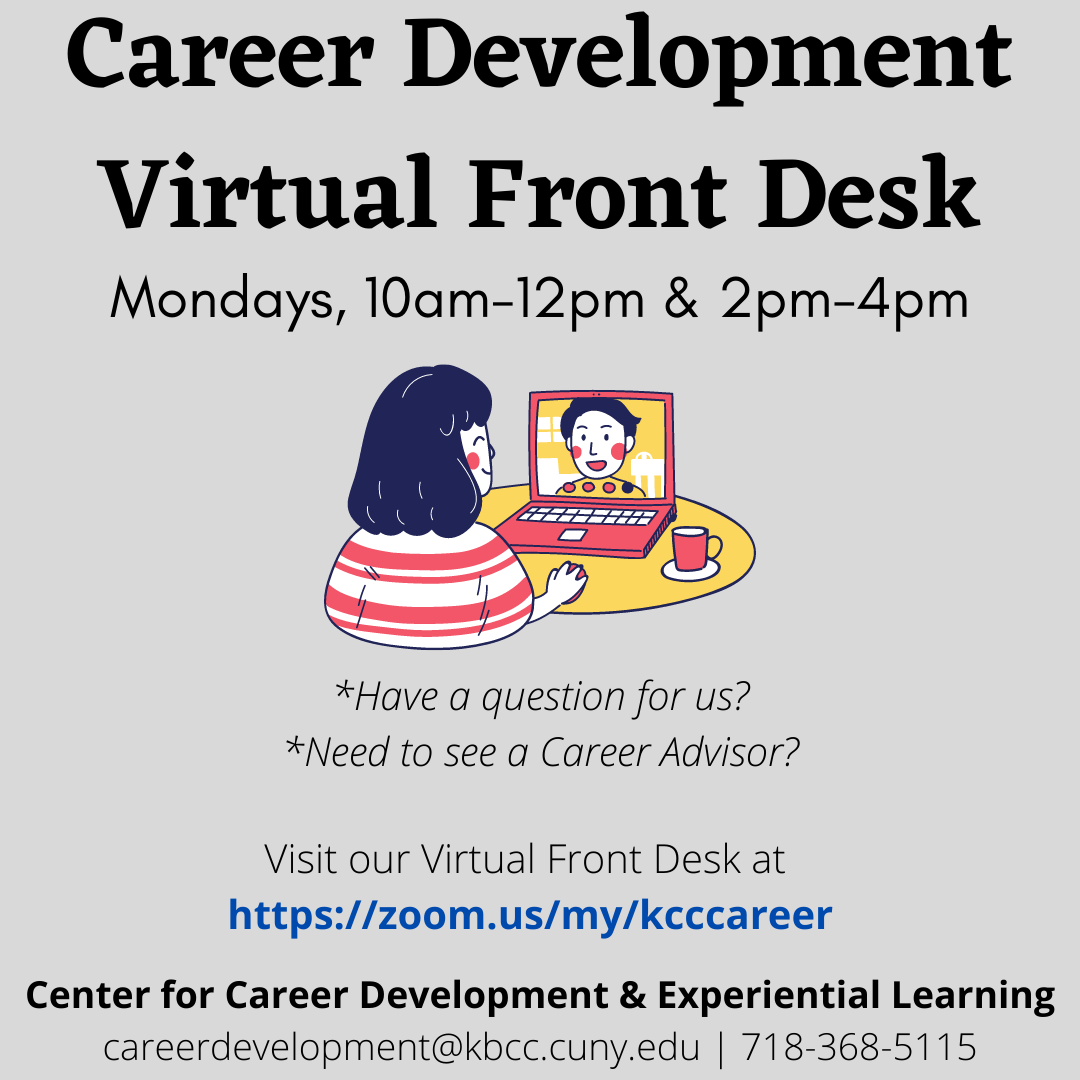 Follow Us On:
Stay current with up to the minute news on all our services and programs.