Welcome to KCC
Virtual Zoom Rooms
SPARC Course
Schedule of Classes
Registration

President Claudia V. Schrader Welcomes Back Students and Faculty
Are you ready for academic success at KCC? Whether you're learning online, hybrid, or in-person, we are ready for you, and have created our Student Checklist so you're ready, too. KCC is providing you with the best possible academic experience to get you closer to your educational goals.
Check The Learning Resources
Next steps:
Be prepared for your courses. Review resources and support.
Check Out KCC's Virtual Zoom Rooms.
If you need assistance with Admissions, Registration, Financial Aid and more, visit a Zoom Room today
Office

Hours of Operation

M- Th 9:30 a.m. - 5:30 p.m.
Zoom

M-Th 10:00 AM - 4:00 PM
T-W 4:00 PM-6:30 PM
Zoom

M - Th 9:30 a.m. - 5:30 p.m.
Zoom

M-F 10:00 AM - 4:00 PM
T -W 4:00 PM-6:30 PM
Zoom

In Person: T - W
10 am - 3 pm
Virtual Office: M - Th 10 am - 4 pm
Zoom

M-F 10:00 AM - 12:00 PM & 2pm-4pm
Zoom
Speak With Advisor
Meeting with your advisor can help ensure that you are in the right classes, plan for your future career/transfer opportunities, are successful both academically and personally, and connected to the many campus services and supports.
To learn more about what advisement can do for you and how to make an appointment with your advisor visit Academic Advisement.
Monday, Thursday & Friday 9:30am - 4pm
Tuesday & Wednesday 10am - 6:30pm
Check Out Blackboard Resources



Need help with Blackboard? Check out the resources below for support.

Academic Penalty Removal for WU Grade
A withdrawal after the financial aid certification date or program adjustment period is assigned the grade of "WD" (Dropped) or "WN" (Never Participated), or "W" (Withdrew) or "WU" (Withdrew Unofficially). Currently WD, W, WN are not academically punitive grade i.e., these grades do not impact student GPA. For Title IV purpose University uses our Grading policy (this document) for compliance with R2T4 regulations. Effective Fall 2021, WU grade will not have punitive impact on student's GPA. WU grade will continue to be used to denote Unofficial Withdrawal. This Policy shall supersede and override all undergraduate and graduate program-level grading change policies currently in effect at CUNY colleges and schools.

Check Out the "Are You Ready?" Online Readiness Course:
The "Are You Ready?" online readiness course is designed to prepare you for taking an online course. Whether your courses are hybrid, synchronous or asynchronous, this course will cover a variety of topics to help you navigate in an online environment. The "Are You Ready?" course can be found in your Blackboard account under "My Organizations". You will receive a certificate once it is completed.


Check The Class Format

:

In Person, Online and Hybrid
The Academic Schedule consists of three types of instruction modes: In Person, Hybrid, and Online.
Please see the below examples of how each Instruction Mode will read on the Schedule of Classes: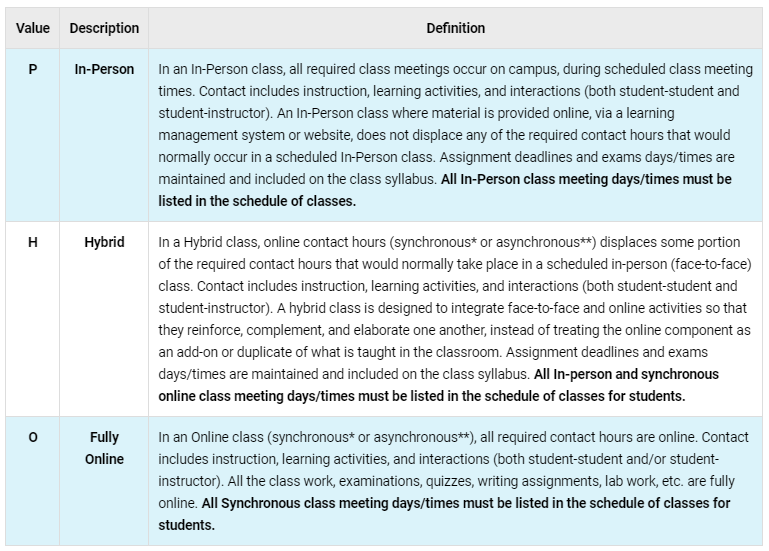 CUNYfirst Support
Need help with your CUNYfirst account? Check out the resources below for support.
Questions? Contact:
Sharon Warren Cook, Ph.D.
Associate Provost and Chief Student Affairs Officer
Office of the Vice President for Academic Affairs
Kingsborough Community College
Office: 718.368.5563
Email: Sharon.WarrenCook@kbcc.cuny.edu
Contact IT Services
Helpdesk @ 718-368-6679 or email at Helpdesk@kbcc.cuny.edu
The KCC Bookstore will be open to students between the hours of 9am – 3pm. In keeping with social distancing guidelines and in the best interest of everyone's safety, our staff will serve as personal shoppers for those who would like to purchase their essentials in person at the store.

As always, our website (kbcc-shop.com) is fully operational and all orders can be fulfilled with options to either ship to you or pick up in-store. We will update our days and hours of operation to accommodate student and business needs. If you have any questions or comments, we can be reached at (718) 332-6900 during business hours or be reached by email at kingsboroughcuny@bkstr.com.
Store Manager: Pete Rosado – prosado@follett.com
Text Manager: Jason Cohen – 1079txt@follett.com
Check Out The KCC Library
The Library building is open and librarians are available in-person and virtually to assist you. Check out the library's website. You can also email the reference desk (reference.desk@kbcc.cuny.edu) for more information about library resources, or call (718) 368-5632. For circulation questions, please call (718) 368-5637 or (718) 368-5442.
Library Hours:
Mondays - Thursday from 8am-7pm
Friday from 9am-5pm
Saturday and Sunday from 10am-3pm
Check Out Laptop Lending
Check Out Laptop Lending. Visit https://inside.kingsborough.edu enter your KCC email address and password to secure a KCC laptop.
Check Out New Student Orientation
Stay tuned for New Student Orientation Virtual Information Sessions. You'll learn more about the resources available for you to make your transition to Kingsborough easier. This experience will include information about campus resources and the following MANDATORY courses.
New Student Information Blackboard Course

Are You Ready? Blackboard course

SPARC (Sexual and Interpersonal Violence Prevention and Response Course​
For more information, visit the New Student Orientation webpage or email student.affairs@kbcc.cuny.edu
​SPARC
The SPARC training course provides students with education and training about sexual misconduct, including domestic violence, dating violence, stalking, sexual harassment, gender-based harassment and sexual violence. This course is mandatory for all new students, as well as special and high-risk student populations enrolled at their campuses. Once completed, it will be noted on your CUNYfirst and Blackboard accounts. The SPARC training course can be found in your Blackboard account.
Check Your Registration
Check The Schedule of Classes
Spring Session classes: 12-week
Spring B Session: 6-week
Fall Session classes: 12-week
Fall B Session: 6-week Summer and Winter at Kingsborough is the perfect time to catch up, pull ahead, or stay on track so you can graduate on time. You can take up to 2 classes or 8 credits during the 6-week session.
The Schedule of Classes has been converted in CUNYFirst to reflect how each section of each course will be taught. Each section has an "Instruction Mode" listed as either "online", "hybrid" or "in-person".
View Academic Calendar.