🌟 Elevate Your Math Skills with KLC's New Walk-In Tutoring, Math Lab & Hybrid Workshops! 🌟
Dear Math 900/9B0/9010 Students,
We hope your semester is off to a great start! At the Kingsborough Learning Center (KLC), we are committed to helping you achieve your academic goals. We are excited to introduce new services designed specifically for students in the Math 9 series courses. Here's what's in store for you!
📚 Walk-In Tutoring: No Appointments Needed!
Skip the hassle of booking! Now, you can simply walk into our center during scheduled hours and get immediate assistance.
Monday: 9:10 AM - 1:40 PM & 4:10 PM – 5:10 PM
Tuesday: 9:10 AM - 7:20 PM
Wednesday: 12:40 PM - 1:40 PM & 4:10 PM - 5:10 PM
Thursday: 9:10 AM - 7:20 PM
Friday: 10:20 AM - 12:30 PM & 1:50 PM - 2:50 PM
🖥️ Math Lab: Real-World Problem-Solving
Visit our new Math Lab in Library Building, Room L-304. It's open from 3:15 PM to 6:00 PM, Monday to Thursday. Experience hands-on problem-solving facilitated by an expert math lab facilitator.
🌐 Hybrid Workshop Series: Maximize Your Success
Starting Thursday, October 26, join our weekly hybrid workshops. These sessions are designed to help you excel in your Math 9 series courses.
In-Person: Library Building, Room L-219, Room 3
Online: Via Zoom using the following link: https://bit.ly/klcmat900
Time: Every Tuesday and Thursday, 1:00 PM to 3:00 PM
The workshops will focus on Math 9 series content review, test preparation, exam strategies, time management, and special final reviews.
Seize this opportunity to enrich your learning experience and academic performance. We look forward to seeing you soon!
Get in Touch: We're Here to Help!
: (718) 368-5118 or (718) 368-5405
Live Chat: Head to our website and click the "Ask Me" button on the bottom right. (Available during business hours only)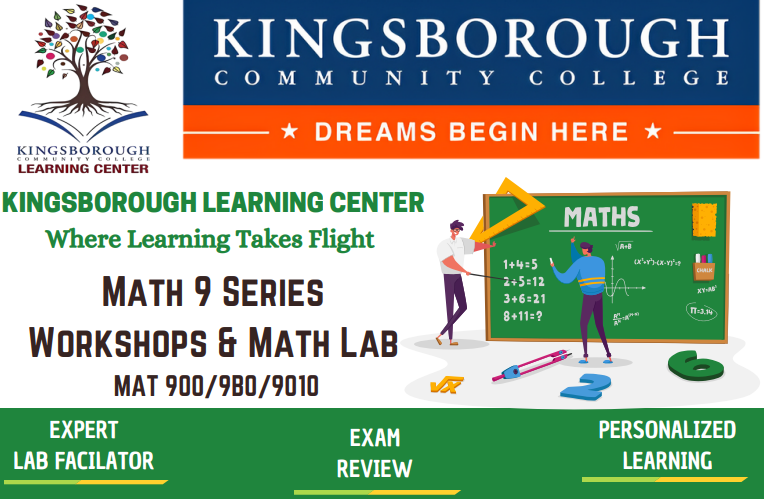 Math 9 Series Workshops & Math Lab