Libyan Revolution: Gaddafi's Forces Continue Attacks
Libyan Revolution: Gaddafi's Forces Continue Attacks
By Maria Panskaya
The protest against the government of Muammar Muhammad al-Gaddafi, the president of Libya, was inspired by recent events in Egypt and Tunisia. The rebellion began in mid-February as a series of protests, which have spread across the country.

Gaddafi has ruled for the past 42 years as an authoritarian and dictated a strict regime. For decades, Libya was run by Gaddafi's Green Book, his supposed draft for a revolutionary state. In 1969, revolutionary army officers, under Gaddafi's leadership, deposed the crown prince of the Kingdom of Libya, Sayyid Hasan as-Sanussi. Gaddafi abolished the monarchy and proclaimed the New Libyan Arab Republic. He didn t promote himself to the rank of general upon seizing power; however, he accepted a promotion from captain to colonel and remained at this position since them.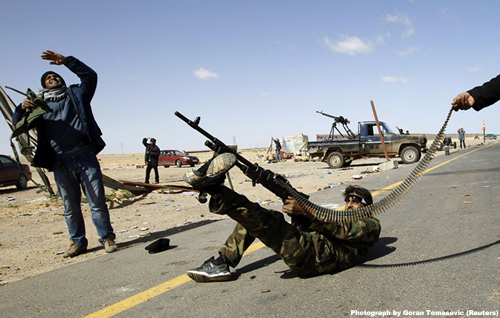 By late February, Gaddafi lost control of much of the country. To gain back control, he arranged a set of attacks against rebels using warplanes and attack helicopters. Protestors fought back with small arms and homemade bombs. Moreover, Gaddafi has hired large numbers of foreign mercenaries from African countries to attack protesters. According to a Human Rights Organization report, over 100 people died and dozens were injured.

The United Nations and various governments are discussing the establishment of a no-fly zone over Libya to prevent the Libyan army from launching air attacks on civilians. I know that their intentions are to protect civilians, but any time when a no-fly zone is established, there is a risk of spreading out a war, said Steven DeMarco, professor of Kingsborough Community College, History-Philosophy and Political Science Department.

The International Criminal Court has started an investigation into possible crimes against humanity committed in Libya by its leader and members of his inner circle.

During a lengthy speech by Gaddafi on ABC News, he insisted no attacks had been launched against rebels, whom he claimed were al-Qaeda operatives. According to ICC investigation report, Gaddafi's troops were the once who attacked rebels, but not the terrorists, reported CNN.
In compliance with recent report by Al Jazeera, the Arabic news and current affairs satellite TV channel, some of Gaddafi's loyalists have switched sides in support of the revolutionaries and his security forces have refused to torture and kill civilians.

Most nations have strongly condemned Gaddafi's use of force against civilians and insisted the Libyan leader step down from power and leave. "We will continue to send a clear message: The violence must stop. Muammar Gaddafi has lost the legitimacy to lead and he must leave," Barack Obama said in his interview to Al Jazeera.

Gaddafi is in control of Tripoli and anti-government forces are concentrated in Benghazi. Saif al-Islam Gaddafi, his eldest son, made a clear statement, during his speech on CNN, about his father's intentions towards rebels and said, We will fight until the last man, the last woman, the last bullet.

In what increasingly appears to be a civil war, rebels fought Gaddafi's forces in a fierce, daylong battle for the eastern town of Ras Lanuf, the site of a military base and an oil terminal. Gaddafi does not intend to give up Libya's oil fields without a fight.

In early March, rebels gave up positions in the town of Bin Jawwad; however, they remained control in the east of the country and Benghazi. Gaddafi's false expectations about his possible success of gaining control over the country were met with a celebration in Tripoli.

In response to his defeat, he referred to the protesters as rats and cockroaches. This speech has been greeted with a mixture of anger and mockery. German Chancellor Angela Merkel said in her interview to BBC news that she considered Gaddafi's speech as tantamount to declaring war on his own people.

He ruled for too long and he needs to step down. Someone has to stop his dictatorship and tyranny , said Charles Okolonji, Kingsborough Community College student, regarding present situation in Libya, I m glad that America and the United Nations work together to resolve the conflict."