Exercise Science A.S. Degree
Exercise Science A.S

. Degree Program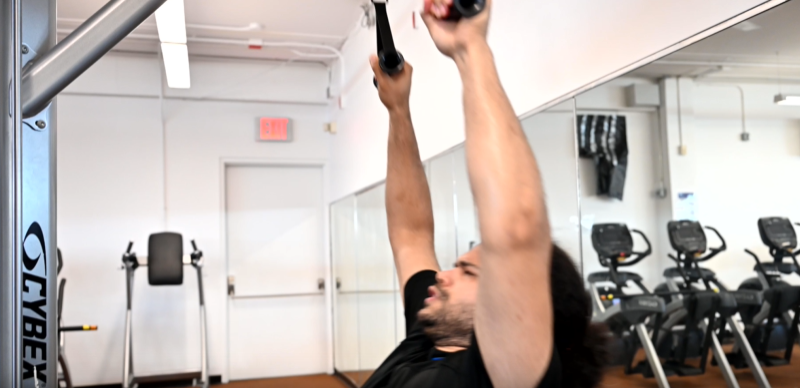 CONTACT

Exercise Science Program




G-303

Ph-718-368-6866

Program Director

Prof. Chris Fey

718-368-5752
Visit G-201 for more information.
Exercise Science A.S. degree program offers a wide range of coursework that provides the foundation for pursuing active, wellness-oriented careers. In preparation for transfer to a baccalaureate program in Exercise Science or related field, students will take courses in fitness assessment, exercise program design, strength and flexibility training, weight management, health and nutrition, and a variety of physical activity courses.
Mission Statement
The mission of the Exercise Science A.S. degree program is to provide students with a foundational degree to transfer to a baccalaureate program in Exercise Science or related field. With further education at the bachelors and graduate level, students may pursue a wide variety of career paths such as Athletic Training and Coaching, Exercise Physiology, Fitness Trainer, Health and Wellness Coaching, Occupational Therapy, Physical Therapy, Physical Education and many other allied health fields.

The goals of A.S. Degree Program in Exercise Science are to provide students with:
A rigorous academic preparation that consists of classroom and hands on learning;
Understanding and appreciation of various forms of physical activity through participation in a variety of physical fitness courses;
Knowledge of core principles in Exercise Science such as fitness assessment and program design, strength and flexibility training and concepts of life long health and wellness;
Exposure to future career paths available to exercise Science majors;
Foundation in the field of Exercise Science in preparation for success when transferring to a baccalaureate program in Exercise Science or a related field;
Transfer opportunities to baccalaureate programs through established articulation agreements
Degree Requirements A.S. Exercise Science
TOTAL CREDITS: 60
Requirements for Matriculants
COLLEGE REQUIREMENTS
Successful completion of CUNY Tests in Reading and Writing and the COMPASS Math Skills Test with passing examination scores, unless otherwise exempt, or developmental courses may be required.
One (1) Writing Intensive course in any discipline from any category below is required. Participation in a Learning Community that includes ENG 1200 or 2400 also satisfies this requirement.
Two (2) Civic Engagement experiences—satisfied by CE-Certified or CE-Component courses or approved outside activity. Refer to the Degree Requirements section in this catalog.
CUNY CORE
Approved Required and Flexible Core courses are listed in the General Education: CUNY Pathways section of this catalog. When Required or Flexible Core courses are specified for a category, they are required for the major.
REQUIRED CORE
ENG 1200..............................................................3 credits
ENG 2400 ........................................................................ 3
Mathematical & Quantitative Reasoning ....................... 3
Life and Physical Sciences ............................................... 4
BIO 1100
FLEXIBLE CORE*
One course selected from each of the following groups, A – E, plus an additional course from Group E. No more than two courses in the same discipline.
World Cultures and Global Issues

U.S. Experience in its Diversity

Creative Expression

Individual and Society

Scientific World
BIO 1200
Plus PSY 1100
Note: You may elect to take a math course that is 4 credits or more. TAP counts 3 credits towards the requirement and the 4th credit as elective.
DEGREE REQUIREMENTS
Introduction to Exercise Science (EXS 500).........................3
Fitness Assessment and Program Design (EXS 1300)…...... 3
Lifetime Strength and Flexibility (EXS 1500)……………………..3
First Aid and Personal Safety (HE 3500)............................. 2
Concepts of wellness (HPE 1200)………………….....................3
Exercise, Energy Balance, and Weight Management (EXS 2000) ........................................3
Health and nutrition (HE 4200)…………………………………........3
Introduction to Computer Concepts (BA 6000)………………..3
Select five (5) courses from among the following three groups, with no more than two (2) courses from any group
Group I
Walk, Jog, Run (PEC 2000)
Aerobic Dance (PEC 1900)
High Intensity Fitness Training (PEC 7100)
Group II
Swimming for Non-Swimmers and Beginners (PEC 3000)
Advanced Swimming (PEC 3300)
Aqua Exercise (PEC 6500)
Group III
Body Weight Resistance Training (PEC 800)
Tai Chi Chuan (PEC 2500)
Introduction to Hatha Yoga (PEC 2900)
Pilates System of Exercise (PEC 5600)
Beginning Karate and Self-Defense (PEC 2700)
Personal Self-Defense for Women (PEW 2100)
* This program has a waiver to require particular courses in the Common Core; otherwise more than the minimum credits for the degree may be necessary.
Consultation with the Program Advisor is required.
NEW PROGRAM BEGINS FALL 2018
Courses approved for Flexible Core, Groups A-D, are listed in the College Catalog, or on the College Website at