Join Student Government/
Student Government Elections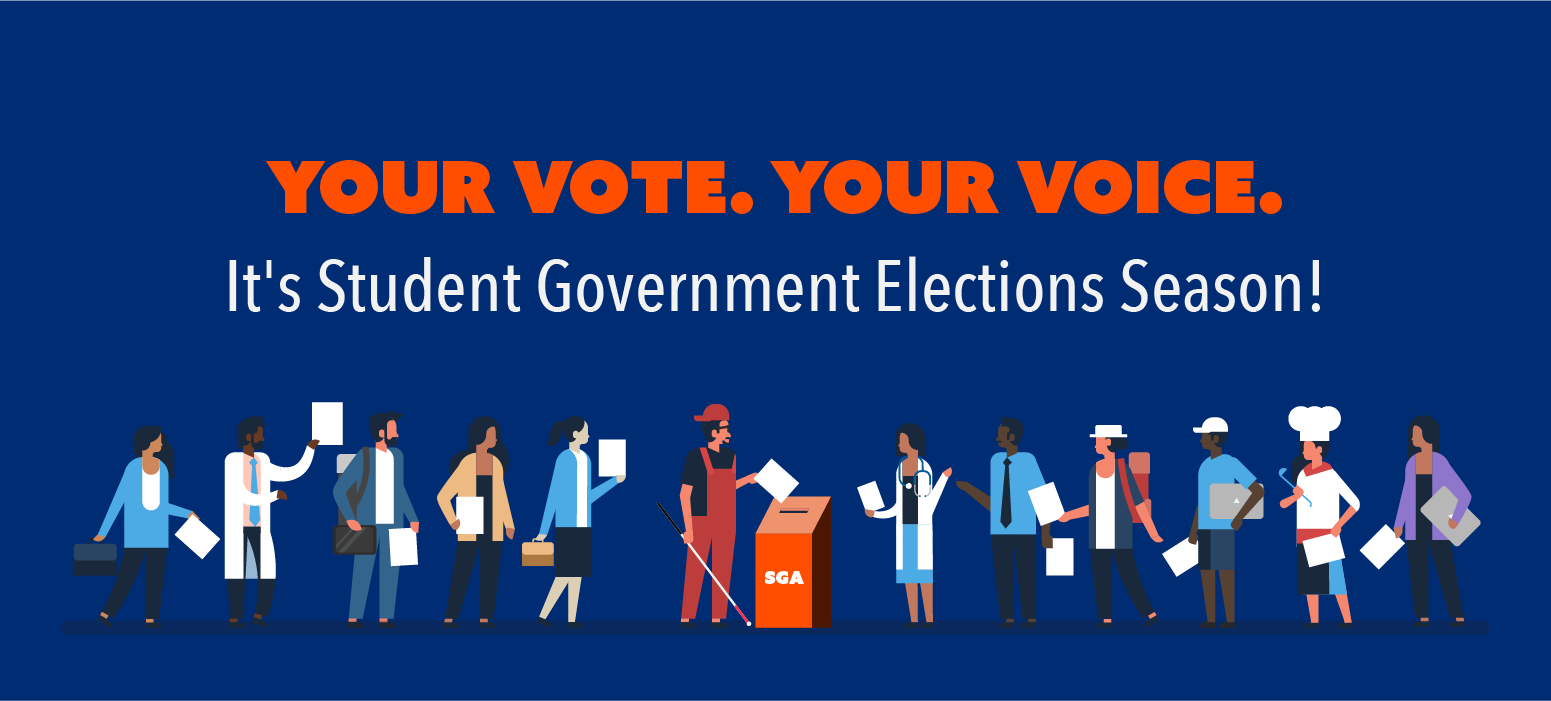 Submit Your Nomination Here by May 1st by 12pm
Download the full Campaign & Elections Summary Here
Why should you get involved with Student Government?
Student Government is THE student voice on campus. Joining SGA is an opportunity to represent your fellow students, create change on campus, and gain valuable leadership and networking skills for the future. Plan events, start traditions, advocate for KCC students, and create opportunities for your fellow students to take ownership of their experience. Full details are available in the KCC SGA Constitution, through KCC SGA or the Office of Student Life.
Campaign Timeline & Election Dates
Nomination Period / Monday, April 8 – Monday, May 1
Those interested in running for a position within Student Government, as well as College Council & Judicial Affairs Committee Representatives, must submit all requests to run for office by 12pm, May 1. Nominate yourself!
Candidate Orientation / Friday, May 1st, 3:00pm, *Zoom Webinar
**MANDATORY**
ALL students nominated to be an Officer of any kind must attend this mandatory discussion of election procedures and campaign protocol. Nominees who are unable to attend must contact studentlife@kbcc.cuny.edu BEFORE the start of the meeting in order to remain eligible.
Campaigning, All Day / Wednesday, May 6, 4pm – Thursday, May 14, 12pm
All candidates may campaign but must abide by all campaign guidelines set forth at the Candidate Orientation Session.
Elections, All Day / Tuesday, May 11, 10am – Thursday, May 14, 12pm
Voting will take place online. Voting begins Tuesday, May 11 at 10am until Thursday, May 14 at 12pm. During this time, students will be able to vote for all Student Government, College Council, and Judicial Affairs Committee positions. You can sign up to borrow a loaner laptop/tablet for distance learning & engagement via Inside KCC.
Counting of Ballots / Friday, May 15, 2‐3pm
The Elections Committee will tabulate the ballots once the polls have closed under the supervision of the Director of Student Life.
Announcement of Results, 3pm
The Elections Committee will certify the elections results and post the on the KCC Student
Life Webpage.
CUNY New Leadership Challenge / Dates TBD Newly elected SGA offices from all CUNY campuses must attend the CUNY NLC training conference. Details forthcoming.
Annual SGA Training Retreat / Dates TBD
All elected candidates must attend this training retreat, where SGA will begin training for the coming year and will assign members to necessary campus committees, including the KCC Association, Auxiliary, and University Student Senate.
Sample Platform Statement
You will be able to write your Platform Statement in the Nomination Form (link provided above). Here is a sample Platform Statement for your reference:
"Name: Joe Schmoe; Major: Tourism & Hospitality; Council: Business; Position: Vice President for Academic Affairs; College Council: Yes; Judicial Affairs: Yes
Dedicated, determined, and diligent are some words that describe me. Hi, I am Joe Schmoe, a Student Ambassador trainee and a member of the International Students Union and Food Club. I am majoring in Tourism & Hospitality, and am fully capable of serving my fellow students. Given the opportunity to be VPAA, I can assure you that your voices will be heard. My main goal is to assist my fellow students in addressing any problems that they may be experiencing at KCC. I will make your college experience at KCC a meaningful one. It can be done! On Election Day, vote for dedication, determination and diligence. Vote for Joe Schmoe!!"
Campaign Rules & Reporting Violations
Campaign violations, including but not limited to cyber-bulling, should be reported to The Office of Student life at studentlife@kbcc.cuny.edu. Further details will be provided during Candidate Orientation.
All candidates are will be held to the standards detailed in Kingsborough's Student Handbook
Cyber bullying of candidates will not be permitted.
Solicitations or exchange of valuables for votes will not be permitted.
More Questions?
Contact the Office of Student Life if you have any further questions or are interested in running for a position. Email at studentlife@kbcc.cuny.edu