Distance Learning
Last updated March 5, 2021 1:41 pm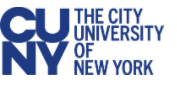 From: OFFICE OF THE CHANCELLOR
Sent: Friday, March 5, 2021 1:36 PM
Subject: Update on Black, Race, and Ethnic Studies Initiative

OFFICE OF THE CHANCELLOR
Dear CUNY Faculty, Staff, and Students,
The first phase of the initiative, as I shared last September, is to be driven by a planning commission that will assess the current offerings of CUNY's Black, race and ethnic studies programs and recommend innovations that build on them. Following two virtual town halls in September that were attended by nearly 800 faculty, staff and students, participants were invited to recommend prospective members for the planning commission and the values that should guide their work. It is my pleasure to announce that the commission has been formed and the 16 members have been selected.
The members of this diverse and distinguished planning commission include University faculty, staff and students as well as external experts. All of the members are renowned in their respective disciplines and share an unwavering commitment to social and racial justice. Biographical information on the members and additional information on the initiative can be found on the Black, race and ethnic studies initiative's webpage.
Members of the commission will begin meeting on March 15 and will have eight months to develop recommendations for the University regarding the use of the Mellon Foundation funds over the next two years.
The Black, race and ethnic studies initiative is a key aspect of the University's commitment to inclusion and to scholarship that reflects the vast multiplicity of cultures represented by CUNY students and New York City as a whole. For that reason, it's with great excitement I share this news with you today.
As always, I look forward to the hard, important work ahead.
Sincerely,
Felo