Department of Tourism and Hospitality
Culinary Arts

Program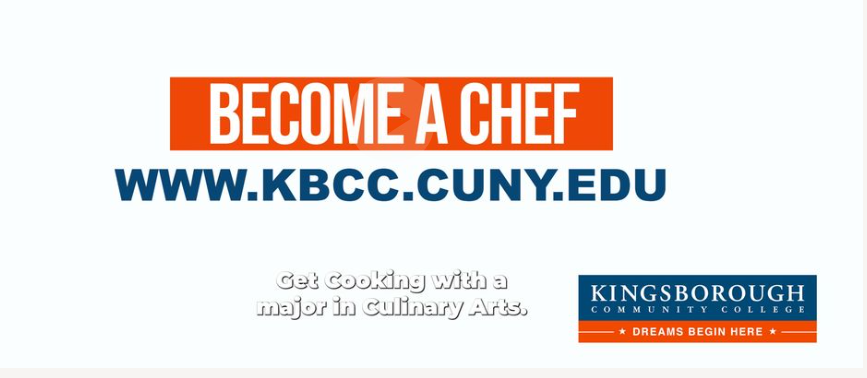 The Culinary Arts program at Kingsborough Community College has a comprehensive training program designed for successful entry into the creative, high-paced workplaces of the food industry. Two programs to set you on your career path are offered:
Associate of Applied Science Degree in Culinary Arts—a 60-credit, 2-year college degree.
Certificate in Culinary Arts and Food Management—a one-year certificate designed for students who wish not to pursue a degree.

Distinctive program features include:
A real-world internship in a professional kitchen.
College credits transferable within and beyond CUNY.
The opportunity for advanced standing college credits through partner high school Culinary and Hospitality programs like

KBCC College Now Culinary Arts

.
Culinary Arts exhibition opportunities including the Salon of Culinary Art and Exhibition NYC.
An on-campus learning restaurantwhere you learn to work in the kitchen and dining room of a fine dining restaurant in a safe, mentored environment.
A capstone experience in culinary improvisation and creativity--learning market basket-style cooking firmly rooted in training of technique and basic skills.
Eligibility for national, local and professional industry certifications from:
The National Restaurant Association (ServSafe, ServSafe Alcohol, ManageFirst)
the American Culinary Federation (

Certified Culinarian

)
the New York City Department of Health (Food Handler's License)
Upon graduation, students enter the workplace or transfer to a baccalaureate institution.
Chef D'Alessandro
Director of the Culinary Arts Program

718-368-5885

Academic Village Building, V226