Education/Justice Internship Opportunities
Caucus CUNY Scholars Internship Program
The City University of New York is proud to offer an exciting spring semester internship opportunity for a select number of CUNY students. The Edward T. Rogowsky Internship Program in Government & Public Affairs Program will coordinate the program alongside a Campus Faculty Coordinator at each of the City University's colleges. The New York State Black, Puerto Rican, Hispanic & Asian Legislative Caucus City University of New York Scholars Program will provide highly qualified individuals the opportunity to learn by doing via the New York City district offices of state legislators that comprise the membership on the Caucus.
Pay Rate: $2,000 Stipend
CREDIT DEADLINE: December 11, 2023
NON-CREDIT DEADLINE: December 18, 2023
---
Nederlander Producing co. of America, Inc.
Nederlander offers internship sessions that provide an opportunity for students to learn about the workings of a multi-faceted company and to develop professional skills. Interns are required to work in person during which time they will acquire hands-on experience in a theatrical office. Opportunities are available in the following departments: accounting, IT, group sales, operations, theatrical administration and digital marketing.
Pay Rate: $15/hr.
DEADLINE: December 20, 2023
---
New York Amsterdam News Winter/Spring Internship
Intern positions are available in our editorial and digital departments. Amsterdam News interns must be located in New York City and have a passion for writing about the Black community. Interns participate in weekly video conference meetings with staff, editors, and the internship coordinator. Interns are provided with significant opportunities to boost their professional profiles plus ongoing references as they seek opportunities in media or other fields.
DEADLINE: December 31, 2023
---
CUNY Food Justice Leadership Fellowship
This program is ideal for CUNY students interested in food justice and looking to strengthen their leadership skills! The first 15 weeks of the program is the instructional phase where students meet once a week for in-person class sessions and are introduced to food justice concepts, organizations, and career paths. Fellows will be able to network with guest speakers and build connections.
Stipend: $1,000
DEADLINE: January 14, 2024
---
The Center for an Urban Future (CUF) Internship
The Center for an Urban Future (CUF) is a public policy research think tank that is focused on creating a stronger and more equitable economy in NYC. CUF interns have gone on to work in the city council and the mayor's office, news publications, urban planning firms, non-profit organizations, research institutions, and philanthropy groups. Examples include the National League of Cities, the Mayor's Office of the Chief Climate Officer, The Atlantic, the NYS Office of the Inspector General, Bloomberg News, the NYC Office of Management and Budget, The World Bank, and The New York Stem Cell Foundation Research Institute.
Pay rate: $15/hr.
DEADLINE: January 19, 2024
---
NASA OSTEM Summer Internship
NASA offers several opportunities for students to undertake meaningful and challenging projects that truly make an impact on humanity. As a NASA intern, you'll work on meaningful projects that will make an enduring impact on humanity. And you'll join an inclusive culture that values diversity and inclusion as critical to mission success. Internships are located at NASA centers across the country and some are available virtually.
Average Ray Rate: $32/hr.
DEADLINE: February 2, 2024
---
LifeSci NYC Internship
LifeSci NYC Internship Program is the City of New York's innovative, paid internship program to develop the city's next generation of life sciences leaders. The program provides quality internships for undergraduate students, while offering curriculum and training support with refined "hard" skills in the sciences and "soft" skills of professional and personal development. Work with NYC industry partners to develop relevant and attractive experiences, including frameworks, resources, and structured activities to expand, diversify, and cultivate the city's emerging talent pool.
Pay Rate: $15/hr.
EARLY DEADLINE: December 31, 2023
FINAL DEADLINE: March 31, 2024
---
Office of U.S. Senator Charles Schumer
Your interest in Senator Schumer's internship program is a positive indication that you are an informed member of your community with a willingness to learn and contribute significantly to the Legislative branch of our government. This internship presents an opportunity for both a unique learning experience and an inside look at the political process. Applicants must be hard-working, have strong writing and communication skills and have a demonstrated interest in public policy. While applicants from all backgrounds will be considered, students from New York are strongly encouraged to apply. Interns in the state offices assist staff with constituent service work, our scheduling team or are press team. Paid internships are available to interns who have been accepted into the internship program and are able to certify financial need and meet eligibility criteria.
Pay Rate: $1,000 – $1,500 Stipend
Applications Accepted on a Rolling Basis
---
The Borgen Project Internship
The Borgen Project have several internship and volunteer openings that may be of interest to you, these range from HR, PR/Marketing to writing and journalism. All internship and volunteer programs provide experience in advocacy, mobilizing and fundraising, coupled with real industry exposure and an insight into the nonprofit world. Borgen Project remote internships are work from home roles, weekly deadlines must be met, meetings will be held online and a weekly update of your progress submitted.
Academic Credit
APPLICATIONS ACCEPTED ON A ROLLING BASIS
---
Melissa Riggio Higher Education Program
The Melissa Riggio Higher Education Program is a team of dedicated professionals focused on providing individuals with meaningful college experience, relationships and life. Currently, we are establishing a team of devoted college student mentors to provide support to students with intellectual disabilities. College Mentors will provide academic, internship, community and social supports to students enrolled in Melissa Riggio Higher Education Program.
Mentors are thoroughly trained and supervised by our program coordinator and are involved in a variety of activities with our students.
PART-TIME | FLEXIBLE | $15/hour POSITION
APPLICATIONS ACCEPTED ON A ROLLING BASIS
---
To apply to these and additional internship opportunities, please visit Career Wave (Handshake):
https://kingsboroughcc.okta.com/
Your resume MUST be approved by a Career Advisor to apply to these opportunities.
More

Opportunities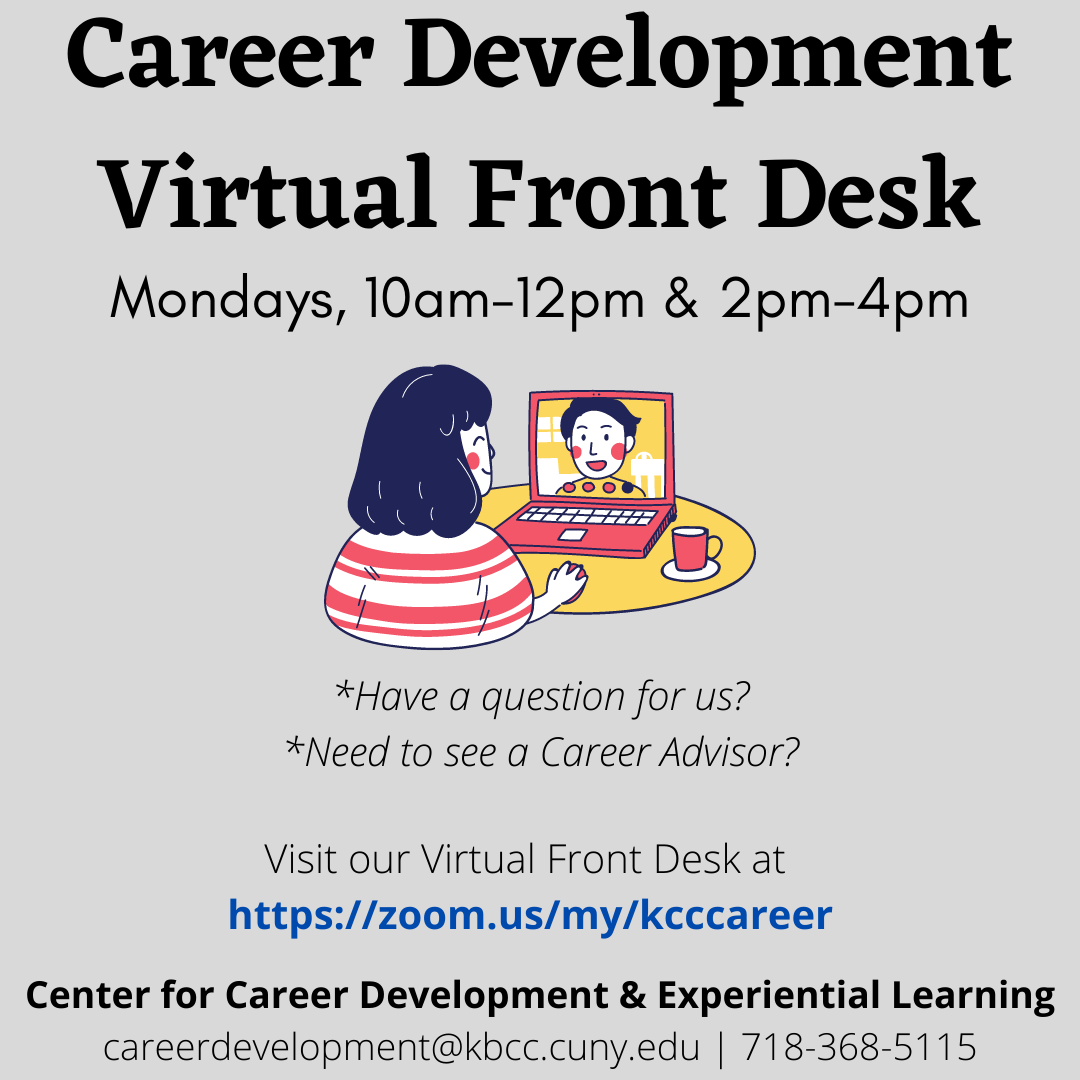 Follow Us On:
Stay current with up to the minute news on all our services and programs.