Business Internship Opportunities
Brooklyn Navy Yard Spring 2024 Internship Program
BNY's Spring Internship Program connects college-attending students to a wide range of paid internship opportunities with businesses within the Brooklyn Navy Yard. Over the course of a 10-week session, students will be connected to Brooklyn Navy Yard-based businesses and departments according to their future career interests, skill sets, and educational backgrounds.
Pay Rate: $15/hr.
DEADLINE: December 1, 2023
---
Caucus CUNY Scholars Internship Program
The City University of New York is proud to offer an exciting spring semester internship opportunity for a select number of CUNY students. The Edward T. Rogowsky Internship Program in Government & Public Affairs Program will coordinate the program alongside a Campus Faculty Coordinator at each of the City University's colleges. The New York State Black, Puerto Rican, Hispanic & Asian Legislative Caucus City University of New York Scholars Program will provide highly qualified individuals the opportunity to learn by doing via the New York City district offices of state legislators that comprise the membership on the Caucus.
Pay Rate: $2,000 Stipend
CREDIT DEADLINE: December 11, 2023
NON-CREDIT DEADLINE: December 18, 2023
---
Nederlander Producing co. of America, Inc.
Nederlander offers internship sessions that provide an opportunity for students to learn about the workings of a multi-faceted company and to develop professional skills. Interns are required to work in person during which time they will acquire hands-on experience in a theatrical office. Opportunities are available in the following departments: accounting, IT, group sales, operations, theatrical administration and digital marketing.
Pay Rate: $15/hr.
DEADLINE: December 20, 2023
---
Hershey Entertainment & Resorts Company
Hershey Entertainment & Resorts Company is a leader in the entertainment and hospitality industry. Behind the award-winning properties are people with one mutual goal to extend the legacy of our founder by helping families and guests create lasting memories in Hershey, The Sweetest Place on Earth. Culinary interns positions are available at the Hershey Lodge, the Chocolatier and the Hotel Hershey.
Pay Rate: $14/hr.
DEADLINE: December 22, 2023
---
Service Desk Technician Internship
In partnership with the NYC Office of Technology & Innovation Citywide Service Desk, interns will provide technical support to City workers requiring technical assistance. Interns will provide telephone and queue management technical support on hardware, software, network, and telephony issues and perform password and account management support.
Pay rate: $15/hr.
DEADLINE: Dec 30, 2023
---
Mobile Device Technician Internship
In partnership with the NYC Human Resources Administration, CUNY has an exciting internship position available for undergraduate students. Some of the responsibilities include but are not limited to executing upgrades and patches for MDM applications and supporting tools, Servicing mobile device maintenance, installation and performance optimization using specialized skills associated with enterprise based mobile device management tools and performing special projects and initiatives as assigned.
Pay Rate: $16/hr.
DEADLINE: December 31, 2023
---
NASA OSTEM Summer Internship
NASA offers several opportunities for students to undertake meaningful and challenging projects that truly make an impact on humanity. As a NASA intern, you'll work on meaningful projects that will make an enduring impact on humanity. And you'll join an inclusive culture that values diversity and inclusion as critical to mission success. Internships are located at NASA centers across the country and some are available virtually.
Average Ray Rate: $32/hr.
DEADLINE: February 2, 2024
---
LifeSci NYC Internship
LifeSci NYC Internship Program is the City of New York's innovative, paid internship program to develop the city's next generation of life sciences leaders. The program provides quality internships for undergraduate students, while offering curriculum and training support with refined "hard" skills in the sciences and "soft" skills of professional and personal development. Work with NYC industry partners to develop relevant and attractive experiences, including frameworks, resources, and structured activities to expand, diversify, and cultivate the city's emerging talent pool.
Pay Rate: $15/hr.
EARLY DEADLINE: December 31, 2023
FINAL DEADLINE: March 31, 2024
---
The Borgen Project Internship
The Borgen Project have several internship and volunteer openings that may be of interest to you, these range from HR, PR/Marketing to writing and journalism. All internship and volunteer programs provide experience in advocacy, mobilizing and fundraising, coupled with real industry exposure and an insight into the nonprofit world. Borgen Project remote internships are work from home roles, weekly deadlines must be met, meetings will be held online and a weekly update of your progress submitted.
Academic Credit
Applications Accepted on a Rolling Basis
---
The Dream.US Internships
Exciting news! Through a partnership between Kingsborough Community College, TheDream.US, and #ParkerDewey, TheDream.US Scholars now have access to exclusive, flexible, real-world, PAID experiences! Scholars, you can create your profile in less than 10 minutes and start applying today! These internships will enable TheDream.US Scholars to gain and demonstrate skills, explore career paths, and build professional networks.
Applications Accepted on a Rolling Basis
---
Maimonides Medical Center
From primary care to specialized care, Maimonides Medical Center is among the world's finest hospitals and is the third largest independent teaching hospital in the nation.  The 705-bed facility is complemented by over 70 community-based health care centers.  An internationally renowned staff of over 600 physicians is supported by the most advanced technology.  Highly skilled nursing and support staff provide quality patient care, and interpretation is available in over 70 languages.  Maimonides is proud to have over 1700 volunteers and students serve its community each year.
Some Departments Include:
Ambulatory Surgery
Anesthesiology
Breast Center
Cancer Center
Community Relations
Finance/Accounting
Human Resources
Medicine
Pediatrics
Perinatal
Pre-Admission Testing
Surgery
Urology
Volunteer Services
Wound Care
DEADLINE: Applications Accepted on a Rolling Basis
---
To apply to these and additional internship opportunities, please visit Career Wave (Handshake):
https://kingsboroughcc.okta.com/
Your resume MUST be approved by a Career Advisor to apply to these opportunities.
More

Opportunities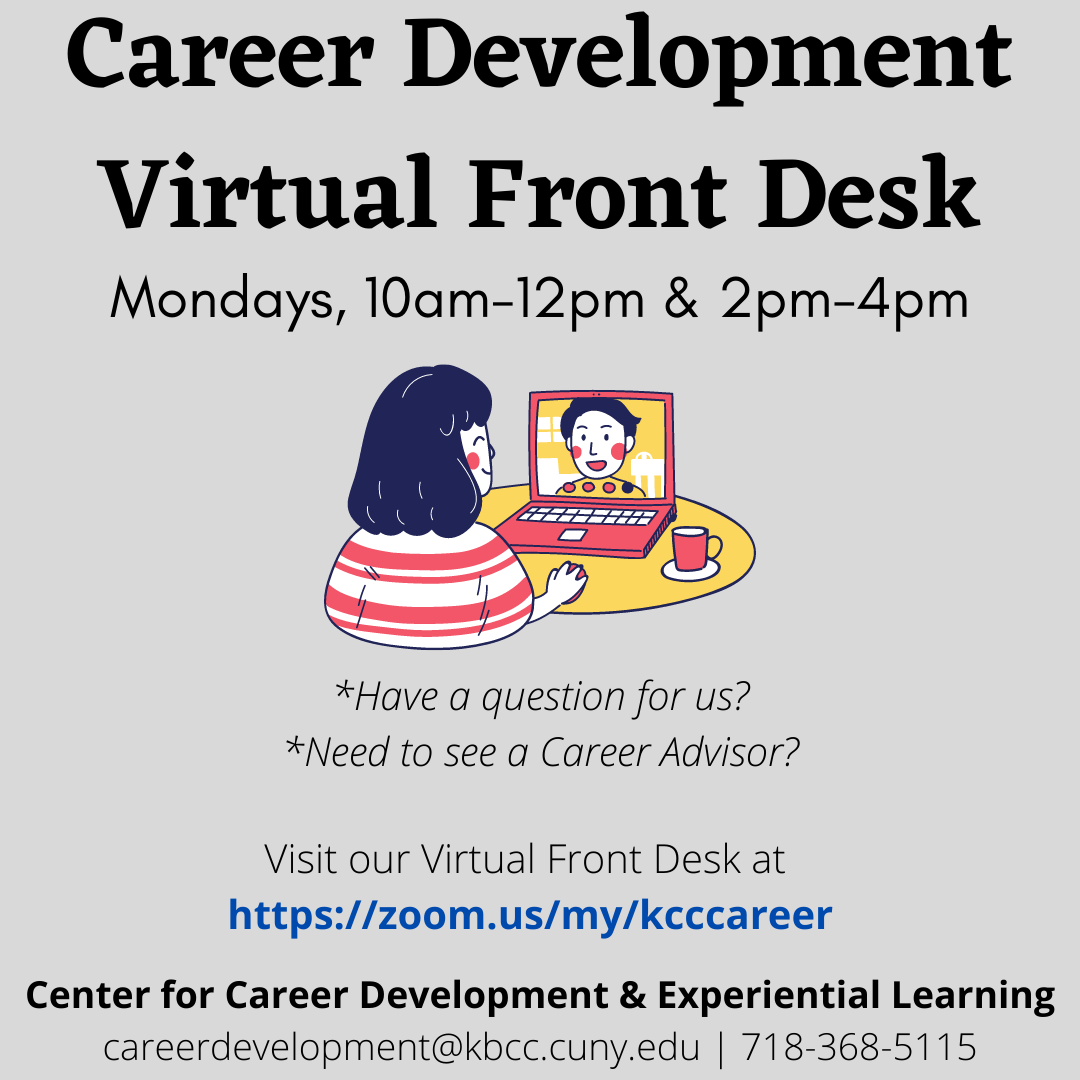 Follow Us On:
Stay current with up to the minute news on all our services and programs.