Business Internship Opportunities
Politico's Editorial Fall Internship
POLITICO is a global news and information company at the intersection of politics and policy. With publications based in Washington, D.C., New York and Brussels - and continued expansion into various state capitals in the United States - POLITICO NY office is seeking an editorial intern Fall 2023. The intern - working both virtually and from the Lower Manhattan office - will play a critical role in the coverage of Mayor Eric Adams, the City Council and politics and policy in America's biggest city.
Pay Rate: $23/hr.
DEADLINE: May 30, 2023
---
Nordstrom Restaurant Externship
As a Nordstrom Restaurant Group Extern, you'll rotate throughout different restaurant locations to gain experience in front of house, back of house, and in specialty coffee bars. The goal is to provide outstanding customer service in every interaction. You are empowered to give people memorable experiences by making them feel welcome, respected & comfortable environment.
Pay Rate: $23/hr.
DEADLINE: May 31, 2023
---
Future Leaders in Public Service Internship
This program helps bring diverse young talent to government and offers students the opportunity to apply their educational training to work at a federal agency. The program is actively recruiting its fall 2023 cohort to join the National Science Foundation and the Small Business Administration as paid interns. Undergraduate from all academic disciplines are welcome to apply. Fully remote and in-person opportunities are available.
Stipend: $3,200
DEADLINE: June 2, 2023
---
The Center for an Urban Future (CUF) Fall Internship
The Center for an Urban Future (CUF) is an independent nonprofit public policy research think-tank that produces innovative analysis on economic development and workforce development issues in New York City, with a focus on promoting economic diversity while creating opportunities for disadvantaged populations and lower-skill workers. Our work seeks to highlight issues within our fields of focus that tend to fly under the radar in mainstream policy discussions. For the fall they are seeking Development and Communication interns and Policy Research interns.
(ID: 19106 & 19107)
Pay rate: $15/hr.)
DEADLINE: June 14, 2023
---
Financial Advisor Business Evaluation Internship
Financial Advisor Business Evaluation Internship (FABE) is looking for interns seeking an introduction to the growing wealth management industry. Applicants must be self-starters who can effectively manage their time while working remotely. This internship could turn into a full-time job. FABE is a financial services company that evaluates registered investment advisory (RIA) firms for the sake of improving the firm's valuation as well as operational efficiency. Interns will contact RIAs and related business professionals.
Pay Rate: $100/wk.
DEADLINE: June 28, 2023
---
Women's Public Service Internship Program
The City University of New York in coordinated by the Edward T. Rogowsky Internship Program in Government & Public Affairs and designated officers at each CUNY college offers a fall internship opportunity for selected students. The CUNY Women's Public Service Internship Program will provide highly qualified individuals the opportunity to learn by doing in the offices of selected legislators working to benefit women and promote women's issues in New York. The focus of internship assignments varies. Community affairs, research, and policy formulation in areas of most concern to women is central. CUNY will provide $2,000 to each eligible student.
(ID: 19109)
Pay rate: $2000 stipend
DEADLINE: June 28, 2023
---
JFK International Air Terminal Operations Internship (JFKIAT)
This internship is open to students enrolled and attending classes during the internship. Interns will be assisting with management of passenger queues in the Customs and border Patrol, TSA Security and Check-in areas, including but not limited to, managing social distancing, ensuring continuous flow of passengers through each process, screening for non-ticketed passengers and crowd control. Support management staff as needed, and supervise, direct, monitor daily performance and work in coordination with outsourced contracted staff.
Pay rate: $20/hr.
DEADLINE: June 30, 2023
---
White House Council on Environmental Quality Fall Internship
The White House Internship Program (WHIP) is a public service leadership and development program that provides emerging leaders with an opportunity to gain valuable skills while supporting the work of the White House Office. The Council on Environmental Quality (CEQ) interns are supervised by CEQ staff, and provide critical research and writing assistance on a range of environmental policies. Through CEQ's participation in policy procedure across the Federal government, interns have the opportunity to perform diverse and substantive policy work. Duties include but are not limited to: researching policy issues; assisting the staff in drafting fact sheets, memos, and blogs; attending meetings; liaising with external stakeholders; managing projects; performing administrative tasks; and other duties as assigned. The office environment is fast paced, so accuracy and attention to detail are absolute requirements.
(ID: 18380)
Pay Rate: $750/wk.
DEADLINE: June 30, 2023
---
Service Desk Technician Internship
In partnership with the NYC Office of Technology & Innovation Citywide Service Desk, interns will provide technical support to City workers requiring technical assistance. Interns will provide telephone and queue management technical support on hardware, software, network, and telephony issues and perform password and account management support.
Pay rate: $15/hr.
DEADLINE: Dec 30, 2023
---
Mobile Device Technician Internship
In partnership with the NYC Human Resources Administration, CUNY has an exciting internship position available for undergraduate students. Some of the responsibilities include but are not limited to executing upgrades and patches for MDM applications and supporting tools, Servicing mobile device maintenance, installation and performance optimization using specialized skills associated with enterprise based mobile device management tools and performing special projects and initiatives as assigned.
Pay Rate: $16/hr.
DEADLINE: December 31, 2023
---
The Borgen Project Internship
The Borgen Project have several internship and volunteer openings that may be of interest to you, these range from HR, PR/Marketing to writing and journalism. All internship and volunteer programs provide experience in advocacy, mobilizing and fundraising, coupled with real industry exposure and an insight into the nonprofit world. Borgen Project remote internships are work from home roles, weekly deadlines must be met, meetings will be held online and a weekly update of your progress submitted.
Academic Credit
Applications Accepted on a Rolling Basis
---
The Dream.US Internships
Exciting news! Through a partnership between Kingsborough Community College, TheDream.US, and #ParkerDewey, TheDream.US Scholars now have access to exclusive, flexible, real-world, PAID experiences! Scholars, you can create your profile in less than 10 minutes and start applying today! These internships will enable TheDream.US Scholars to gain and demonstrate skills, explore career paths, and build professional networks.
Applications Accepted on a Rolling Basis
---
Maimonides Medical Center
From primary care to specialized care, Maimonides Medical Center is among the world's finest hospitals and is the third largest independent teaching hospital in the nation.  The 705-bed facility is complemented by over 70 community-based health care centers.  An internationally renowned staff of over 600 physicians is supported by the most advanced technology.  Highly skilled nursing and support staff provide quality patient care, and interpretation is available in over 70 languages.  Maimonides is proud to have over 1700 volunteers and students serve its community each year.
Some Departments Include:
Ambulatory Surgery
Anesthesiology
Breast Center
Cancer Center
Community Relations
Finance/Accounting
Human Resources
Medicine
Pediatrics
Perinatal
Pre-Admission Testing
Surgery
Urology
Volunteer Services
Wound Care
DEADLINE: Applications Accepted on a Rolling Basis
---
To apply to these and additional internship opportunities, please visit Career Wave:
https://kbcc-csm.symplicity.com/students
Your resume MUST be approved by a Career Advisor to apply to these opportunities.
More

Opportunities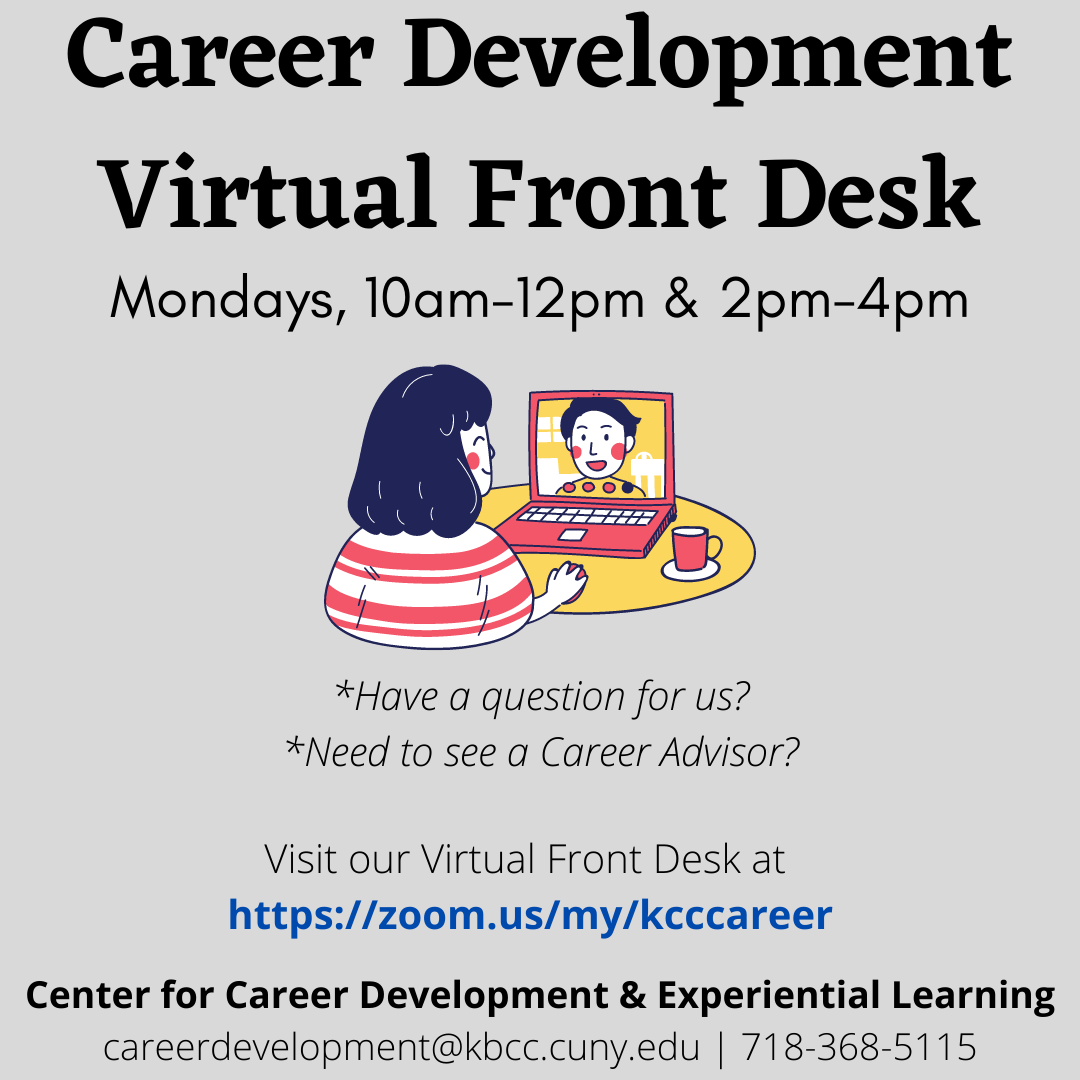 Follow Us On:
Stay current with up to the minute news on all our services and programs.