Health Sciences & STEM Internship Opportunities
Reporting and Analyst IT Internship
In partnership with the NYC Human Resources Administration CUNY has an exciting internship position available for undergraduate students in the Computer Science field. The internship comprises NYC/HRA/MAP/Reporting and Analysis Division/Business Solutions and Support unit. The division work involves research, analysis and reporting for NYC's Medicaid program (and a bit of work for the Home Care program), which encompasses about 1.2 M New Yorkers currently. The intern will be primarily involved in developing and maintaining currently four programs that their predecessors and they created/developed, mostly using a range of tools such as: NET Framework 4.0., SQL server 2016, iText 7 Core C#, Postman, ReSharper, sql server management 18.9.2, VCS (version control software) such as Git, visual studio 2019, SQL, Java, javascript, HTML5, CSS, asp.NET, JQuery, C++, and Python.
Pay Rate: $16/hr.
DEADLINE: May 31, 2023
---
Energy Efficiency/Sustainability Analyst Internship
In partnership with the Department of Correction (DOC), CUNY has an exciting internship position available for CUNY students in Mechanical Engineering, Environmental Engineering, Energy Engineering, or other disciplines with applications in energy management. The program allows students to receive practical hands-on training and experience while assisting DOC in achieving long-term energy efficiency objectives. The internship will be at DOC headquarters in East Elmhurst, Queens.
Pay Rate: $16/hr.
DEADLINE: May 31, 2023
---
Gantry Kids & Teens Summer Camp Internship (Coach)
An established Traveling Summer Camp in the Queens area is looking for interns to join in on our summer of fun. This is an interactive leadership opportunity for an energetic person. The intern hired for the position will be involved in all aspects of our camp day from drop-off to bike rides to field trips & choosing the focus that day.
Pay Rate: $15-20/hr.
DEADLINE: May 31, 2023
---
Future Leaders in Public Service Internship
This program helps bring diverse young talent to government and offers students the opportunity to apply their educational training to work at a federal agency. The program is actively recruiting its fall 2023 cohort to join the National Science Foundation and the Small Business Administration as paid interns. Undergraduate from all academic disciplines are welcome to apply. Fully remote and in-person opportunities are available.
Stipend: $3,200
DEADLINE: June 2, 2023
---
NYC Administration for Children's Services CUNY Intern
As a member of the Project Managers Office, you will be responsible to update Project statuses and work with the Project Managers to rectify any missed information on their projects. This candidate will be responsible for preparing weekly status deck to be distributed to the upper management. This candidate from time to time will engage in market research and analysis on IT Products. This candidate will also be asked to compile/ provide feedback for system reference documentation, and guides and provide feedback as well as participate in all project-related meetings. The intern may occasionally do other tasks as assigned by the PMO Director.
Pay Rate: $15/hr.
DEADLINE: June 30, 2023
---
Accurate Communications
One of the leading service providers for communications solutions online. Accurate communications provide interpretation services virtually and in person throughout New York. Serve as an interpreter for people with limited English proficiency in different social services settings. Provide consecutive interpretation between English and Spanish, and express either approximate or exact translation, depending on the nature of the occasion.
(ID: 18855)
Pay Rate: Unpaid
DEADLINE: June 30, 2023
---
Hispanic Association of Colleges and Universities (HACU) National Internship Program (Fall)
Gain valuable work experience through paid internships at federal agencies nationwide such as NASA, USDA and the Library of Congress. HACU matches a student's career interests, educational background, and previous work or volunteer experience with the needs and demands of our federal and corporate partners. Students receive paid round-trip airfare, housing arrangement assistance, emergency medical insurance, biweekly stipend, and attend an intern orientation. Throughout the internship, students also have the opportunity to participate in professional development, networking, and cultural activities.
(ID: 18469)
Pay Rate: $16.10/hr.
DEADLINE: June 30, 2023
---
HRTP: A Public Health Fall Internship Program
One of the oldest and largest public health traineeships in the country, NYC Health department Health Research Training Program (HRTP) provides an opportunity for undergraduate students to experience some of the real-life challenges of public health. By working on current public health issues under the close supervision and mentorship of experienced professionals, students apply classroom learning to practical problems in a closely matched practicum. In the process, they learn critical skills needed to excel in the field.
DEADLINE: August 15, 2023
---
LifeSci NYC
The program seeks to provide experience and training for students and recent graduates interested in pursuing careers in the life sciences industry, providing opportunities to work in a wide range of companies, from early-stage startups to large pharmaceutical and biotech firms.
Pay Rate: $15/hr.
Deadline: August 31, 2023
---
Service Desk Technician Internship
In partnership with the NYC Office of Technology & Innovation Citywide Service Desk, interns will provide technical support to City workers requiring technical assistance. Interns will provide telephone and queue management technical support on hardware, software, network, and telephony issues and perform password and account management support.
Pay rate: $15/hr.
DEADLINE: Dec 30, 2023
---
Mobile Device Technician Internship
In partnership with the NYC Human Resources Administration, CUNY has an exciting internship position available for undergraduate students. Some of the responsibilities include but are not limited to executing upgrades and patches for MDM applications and supporting tools, Servicing mobile device maintenance, installation and performance optimization using specialized skills associated with enterprise based mobile device management tools and performing special projects and initiatives as assigned.
Pay Rate: $16/hr.
DEADLINE: December 31, 2023
---
The Borgen Project Internship
The Borgen Project have several internship and volunteer openings that may be of interest to you, these range from HR, PR/Marketing to writing and journalism. All internship and volunteer programs provide experience in advocacy, mobilizing and fundraising, coupled with real industry exposure and an insight into the nonprofit world. Borgen Project remote internships are work from home roles, weekly deadlines must be met, meetings will be held online and a weekly update of your progress submitted.
Academic Credit
Applications Accepted on a Rolling Basis
---
Mentoring in Medicine Paid Internship
Mentoring in Medicine is seeking instructors across their K 12 programming sites. Stem Instructors' positions are available in their Community Health Ambassador Mentorship Program (CHAMP) school sites. delivering health and science curriculum to students.
(ID: 16565)
Pay Rate: $20/hr.
DEADLINE: Applications Accepted on a Rolling Basis
---
Maimonides Medical Center
From primary care to specialized care, Maimonides Medical Center is among the world's finest hospitals and is the third largest independent teaching hospital in the nation.  The 705-bed facility is complemented by over 70 community-based health care centers.  An internationally renowned staff of over 600 physicians is supported by the most advanced technology.  Highly skilled nursing and support staff provide quality patient care, and interpretation is available in over 70 languages.  Maimonides is proud to have over 1700 volunteers and students serve its community each year.
Some Departments Include:
Ambulatory Surgery
Anesthesiology
Breast Center
Cancer Center
Community Relations
Finance/Accounting
Human Resources
Medicine
Pediatrics
Perinatal
Pre-Admission Testing
Surgery
Urology
Volunteer Services
Wound Care
DEADLINE: Applications Accepted on a Rolling Basis
---
Melissa Riggio Higher Education Program
The Melissa Riggio Higher Education Program is a team of dedicated professionals focused on providing individuals with meaningful college experience, relationships and life. Currently, we are establishing a team of devoted college student mentors to provide support to students with intellectual disabilities. College Mentors will provide academic, internship, community and social supports to students enrolled in Melissa Riggio Higher Education Program.
Mentors are thoroughly trained and supervised by our program coordinator and are involved in a variety of activities with our students.
PART-TIME | FLEXIBLE | $15/hour POSITION
APPLICATIONS ACCEPTED ON A ROLLING BASIS
---
To apply to these and additional internship opportunities, please visit Career Wave:
https://kbcc-csm.symplicity.com/students
Your resume MUST be approved by a Career Advisor to apply to these opportunities.
More

Opportunities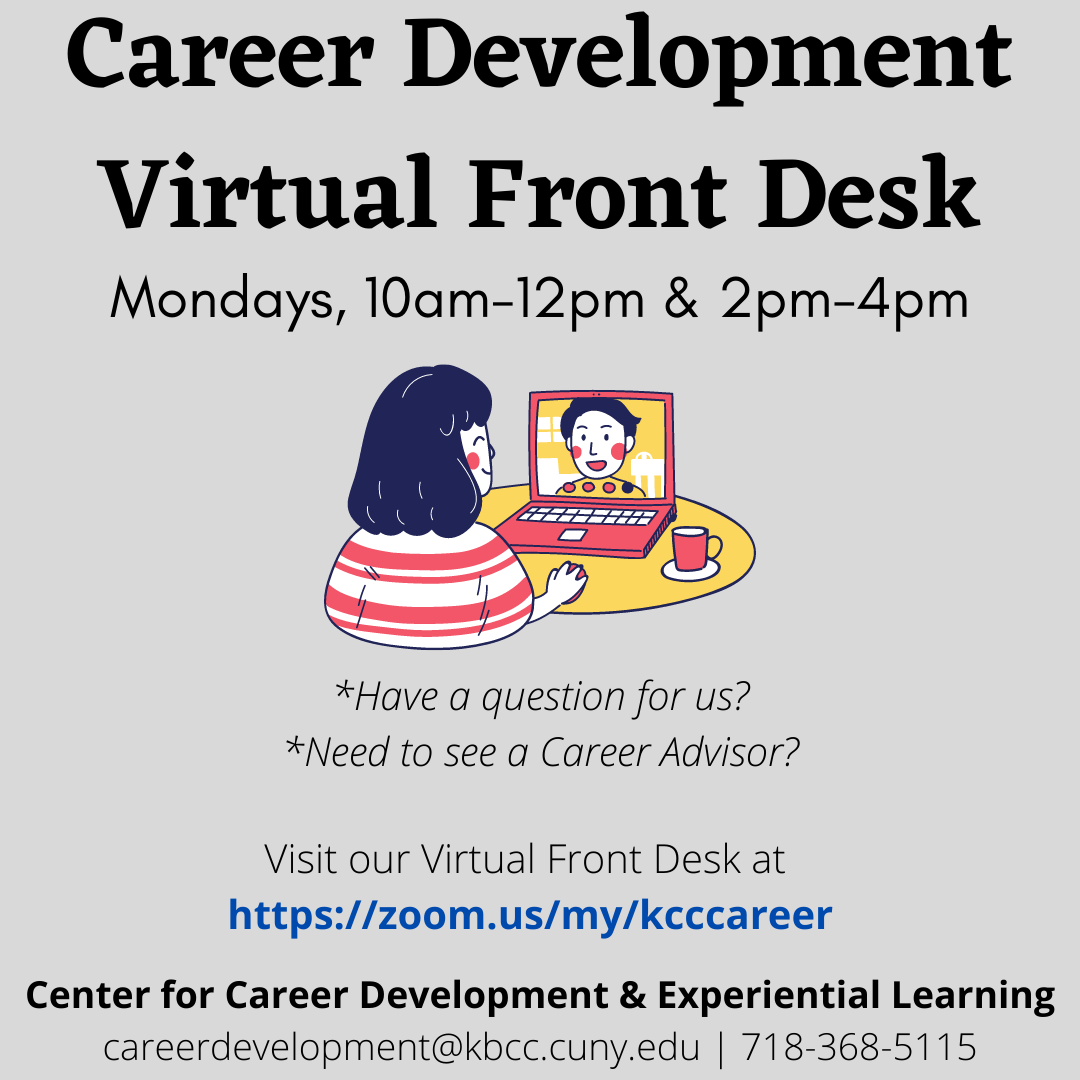 Follow Us On:
Stay current with up to the minute news on all our services and programs.