Peculiar Times For The Future of Hip Hop


Peculiar Times For The Future of Hip Hop
By Iman Stevenson
Odd Future Wolf Gang Kill Them All, commonly shortened to Odd Future, is a riotous rap group comprised of teenagers hailing from Los Angeles, California.

Frontman Tyler, the creator released his solo mix-tape roughly two years ago and has been well received through various media outlets, most notably through music blogs. He serves as the group's in-house producer and has made an appearance on nearly all of Odd Future's songs.

Tyler's appearance, with fellow Odd Future member Hodgy Beats on Late Night with Jimmy Fallon further catapulted them into the mainstream consciousness. They have been co-signed by some of hip-hop's elite such as Mos Def, Kanye West and Pusha-T, couple that with the fact that their faces are on the latest issue of Billboard magazine. Pictures of Odd Future's resident R&B crooner, Frank Ocean, have recently been released of him and Beyonce Knowles working together in the studio. If you factor in those accomplishments, it does not take much to see their steady ascension to the top of the music industry.

They lured in fans with their subversive subject matter as well as their metaphorical, and sometimes literal, middle finger to the order of things. Having gone to both of Odd Future's New York shows, it was easy to see who their demographic was: rebellious, 90s babies. Both shows, had large mosh-pits predominantly made up of kids roughhousing and uncaringly creating bodily collisions, totally consumed by the music; a sight that would be de rigor at a rock concert, not a hip-hop show.

They are the embodiment of teenage depression, vexation and all of the other trivial things teenagers tend to whine about, but magnified to a degree that will probably irritate anyone over the age of 28. Their music can be summed up in one word: Offensive, borderline macabre. However, repugnant lyrics aside, these guys are talented and are causing ripples in the rather halcyon lake of hip hop. Furthermore, an assemblage of this size, with this much growing mainstream notoriety, has not occurred since the days of the Wu-Tang Clan in the early to mid 1990's.

Odd Future's music is, for the most part, grim in subject matter, but manages to be innocent in the overall feeling that it conveys. You can expect; sinister tales of suicide, resentment towards their absentee fathers, homicidal thoughts, drug use, atheism and recurring use of the word swag. Seditiousness has an alluring quality about it, and that is evident through the proliferation of their fan base. The notoriety that they have attained in such a short pocket of time is no small feat especially for hip hop acts.

It is pretty fascinating to see a crew of kids totally disregarding any notions people may have of them and simply making genuine music. In an age where a lot of artists are molded and churned out in an assembly-line fashion solely to make radio hits, Odd Future seems to be shattering that paradigm. However, most teenagers will outgrow and shed their shell of angst and rebellion, and hopefully Odd Future will be able to grow with their fans.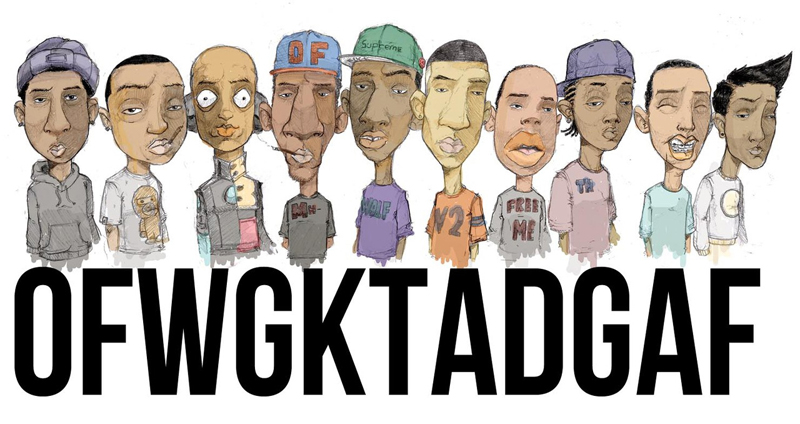 ---
Home | Campus News | World Affairs | General News | Arts & Entertainment | Sports | Op-Ed | About Us | Contact Us