Looking for a place at Kingsborough where you can feel safe?
Look for this logo on office doors around campus.
It means one of our 160+ allies works there!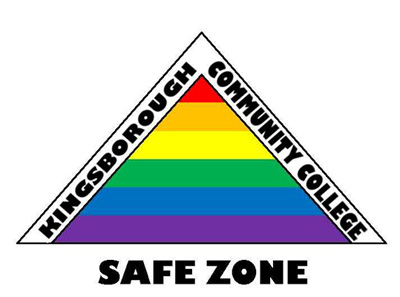 The Safe Zone program is designed to address the issues faced by lesbian, gay, bisexual, and transgender students, faculty, and staff.
Its most concrete goal is to identify and educate campus members who will become Safe Zone Allies -- a campus-wide network of committed individuals who serve as the first points of contact for those who need to speak to a caring person about LGBT issues.
In a broader sense, the existence of a thriving Safe Zone program will send a message to all members of the Kingsborough community that LGBT people are welcome members of that community. And as the program grows, we hope that it will promote a general atmosphere of respect on campus -- an atmosphere that welcomes diversity in many forms.

KCC Safe Zone Allies attend a three-hour long workshop and sign a pledge

Special thanks to CUE (Coordinated Undergraduate Education) and the KCTL (Kingsborough Center for Teaching and Learning) for financial and administrative support.