Student Union & Intercultural Center Hosts Fall Semester Interfaith Meet and Greet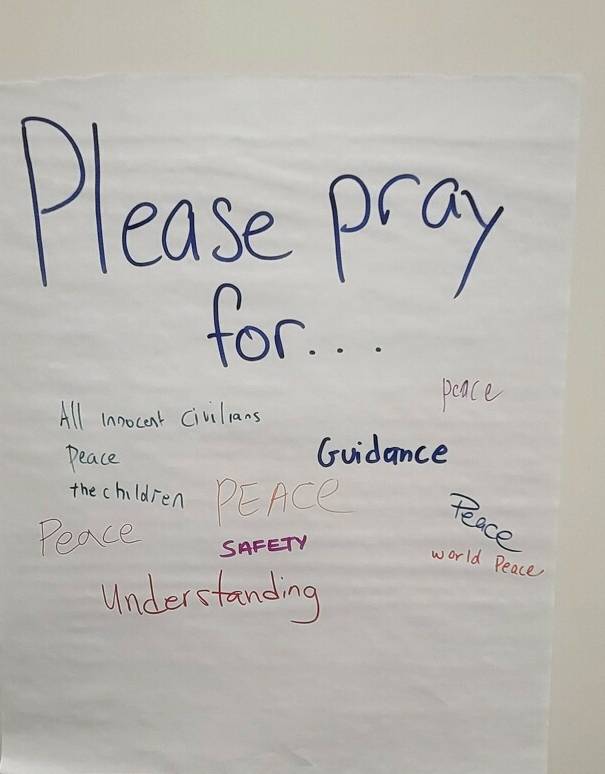 Student Union & Intercultural Center Hosts Fall Semester Interfaith Meet and Greet
It started off quiet as students, faculty and staff entered the Student Union & Intercultural Center Cove (SU&IC) yesterday; no one knew what to expect and who would be there. But, before KCC's Interfaith Meet, Greet and Eat event ended, many left with smiles and new friendships. The purpose of KCC's Interfaith Meet, Greet and Eat was to help bring the campus faith communities together to form a connection and good relationships.
According to Helen-Margaret Nasser, director of the Student Union and Intercultural Center and Student Publications, it was a good afternoon for sharing. "These interfaith events are opportunities for our students to build relationships and foster understanding. While students were filling the room, we asked them to share in pairs their favorite faith-based tradition and why. We had large poster papers asking students prompts such as 'My faith makes me feel…,' 'My faith helps me when…,' and 'Please pray for….' We also created space for a moment of silent prayer for peace given the challenging tensions happening globally at present."
SU&IC has made interfaith work an integral part of its mission and has been doing interfaith programming for two years. Participants in yesterday's event include diverse Student Life supported clubs, including the Hillel Club, the Newman Catholic Club, and the Muslim Students Association.
"KCC has long celebrated the diverse national and ethnic backgrounds of our students but did not have the physical space to allow them to celebrate the faith-based and spiritual identities integral to who they are," Nasser explained. "These types of events are becoming more and more effective at KCC since the SU&IC has laid the foundation for the creation of brave spaces and a greater sense of belonging for our students of faith."
The event was well received by students. "It was an excellent and relevant event, especially considering recent events. Solidarity and common ground were discussed and I made new friends to work with going forward," said Yakov Weinberger, treasurer of the KCC Hillel Club.
Interfaith activity continues with Faith Zone training on Friday, Oct. 13, 11 a.m. to 1 p.m. Open to all faculty, students and staff, Faith Zone trainings are a resource for those who desire innovative and participatory training, contextualized resources, and honest dialogue about religion and spirituality. KCC students, faculty, and staff members can participate and become Faith Zone certified. Based upon the Safe Zone model, which is used to educate groups about the LGBTQ+ community, Faith Zone sessions take a dual approach that integrates theory and practice. Topics covered include reflecting on personal experiences with faith and spirituality, examining the global and local context for various religious traditions represented at KCC, and discussing tips for creating a safe and welcoming environment in one's office, student group, or classroom.
Register in advance for the Faith Zone training:
https://us02web.zoom.us/meeting/register/tZ0qcuqtqjooE9Km89z5gYQad8PcZA5Dt4Wi
After registering, you will receive a confirmation email containing information about joining the meeting.
At this morning's peace vigil, sponsored by KCC's Student Union and Intercultural Center (SU&IC) in conjunction with the Office of Student Life, faculty, staff and students held tea light candles in the dimly lit room as they gathered in the name of peace to support and honor their fellow community members both here and abroad.
Kingsborough Community College is advancing its commitment to diversity and science education with the launch of the "Here 2 Observe" — or H2O — cohort program.
As Climate Week in New York City wraps up, New York Economic Development Corporation (NYCEDC) and New York City are continuing to advance New York's offshore wind (OSW) industry