Contact for press inquiries, interviews, and photo requests: Cheryl Todmann | Cheryl.Todmann@kbcc.cuny.edu | 646-897-2508
---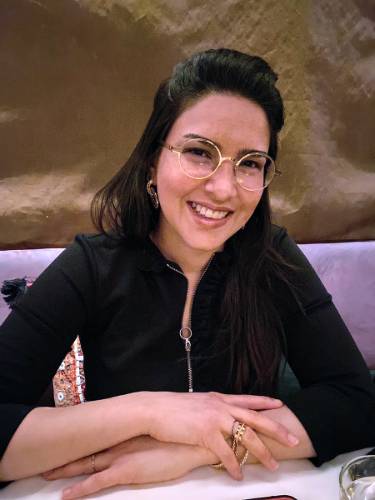 The Perfect Scholastic Vehicle: College Honor Societies
March is Honor Society Awareness Month!
Nawel Messaoudi is one of dozens of Kingsborough Community College students who have made the honor roll. With a straight "A" average, she's on the fast track to achieving her dream of becoming a certified registered nurse anesthetist. But there have been challenges.
Nawel, for example, spoke fluent French and Arabic when she came to Kingsborough in 2021. She didn't speak English. And, Nawel said, she was rejected three times, and for three years, she couldn't get into college because she was undocumented and didn't have a green card. But after a lot of conversations between KCC representatives and her attorney, the official paperwork was completed and doors opened for her to begin her higher education journey at Kingsborough. "If I can make it, anyone else can," said Nawel. "Look at me now: After three years, I can have a full conversation in English, studied biology and wrote my thesis. That's a lot of writing."
The return investment: She is a member of the Phi Theta Kappa (PTK) International Honor Society of the Two-Year College. In fact, Nawel is one of two Kingsborough members chosen for the prestigious PTK 2023 All-New York Team. PTK is the largest honor society in American higher education with more than 1.5 million members and over 1,200 chapters in all 50 states and abroad. Its purpose is to nurture academic excellence by promoting an intellectual climate and a unique sense of community among high-achieving students. Upon induction into PTK, members pledge to uphold the hallmarks of scholarship, leadership, fellowship, and service. Xi Kappa, the Phi Theta Kappa chapter at KCC, began in 1965, shortly after the college was founded.
Nawel, who is running for the office of vice president, has found many benefits as a PTK member, which she often explains to fellow honor roll students. "You have access to a lot of benefits and scholarships that you can find on their website. It's easy for members to apply," she shared. She also found membership to be a pipeline from KCC to New York University's Rory Meyers College of Nursing, which she hopes to attend. "Eventually, I will have my bachelor's degree in science and nursing after two years at NYU. I plan to continue my education and specialize in support of juvenile or neonate diabetics during surgical procedures. I am a type 1 diabetic and struggle every time I go to the hospital for even simple surgical procedures. The issue is that the blood sugar levels of type 1 diabetics must be carefully monitored and adjusted during surgery, and many medical professionals do not have access to experts in this area. I see a lot of kids struggling with insulin pumps like I did when I was young. This strongly motivates me to specialize in neonatal or juvenile diabetes in anesthesiology. These are the most vulnerable patients, and it surprises me how little is known in this important medical area."
Membership in Phi Theta Kappa affords numerous benefits, including prestigious transfer scholarships, networking opportunities, recommendation letters, participation in regional and national honors conferences, and more. Phi Theta Kappa induction is also noted on the official college transcript and via wearing honors regalia at commencement. To be eligible, students must have earned 12 or more credits and have a GPA of 3.5 or higher with no grades of D, F, FIN, INC, R, or WU. To remain in good standing, inducted students must maintain a GPA of at least 3.0. Eligible students are contacted directly by the College and invited to join.
High achievers at Kingsborough also have the opportunity to join the National Society of Leadership and Success (NSLS), the nation's largest leadership honor society. Nawel has been a member since 2022. In addition to honoring excellence, the NSLS provides a step-by-step accredited program for members to build their leadership skills and the option to earn college credit. The society is also known as Sigma Alpha Pi, which stands for success, action and purpose, the core of the NSLS identity.
Students who have completed at least two full-time semesters with a GPA of 2.8 or higher are eligible to join. They can qualify for a presidential status membership if their GPA is 3.3 or above. Once a student meets the criteria, the information is provided to the NSLS, which then invites the student to join.
Upon completing the program, members receive their leadership certificate and take their place among the top student leaders on their campus and across the country. Membership is for life and provides access to benefits, including scholarships and awards, employer recruitment through an online job bank, and discounts on computers, textbooks, grad school prep courses, insurance, and more. KCC's online chapter, founded in 2012, has inducted 4,458 members to date.
Nawel has maintained a GPA of 3.9987. ("I had 4.0 my whole time at Kingsborough but received an A- last summer," she explained.) She has been named to Dean's List every semester. In addition, she has been participating in the Presidential Scholars Honors Program since the spring of 2022. She is the only presidential scholar at KCC this year. Despite the demanding requirements – scholars must complete an additional 18 honors credits – she has also found time to be part of the Collegial Science and Technology Entry Program and the CUNY Research Scholar Program, where she will present her research at the CUNY symposium this summer.
As Nawel's experience has demonstrated, community colleges have much to offer their students. In addition to providing a challenging, enriching, and rewarding educational experience for highly motivated students, we offer entre to honor societies only open to community college students.