KCC Faculty on Teaching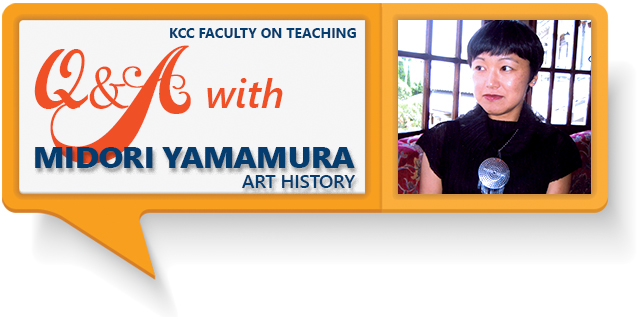 Q&A with Midori Yamamura
Art History
How did you get into teaching?
I came to teaching in a roundabout way. I was born and raised in Japan, which is governed still by patriarchal values. My parents didn't believe in women's education. When my first huge career opportunity came—which was to curate foreign artists for the Tokyo Municipal Government's Faret Tachikawa Art Project—I included contemporary artists from developing countries, which led to the project's success. However, as a young woman without any distinctions, I didn't get any credit for my work. The experience made me realize the importance of acquiring special skills through education. I decided to go back to graduate school and entered the master's program at Queens College. There, I met the person who would be my advisor for the next 14 years, who was a feminist. My encounter with her led to tremendous growth as a human being. Her feminist teaching also made me realize that my view of society, from the perspective of a woman art historian of color, can make people recognize knowledge that is not immediately accessible to the people in privileged positions. As Yoko Ono once said, "Center is a blind spot." There is no way to grasp the entire scope of history. There is a need to write revisionist histories. I eventually became interested in researching, writing, and teaching art history that used to give little visibility to women and artists of color, and nurturing a new generation of scholars.

What career did you imagine for yourself when you were in college?
I always wanted to be in a creative field, but I wasn't sure what it was. I still clearly remember the words of my graduate adviser when we first met at her loft on Bowery: "Teaching is creative." I was a little puzzled then, but I am now fully aware of how creative teaching is.

What do you love about teaching?
I love seeing significant growth in students during a semester, measured by their responses to the critical issues that I teach as part of my courses and watching them develop their own values and thinking.

What's your favorite teaching experience?
I enjoy helping students discover their inner callings and helping them achieve their dreams. I like offering them a new view of the world that can open a new chapter in their lives. I recently heard from two top students who were in my ART 3700 class my first semester at KCC in 2017. One student is about to graduate from a prestigious liberal arts school, Mount Holyoke College. The other, in whom I saw great potential in her art history research and writing skills, is majoring in art history at Brooklyn College. She will start working at the Clark Institute this summer.

In what ways do you bring your experience into the classroom?
I bring my experience of being a woman of color in American society into the classroom, which enriches a critical approach to the existing scholarships.

What advice do you have for current students?
Don't waste time: Take education seriously. Be genuine. To achieve this, as an educator, I try to create a safe zone where students can freely discuss critical issues.