Kingsborough Community College Announces Salutatorian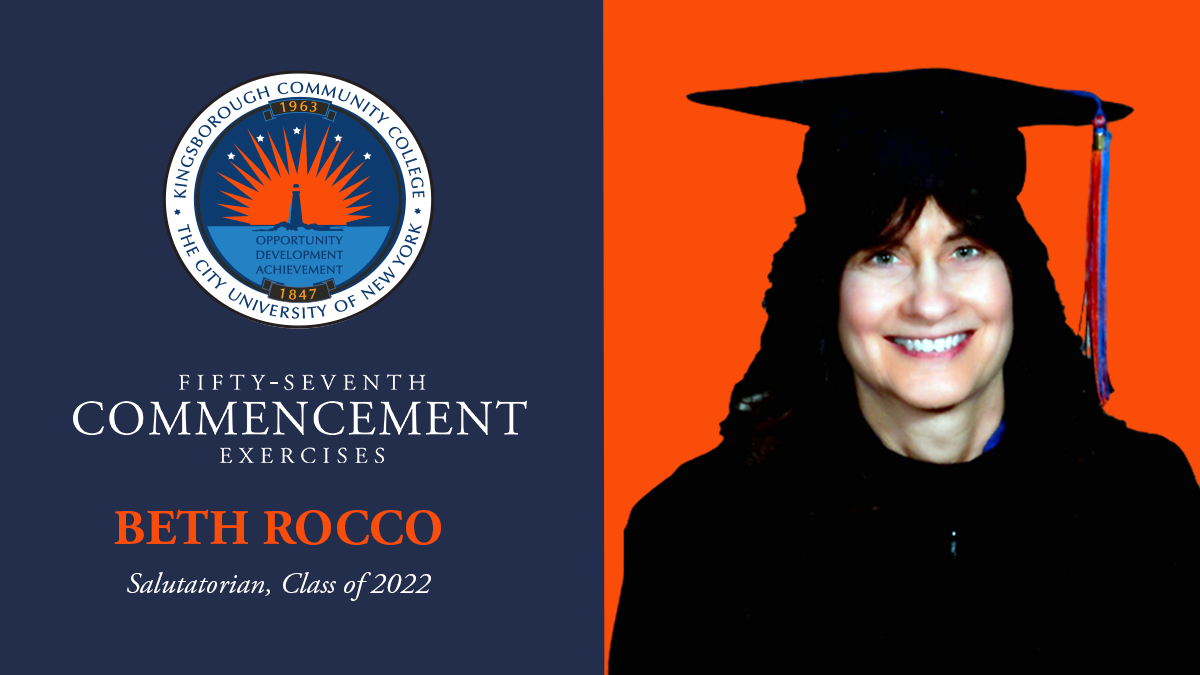 KCC Salutatorian Beth Rocco is a "Life-Long Learner"
Beth Rocco, who will graduate in nine days with an associate degree in liberal arts as Kingsborough Community College's Class of 2022 Salutatorian, calls herself a 'life-long learner."
"I'm taking it one step at a time. I definitely do not see myself not being in a classroom. I will continue to be a lifelong learner; it's wonderful," she said. "The degrees are really for me, my own personal self, my own personal best. I have to see where my next path lies."
Beth enrolled in Kingsborough in spring 2019. She has been a student ambassador since 2020 and is also a college assistant in the biological sciences department.
She has also worked as a volunteer at KCC's Community Farm & Garden, a Family Day event, and an Asian American and Pacific Islander celebration.
"I'm very honored," Beth said of being chosen salutatorian. She will be speaking at the awards ceremony on June 15 at the Leon M. Goldstein Performing Arts Center on the Kingsborough campus.
When Beth came to Kingsborough, she hit the restart button, so to speak. She had graduated from high school early and is the first generation to go to college. "My father was a cab driver, my mother worked on her feet all day in a clothing store. I am one of four in my family."
However, at that time, the college experience was overwhelming for her, and she decided to leave and enter the workforce. "It always haunted me that I didn't get my degree," she said.
Years later, she returned.
"The time was finally right: My husband gave me the encouragement and support to go back. I just chipped away at it. In 2020, I was able to leave my job and become a full-time college student."
Prior to this, Beth made sure to push her sons to go to college and receive their master's degrees.
Beth, who is a lifelong resident of Marine Park, Brooklyn, majored in liberal arts with a general concentration. "It gives you an array of different classes and I knew all of them would transfer over when going on to my bachelor's degree."
Beth has been accepted to Brooklyn College, where she plans to major in film studies with a minor in English. She has already enrolled in a summer English class on Shakespeare.
She plans to get both her bachelor's and master's degrees at Brooklyn College.
At this year's awards ceremony she will receive the Presidential Honors Award, Leon Goldstein Award and the Frances Kraljic Curran Liberal Arts Award. Last year, she received the Student Ambassador Award.
Beth states that she is grateful for her experience being a student at Kingsborough. She feels it is a campus filled with incredible individuals, but it is the sincere caring of the professors that makes this such an amazing place.
Beth's motto is: "No act of kindness, no matter how small, is ever wasted."
###