Proper Models of Spanish Grammar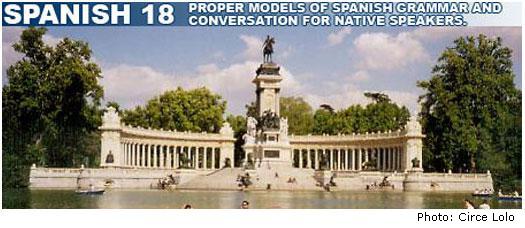 SPA 1800 – PROPER MODELS OF SPANISH GRAMMAR AND CONVERSATION FOR NATIVE SPEAKERS (3 crs. 3 hrs.)
For Spanish-speaking students, stress on improvement of reading and writing skills.
Prerequisites: Native conversational ability, acceptable Language Placement Examination score, and department permission.
Flexible Core: World Cultures and Global Issues (Group A)
¿Cuándo y cómo se deben colocar los acentos o tildes en las palabras en español? ¿Qué tienen en común el inglés y el español? ¿En qué se parecen y en qué se diferencian los países hispanos? Estos y otros muchos temas son tratados en SPA 1800, un curso diseñado para estudiantes hispanos que desean mejorar su español y profundizar en sus raíces culturales. Incluye conversaciones y lecturas de los diversos países hispanos, filmes y otras muchas actividades.

Si Ud. entendió el párrafo anterior es muy posible que SPA 1800 sea una buena opción para Ud. Se trata de una clase que le permite ganar tres créditos que cuentan como una clase de literatura más, sólo que en español. Vaya a Placement Exams para tomar el llamado Foreign Language Placement Examination ahora mismo, un simple examen que requiere de sólo unos pocos minutos de su tiempo y cuyo resultado reflejará su grado actual de dominio del idioma español, dándole el resultado inmediatamente. Una vez que Ud. termine el examen, el programa de la computadora abrirá automáticamente el nivel que Ud. debe matricular según los resultados del examen. Luego, simplemente seleccione la Sección que más se ajuste a sus necesidades o preferencias. Si necesita más información, póngase en contacto con el Departamento de Lenguas Extranjeras llamando al teléfono (718) 368-5403.

Así que no lo piense más. Tome el examen o llámenos para recibir más información al respecto. ¡Lo esperamos! ¡Nos vemos!