Fine Arts Studios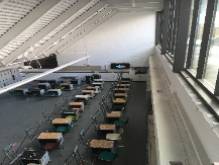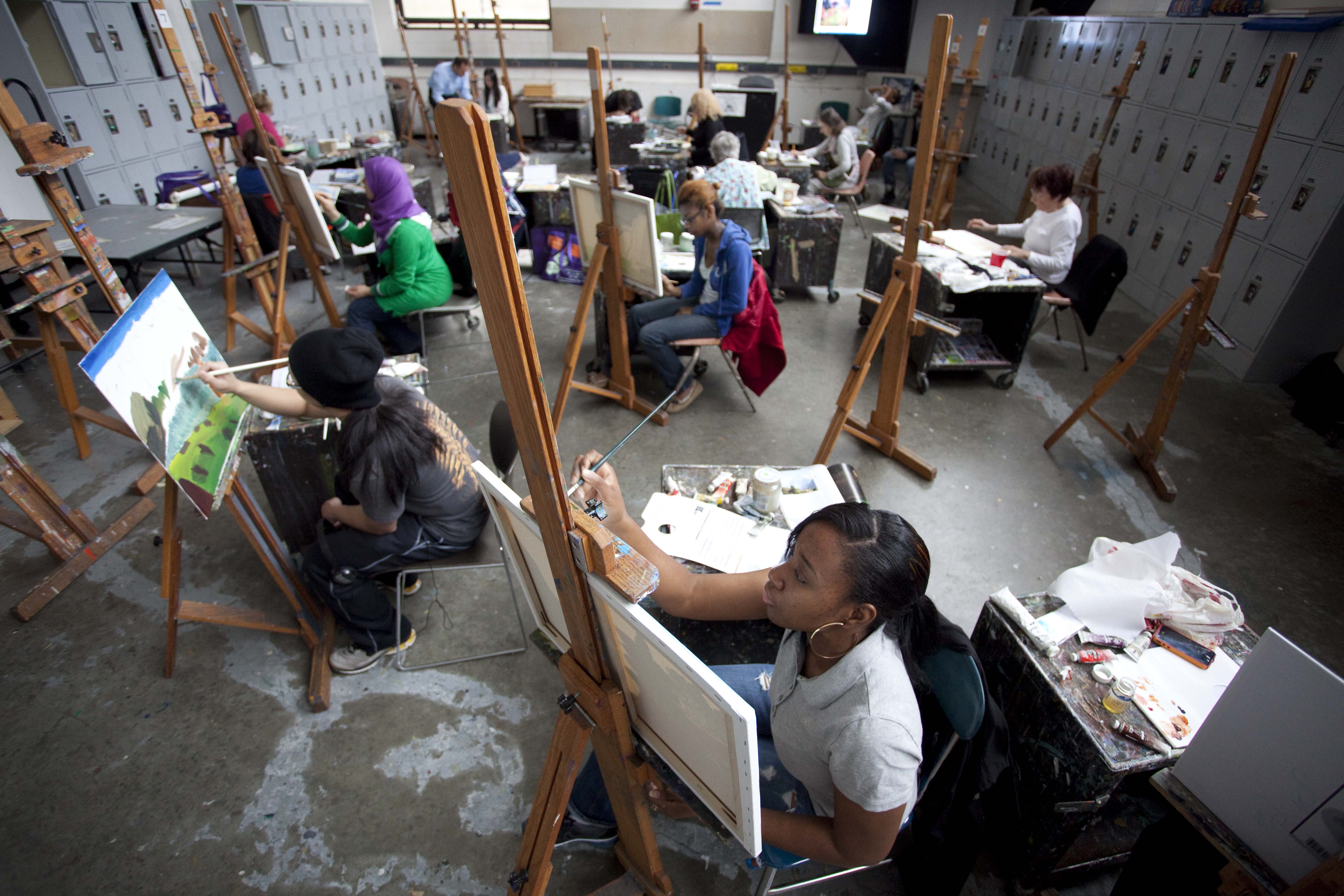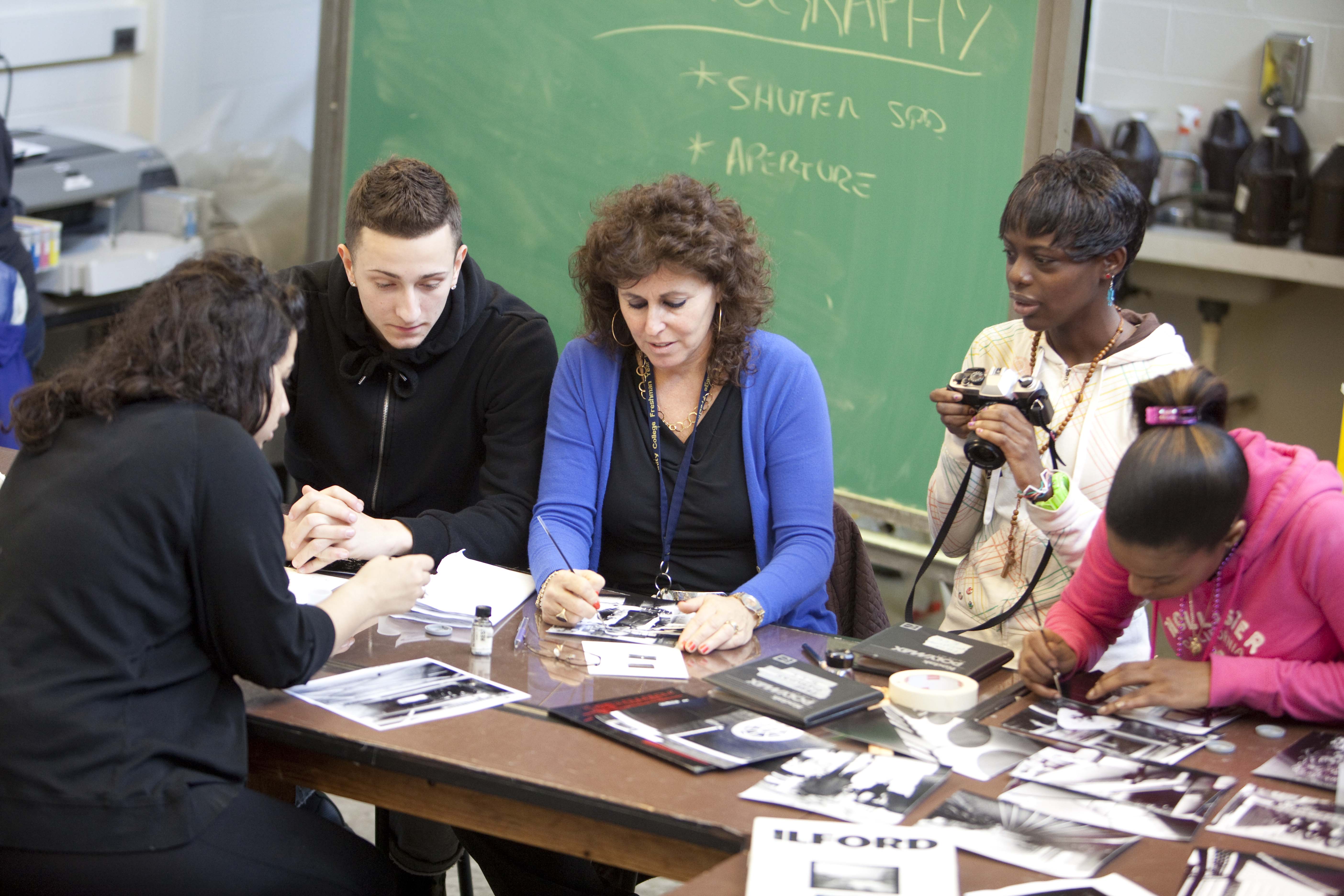 Art Department


Arts & Science Building
room S-155
Prof. Tom Eaton
Chairperson


Thomas.Eaton@kbcc.cuny.edu
Catherine Galeano


Program Assistant

718-368-5718
The Arts and Sciences Building is the Art Department headquarters, housing large, light-filled studios for Sculpture (S-157), Painting (S-158), Drawing (S-159), and Photography (S-160). In addition to the drawing tables, painting easels, and sculpture stands, each of the studios has a computer podium and monitor for enhanced class lectures. The majority of Art History classes are taught in the Arts & Sciences Building as well, with classrooms outfitted with large projection screens and digital projectors that allow in-depth, detailed study of artworks from around the globe.
The photography classroom is a high-ceiling space with great natural light. Our fully-functioning darkroom allows students to learn the skills necessary for processing black and white photographs, while our Digital Photography classroom is quipped with powerful Apple computers running Adobe Suite software, as well as wide-format inkjet printers. The Art Department has digital cameras available for every student to borrow.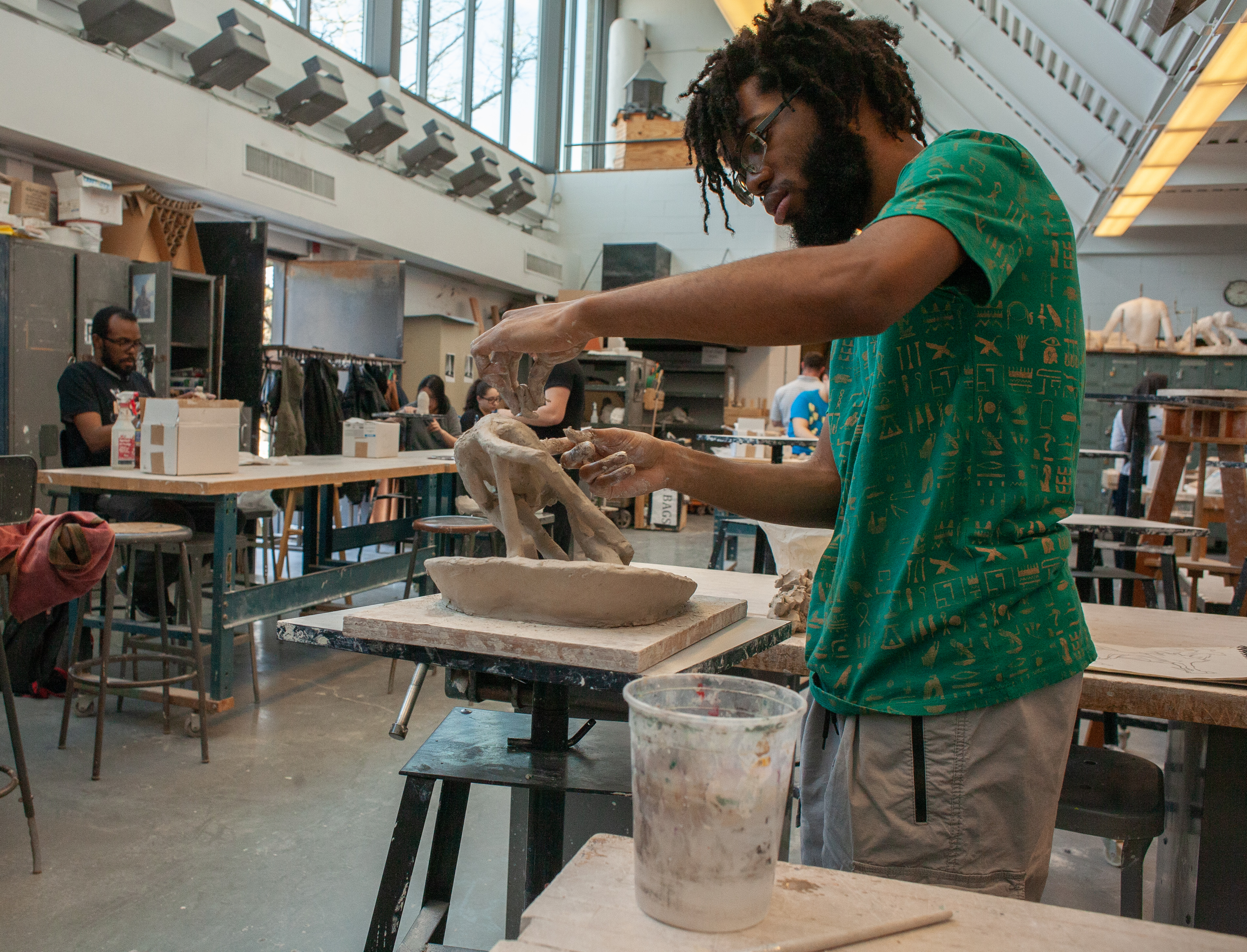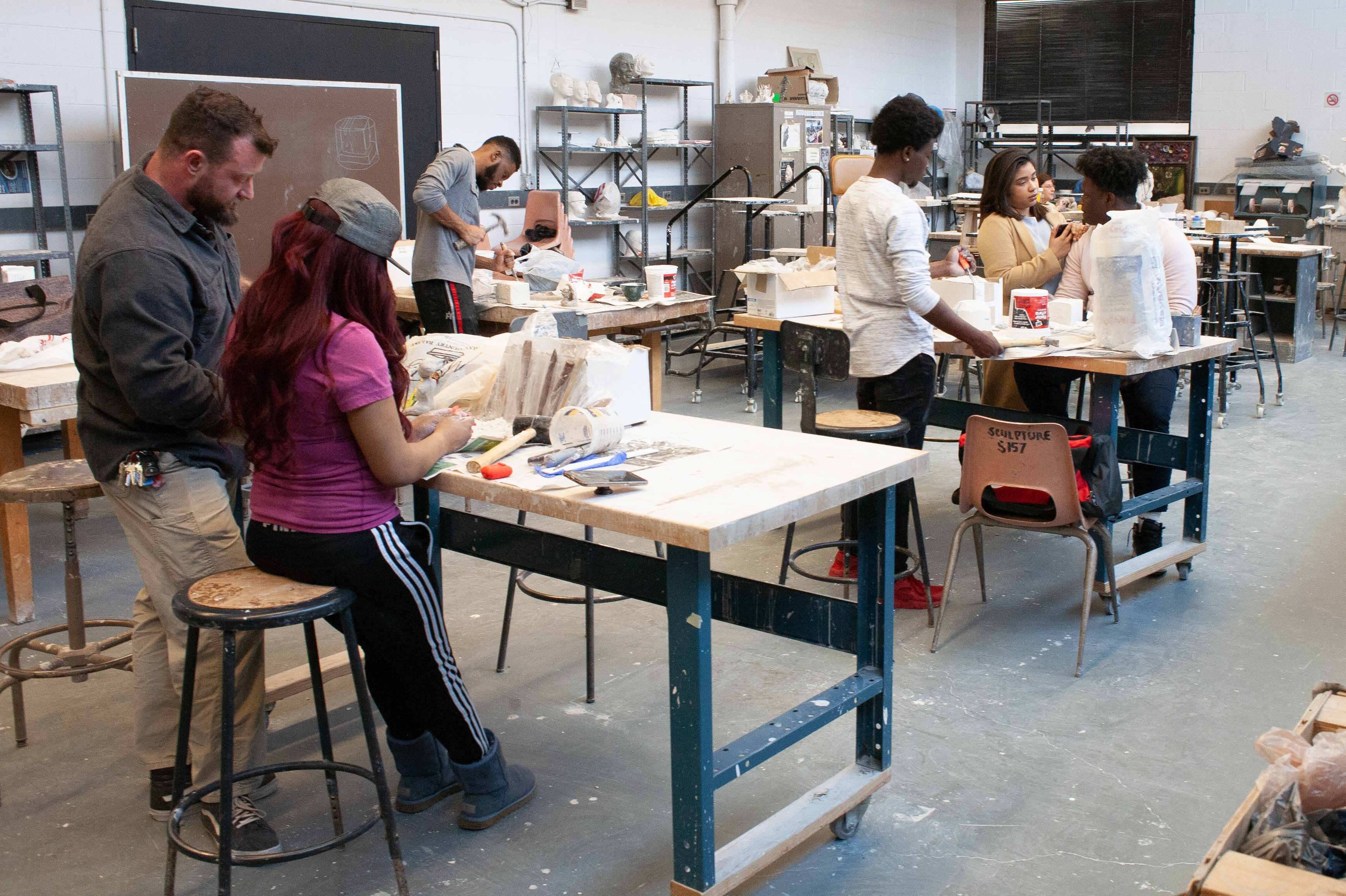 Our Sculpture Studio is set up for clay modeling and stone carving, with numerous sculpture stands as well as an electric kiln to fire finished work. Opportunities for advanced exploration in various media are possible in our Independent Study course.
Figure models provide our Drawing, Painting, and Sculpture students the opportunity to study and work from life. Art History classes are outfitted with large projection screens, digital projectors and computer podiums that enhance the classroom learning experience.
Ceramics Studio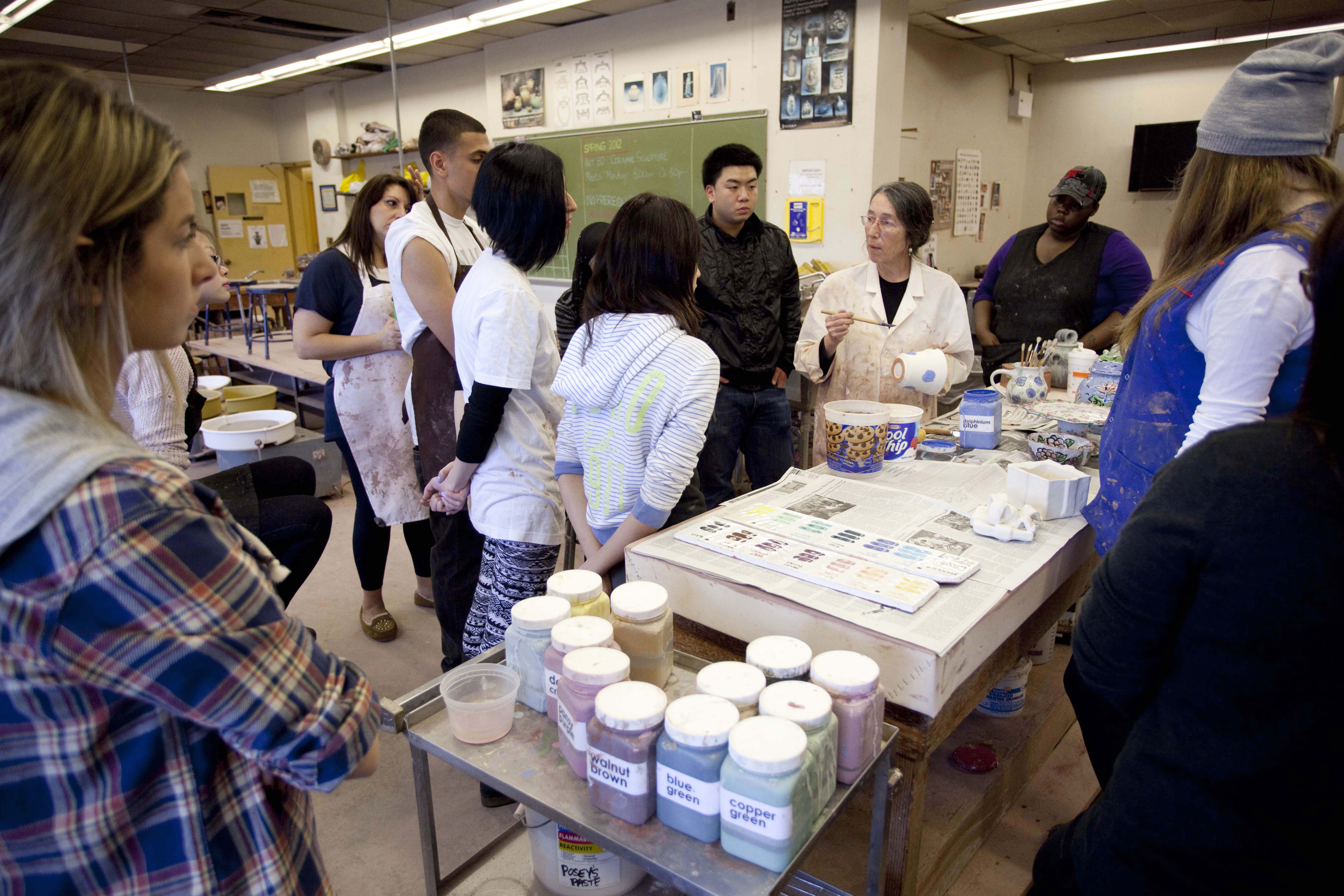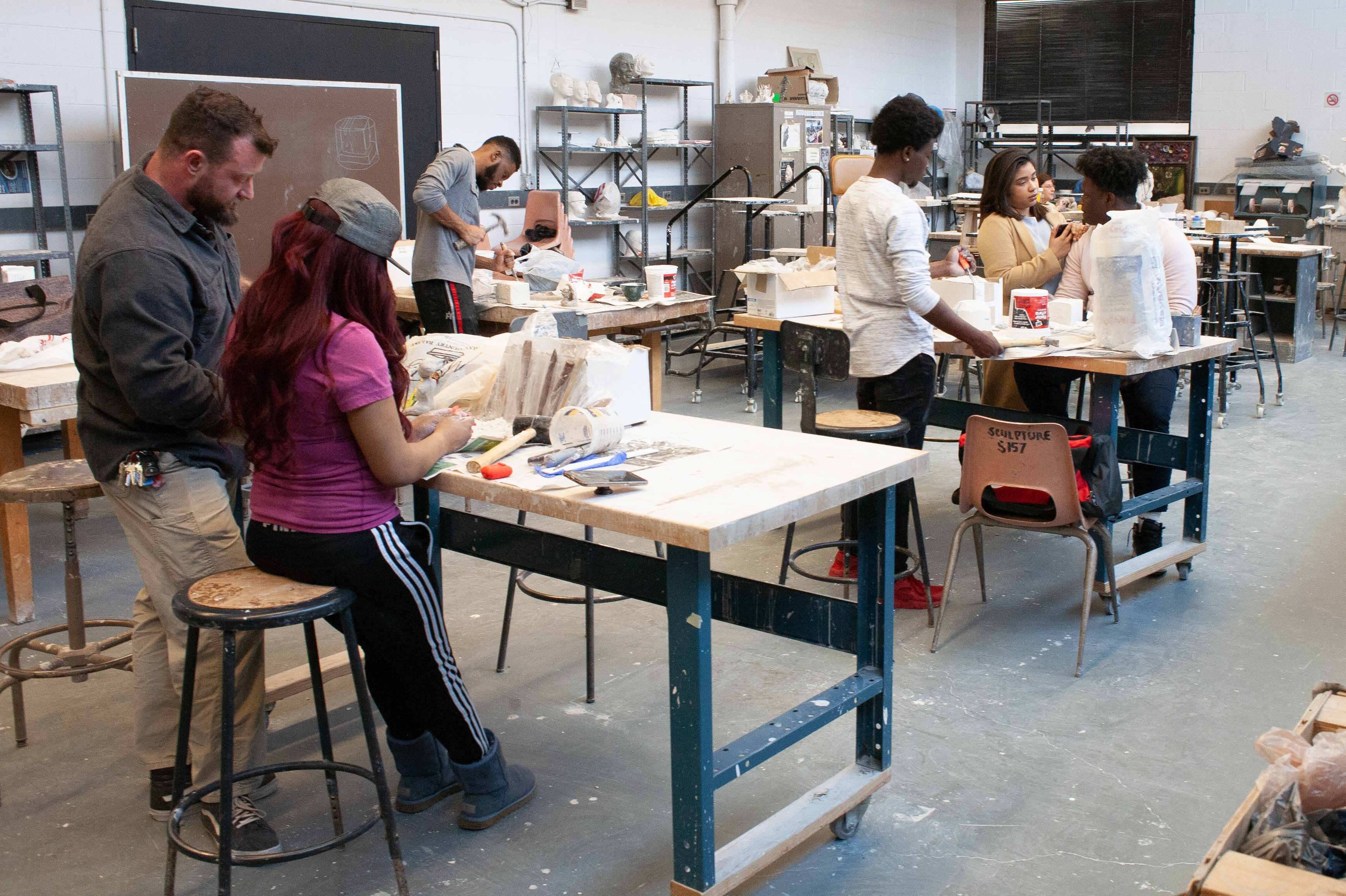 Located in the T-5 Building, the Ceramics Studio at KCC offers our students approximately 1600 square feet of open workspace. The studio provides 17 electric and 4 manual pottery wheels, 4 programmable electric kilns and 2 atmospheric gas kilns, a portable raku kiln, 2 slab rollers, a clay extruder and clay mixer.
The Introduction to Ceramics class, Art 6300, covers basic hand-building and wheel throwing techniques. Producing between 5 and 8 projects throughout the semester, students learn the fundamentals of hand building using pinch, coil and slab built techniques. Also covered in this beginning level course is an introduction to wheel throwing. Students learn how to use the pottery wheel to produce and finish functional work with an emphasis on vessel making.
Art 6400: Ceramics II continues to build on the foundations of the introductory course work, allowing students to hone their wheel throwing and hand-building skills by tackling projects that are more complex. Ceramic Art majors can continue their course work by taking Art 8121: Independent Study in Ceramics. Working closely with faculty, majors are encouraged to work in a self-directed way, taking advantage of additional open studio hours.
All materials used in the studio are provided to students free of charge. The studio provides terracotta clay, decorating slip, and an array of low-fire shop glazes. More advanced students and Ceramics Club members participate in gas kiln firings and work with porcelain and other high-fire clays.
Annual trips to visit historic museum collections and workshops with professional ceramic artists are sponsored through the Kingsborough Ceramics Club and are available to all Kingsborough students.
In addition to class time, the ceramics studio is open Mondays and Wednesdays from 1-4 pm. Students are encouraged to take advantage of the open hours to work on their class projects or to peruse their own ideas.