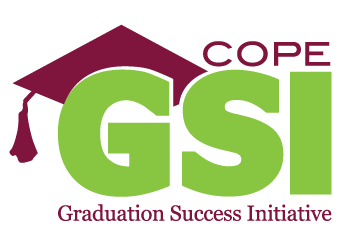 The COPE Graduation Success Initiative (GSI) is a year-long, structured academic and personal support program designed to help motivated students graduate within one year.
GSI enables students on public assistance to devote more time to their studies and focus on the academic and professional skills that will effectively prepare them for a competitive workforce.
GSI is funded by and operated in collaboration with the Family Independence Administration of the City of New York Human Resources Administration (HRA).
GSI Benefits Include:
-Graduation incentive of $500
-Book vouchers
-Access to loaner laptops
-Intersession (Winter or Summer) tuition assistance, if available
-Tutors for one-on-one and group sessions
-Registration Assistance to get the classes you need to graduate on time
-Job placement assistance
-Networking to build a peer support group of like-minded individuals striving for a common goal –GRADUATION!
Eligibility Requirements
-Receive public assistance
-Need 13 – 30 credits toward degree completion
-Have a cumulative Grade Point Average of 2.0 or higher, at time of enrollment
-Matriculate full-time (minimum of 12 credits per semester; preference for 15) while enrolled in GSI
-Have passed at least 2 of the CUNY Assessment tests, by the time of enrollment
-Have at least 2 semesters of eligibility for TAP or PELL
To Apply Online
1. Go to www.cuny.edu/gsi
2. Click on Contact Us tab.
3. Select Kingsborough Community College and tap Apply to KBCC here!
For more information please visit the COPE Office located in T4-216 or give us a call at 718-368-4660