Amplifying Motherhood: A Look Into the Lives of Musicking Mothers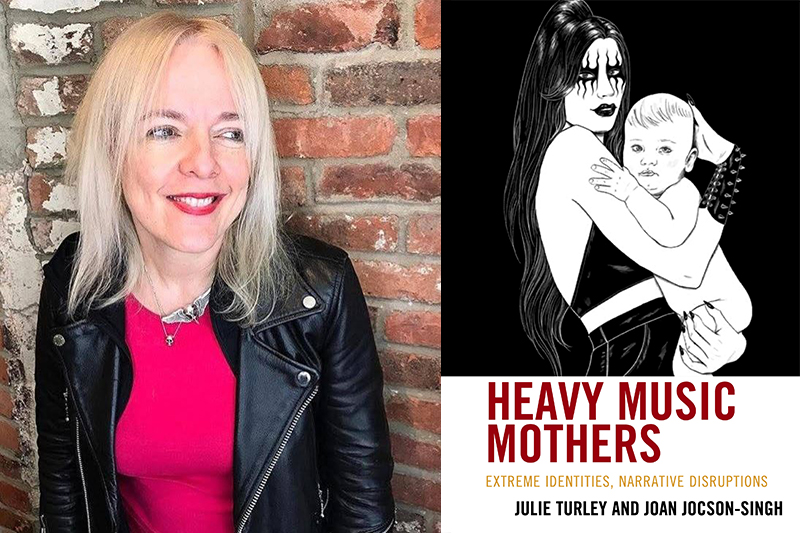 Music enthusiasts and readers alike can explore the first scholarly study of the intersection between motherhood and heavy music with the release of "Heavy Music Mothers: Extreme Identities, Narrative Disruptions" (May 2023 | Lexington Book). Written by Julie Turley, an assistant professor and librarian at Kingsborough Community College, and Joan Jocson-Singh, director of library at the soon-to-be-open Lucas Museum of Narrative Art, the book offers a fresh perspective on women in the realm of "heavy music."
"We use the term 'heavy music' to cover a range of amplified and guitar-driven genres: from heavy metal (and all of its subgenres) to hard rock/classic rock and punk," noted Turley. "Additionally, the "heaviness" we attempt to define resides not just in sounds, but in performance – in the case of Grace Jones – and in lyrics. Post punk-icon Viv Albertine, for one, writes about the drudgery of domesticity, marriage, and motherhood on her 2012 solo album, 'The Vermillion Border.' In our view, that's 'heavy music.'"
"Music has long been important to me. It's been a companion and a source of inspiration. My life would have been so boring without it," confided Turley.

"Heavy Music Mothers" was born serendipitously. At a library conference at Baruch College, a mutual colleague suggested Turley (aka the "rock n' roll librarian") meet Jocson-Singh (the "metal music librarian"). Jocson-Singh had decided to focus her anthropology thesis on extreme metal culture. During her research, she met women who worried that motherhood might hinder their participation in the heavy music subculture, a vital aspect of their self-care and identity. Inspired by these concerns, Jocson-Singh narrowed her focus to mothers, and that's where Turley came into the picture. "She asked if I would assist her with this research. Saying 'yes' was easy," Turley recalled.
"Joan and I used a mixed-methods approach for our research, combining ethnography, auto-ethnography, and content analysis," Turley explained. The heart of the book lies in the interviews conducted with a diverse group of mothers who fit within the book's scope. "Among the many famous 'heavy music' moms in our book are Tina Turner, Pat Benatar, Lita Ford, Chrissie Hynde, and Kim Gordon from Sonic Youth," she shared. "The book also includes interviews with and discussions of mothers who participate in the music subcultures of Americana and experimental, like Amy Rigby and local artist (and current Guggenheim fellow) Dafna Naphtali, respectively."
Turley reflected on one of the standout interviewees, Cynthia Ross, the founding member of one of the first all-girl bands of the legendary CBGB scene. "Right after giving birth at Beth Israel, she donned her stage wear to play a gig with her band at nearby Irving Plaza. Many of the mothers we interviewed talked about doing herculean things to prove that motherhood wouldn't sideline music commitments."
Another notable story was that of Jessica Hopper, director and producer of the "Women Who Rock" series on EPIX. She revealed that she had scheduled a 30-minute interview with Willie Nelson during a time her infant son would be nursing and quiet.
When asked about the key takeaway from "Heavy Music Mothers," Turley pointed to a powerful cultural moment: "I think Rihanna, foregrounding her pregnancy onstage in performance at the last Super Bowl halftime, is essentially our book's takeaway: that there can be a powerful conflation of what is culturally codified as the 'softness' of motherhood with the 'hardness' of a rock participation/performance."