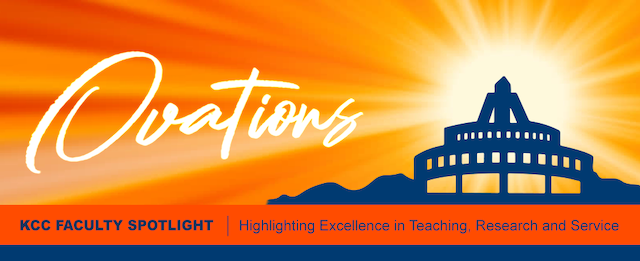 Dr. Anthony Alessandrini
Dr. Anthony Alessandrini of the KCC English Department has been invited to be a member of the Institute for Advanced Study (IAS) at Princeton University for the 2021-2022 academic year. He will be in residence at the School of Social Science, and taking part in next year's seminar on "Political Mobilizations and Social Movements," directed by Professors Wendy Brown and Didier Fassin, in collaboration with Professor Alondra Nelson.
His residency research project, titled "Community Education as Political Mobilization: The Solidarity Academies of Turkey," focuses on the "Solidarity Academies" (Dayanışma Akademileri), a loose network of public education projects set up throughout Turkey. These projects have been established by scholars victimized by a state purge of academics, which has resulted in the firing of hundreds of university faculty.
"These scholars have worked to set up Solidarity Academies in cities throughout Turkey, providing classes, 'shadow advisement,' and other forms of support for young and precarious academics under threat by the state," said Alessandrini. "Outside Turkey, members of the network have set up the 'Off-University,' an online 'university without walls' based in Germany, among other projects."
"In the case of Turkey (as in many other places), the state's goal has been to control public education and to literally make it impossible for those who dissent to teach or study there. The response of those teachers and students who have formed the Solidarity Academies has been to say: let's start where we are, in our communities, and set up our own learning institutions," he says. "I think it's a good lesson for any public educator: if the institution that you are a part of isn't responsive or isn't willing to do its job or doesn't allow you to do your work, go out into the community and set up new institutions."
"In the largest sense, the struggle to make higher education truly public has always been a struggle to make sure that it is truly inclusive. I think about the story of CUNY: it was founded in 1847 to be the 'people's university' of New York City, but for more than 100 years it was totally segregated," he explains. "The fight to desegregate CUNY was waged by communities in Brooklyn and throughout New York City, and in turn, CUNY has worked best when it has been responsive to the needs of communities and has worked in collaboration with them."
When asked why political mobilization was the chosen route and whether it has been effective, Alessandrini answered, "I think we tend to think about 'politics' as being either about elections or else about protests and rallies and so on, and then we think about 'education' as being something that happens in classrooms, and there shouldn't be too much connection between these two things. But some of the most powerful and lasting forms of public education were first established by political movements."
This project is part of a larger book in progress, with the working title, "Public Goods: Criticism, Community, and Public Education's Futures." Alessandrini says that this project was inspired by the more than 15 years he has spent teaching at Kingsborough, and from the lessons he's learned doing this work (mostly from his students). "I think the public has so many misperceptions about community colleges. Even other academics, including folks who teach at other CUNY campuses, don't really have a very good idea of what the work of community colleges is like. Community education, in its truest form, has always meant that everyone has a right to an education—not just because it's useful or because it's productive for the larger society, but because it's their human right."
Alessandrini adds that, "Those of us who are fortunate enough to have jobs in educational institutions need to be in solidarity with our colleagues under threat everywhere in the world. More than that, I want to have the opportunity to learn from their experiences."
Alessandrini is also on the faculty of the MA Program in Middle Eastern Studies at the Graduate Center; a member of the Committee on Globalization and Social Change (CGSC) at the Graduate Center; and on the Steering Committee of the "Race and the Middle East/North Africa Mellon Sawyer Seminar," funded by a grant from the Andrew W. Mellon Foundation. He is the author of Frantz Fanon and the Future of Cultural Politics, editor of Frantz Fanon: Critical Perspectives, and co-editor of Resistance Everywhere: The Gezi Protests and Dissident Visions of Turkey. He has also published a poetry chapbook, Children Imitating Cormorants. His book Decolonize Multiculturalism is scheduled to be published later this year. He has received research fellowships from the Advanced Research Collaborative; the Center for the Humanities; the Center for Place, Culture, and Politics; the Chancellor's Research Fellowship; and the Social Sciences and Humanities Research Council of Canada, among others, and was Writer in Residence at the Birkbeck Centre for Law & the Humanities at the University of London in the summer of 2019.