New Full-Time Faculty for Fall 2023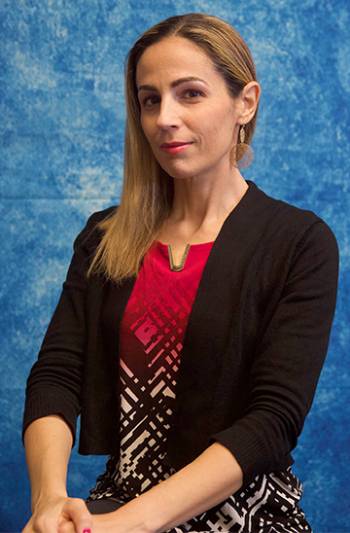 Shannon Caravello
Assistant Professor | Health Sciences
This new full-timer is no stranger to the college community: Dr. Shannon Caravello has been an adjunct at Kingsborough Community College for over 15 years. Born and raised in Sheepshead Bay and Brighton Beach, her Brooklyn roots are deeply intertwined with the city's energy and diversity.
She first came to KCC as a continuing education student taking fine arts classes in the early 2000s. She later enrolled at KCC, earning an associate degree in fine arts and a second degree in exercise science. She earned a B.S. in merchandising management from the Fashion Institute of Technology, a master's in education with a focus on physical education from Brooklyn College, and a doctorate in public health from SUNY Downstate Health Sciences University.
Shannon's passion extends beyond the classroom walls as she has played a pivotal role in reimagining the KCC Community Farm and Garden. The farm and garden go a long way in combating food insecurity at the college. Free organic produce is distributed to students free of charge weekly throughout harvest seasons.
Involved as a faculty member almost since its inception as the KCC Urban Farm, today, as the administrator of the rebranded KCC Community Farm and Garden, she has actively championed the transformation of the space into a hub of agricultural innovation and education. The newly designed space will include a hydroponics lab and a new children's growing section. You can follow the journey at @KCC_CFG on social media. (She invites everyone to get their hands dirty as a volunteer and/or bring their class for a tour.)
With a research interest focused on plant-based diets, produce cultivation, and the impact of garden exposure on fruit and vegetable intake, Shannon's work resonates deeply with the increasing emphasis on healthy living and sustainability. Her research on our own KCC students' perceptions of plant-based diets underscores the importance of gardens and farms on campus and the significance of hands-on experience in cultivating a preference for nutritious foods. Simply put: "When students grow vegetables and understand how important plant-based foods are for human and environmental health, they eat more fruits and vegetables."
As we gear up for the fall 2023 semester, she is set to make her mark as an assistant professor in the new health sciences degree program. Her insight, dedication, and commitment to nurturing a healthier and more informed community will surely enrich the learning experience for all of us.