New Full-Time Faculty for Fall 2023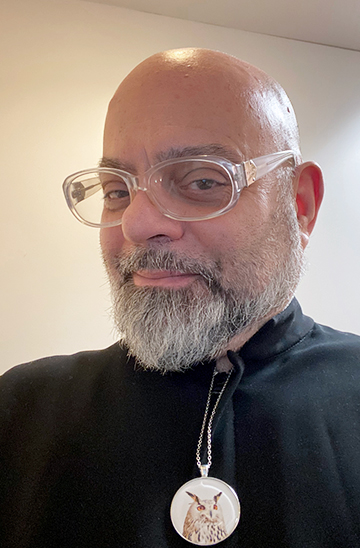 Michael Palladino
Lecturer | Fashion
Joining the business department's Business of Fashion program as a full-time lecturer is Michael J. Palladino, a seasoned fashion aficionado and educator with a wealth of experiences that span nearly four decades. He actively explores the synergy between traditionally unpaired disciplines for new ways to create content that serves his students.
Born in Brooklyn and raised in Rosedale, Queens, Michael earned a B.A. from SUNY Stony Brook and a master's from Middlebury College in Florence, Italy.
His belief in fashion as a powerful mode of communication rather than a divisive tool has been the driving force behind his extensive fashion retail career, which includes a 17-year tenure as director of client and studio services at Henri Bendel. There, Michael was the go-to person for celebrities, stylists, VIPs, and personal clients. The list of names he interacted with reads like a who's who, including Paris Hilton, Paula Abdul, Queen Noor of Jordan, Vanessa Williams and Liza Minelli. He even contributed to iconic shows like "Gossip Girl," hosting episodes and forming connections with its cast members.
Transitioning into academia, Michael became an adjunct professor at LIM College and Kingsborough Community College, where he was able to infuse his classes with real-world insights. He also served as director of student life at LIM College, where he introduced innovative programming that linked students directly to industry insiders and nurtured leadership skills.
Most recently, Michael served as director of retail and wholesale for NY-based iconic fashion brand YEOHLEE for five years.
Beyond his retail endeavors, Michael's dedication to social advocacy shines brightly. His engagement with organizations like Safe Horizon, where he served on the board, United Colors of Fashion, and Reveal NY underscores his commitment to making a positive impact through education and social causes.
"It's my desire to 'pay it forward' that propels me to find ways to use my passion for the businesses of fashion, education, and to use industry contacts to empower others. It is now an honor and responsibility to bring my academic, professional, and personal experiences to the KCC community. I am proud of my recent appointment and look forward to working with colleagues and students at KCC. Watch out: I may just knock on your door!"