Varattur Reddy
Arts and Sciences Center
Physical Sciences
Contact:
Phone: (718) 368-5760
Email: Varattur.Reddy@kbcc.cuny.edu
Office Location: S-342, Arts and Sciences Center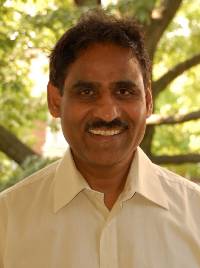 Biography
Varattur D. Reddy (V.D. Reddy), Professor of Chemistry (Physical Sciences), Kingsborough Community College. Professor Varattur D. Reddy is an Organic Chemistry Doctoral Faculty at the Graduate Center-CUNY and Director of NMR Facility at Kingsborough. Varattur Reddy's research focuses on the synthesis of organic and organometallic compounds as anticancer and anti-Alzheimer's agents. Organic synthesis involves total synthesis of natural and unnatural products and modified carbohydrates. Organometallic chemistry involves synthesis of novel organometallic catalysts, efficient methodologies for the synthesis of biologically active molecules, bioorganometallics, and drug delivery systems. Research facilities at Kingsborough are 400 MHz NMR Facility, IR, GC, and HPLC.
Selected Publications and/or Other Resources
Reddy, V. D.; Dayal, D.; Szalda, D.J. Cosenza, S.C.; Reddy, M.V.R. " Synthesis and characterization of triruthenium carbonyl incorporating 4-pyridones as potential anti-tumor agents ". J. Organomet. Chem, 2018, 872, 102.
Reddy, V. D.; Dayal, D.; Szalda, D.J. Cosenza, S.C.; Reddy, M.V.R. " Ruthenium carbonyl containing 4-pyrones as potent anticancer agents". J. Organomet. Chem, 2018, 872, 135.
Reddy, V. D., Greener Organic Chemistry Experiments 1 A Miniscale and Microscale 3rd Edition, John Wiley & Sons, 2015.
Reddy, V. D., Greener Organic Chemistry Experiments 2 A Miniscale and Microscale 3rd Edition, John Wiley & Sons, 2015.
Reddy, V. D. Organometallic Anticancer Complexes". U.S. Pat. 2012/032507 and Int. Pat. WO 2012/138988 A2.
Reddy, V. D.; Dayal, D.; Szalda, D.J. Cosenza, S.C.; Reddy, M.V.R. " Synthesis, structures, and anticancer activity of novel organometallic ruthenium-maltol complexes". J. Organomet. Chem, 2012, 700, 180.
Reddy, V. D.; Howard, M.; Milien, M. "Attempts to minimize the excess CO2 in earth's atmosphere using ruthenium compound," Journal of Undergraduate Research, 2009, IX, 170
Reddy, V. D.; Dayal, D.; Cosenza, S.C.; Reddy. M.V. R.; Pearl. Jr., W.C.; Adams, R.D. "Glycal ruthenium carbonyl clusters: Synthesis, characterization, and anticancer activity," J.Organomet. Chem, 2009, 694, 959.
Reddy, V. D. "Synthesis, characterization, and reactivity of a novel ruthenium carbonyl cluster containing tri-O-benzyl-D-glucal as a chiral carbohydrate ligand," J. Organomet. Chem, 2006, 691, 27.
Reddy, V.D.; Franck, R.W. "Cleavage and Activation of Benzylidene Lactones with N-Bromosuccinimide," J. Org. Chem. 1993, 58, 6911