Daniel Collins
F Cluster
Mathematics & Computer Science
Contact:
Phone: (718) 368-6863
Email: Daniel.Collins@kbcc.cuny.edu
Office Location: F-221, F Cluster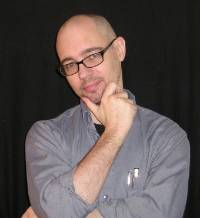 Biography
Daniel R. Collins is a Lecturer in the Department of Mathematics and Computer Science, and has been teaching at CUNY Kingsborough since 2005. His primary teaching areas focus on elements of Statistics, and College and Elementary Algebra. He directs Program Assessment for the A.S. degree in Mathematics, and also serves on the Achieving the Dream Data Team.
Prior to becoming a college lecturer, Mr. Collins worked in the PC computer gaming industry, holding positions as a designer and senior software engineer at Papyrus Racing Group (part of Sierra On-Line; NASCAR Racing, NASCAR Racing Online, Grand Prix Legends), and Genetic Anomalies (part of THQ, Inc.; producing games with online, collectible, virtual-property components). He also publishes in the fields of tabletop role-playing games and wargaming, and runs games at a number of regional conventions.
Courses

MAT 2000: Elements of Statistics
MAT 1300: Survey of Mathematics and Computer Concepts
MAT 1000: College Trigonometry
MAT 900: College Algebra
MAT 700: Principles of Mathematics
MAT R300: Elementary Algebra II
MAT M200: Elementary Algebra
MAT M100: Pre-Algebra
CP 1100: Introduction to Computers and Computer Applications
Education

University of Maine Master of Arts (Mathematics and Statistics) (1995)
University of Maine Bachelor of Arts (Mathematics) (1993)
University of Maine Bachelor of Arts (Philosophy) (1993)
College Teaching
CUNY Kingsborough, Mathematics & Computer Science (2005-Present)
Massachusetts Bay Community College, Science-Technology-Engineering-Mathematics (2002-2005)
Research Interest
Developmental Mathematics Education
Basic Math Skills and Success in Statistics