Cindy Greenberg
Full Time Faculty
Communications & Performing Arts
Contact:
Phone: (718) 368-5299
Email: Cindy.Greenberg@kbcc.cuny.edu
Office Location: E Cluster, E-314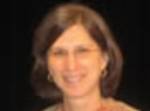 Biography
Cindy Greenberg has a unique background in that all her degrees (B.A. , Masters and PhD) are in Linguistics. While studying many languages for her degrees, she taught adult ESL (English as a Second Language) students and also theoretical introductory Linguistics courses at Queens College, CUNY. Since receiving her PhD degree in Linguistics from the CUNY Graduate Center in 1987, she has been a full-time faculty member of Kingsborough Community College. Professor Greenberg has served and chaired numerous committees, has been the Director of Speech Communications and began a major in Speech Communication in Fall 2005. She has spoken at regional, state and national conferences on a wide-variety of topics including adult literacy, second language phonology, accent reduction and Blackboard technology. Dr. Greenberg is a founding member of CUNY CLASP (CUNY League of Active Speech Professors). She has written on an array of topics including Service-Learning, curriculum design and second language acquisition. When not teaching, she enjoys hiking with her family, power-walking with her husband, reading and quilting.
Courses
Speech 11 – Listening and Speaking Skills
Speech 21: Effective Public Speaking
Speech 23 – ESL Speaking Skills
Speech 25 – Small Group Communication
Speech 41 – Language Development