Christine Fey
Health and Physical Education
Health Physical Education & Recreation
Contact:
Phone: (718) 368-5752
Email: Christine.Fey@kbcc.cuny.edu
Office Location: G-303, Health and Physical Education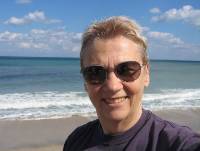 Biography
Chris has been a member of the full time faculty at Kingsborough since 2001. In addition to teaching Exercise Science courses, she is also Director of the Exercise Science/Personal Training Program. Prior to joining the faculty at Kingsborough, she was for twenty years, a self-employed fitness consultant. In addition to training private clients on individual exercise programs, she has lectured and conducted over 75 workshops for fitness professionals, including those for the American College of Sports Medicine (ACSM), one of the most prestigious organizations in the fitness industry. She has served as Certification Director for ACSM for over 15 certifications in California and New York, overseeing and directing all aspects in the administration of the written and practical examinations for the Health Fitness Instructor Certification. Her other long term consultations include designing and implementing a Fitness Instructor Certificate program for the Extension Division at California State University at Hayward (EastBay) and for several Gold's gyms in California and Hawaii.
Courses

EXS 00900 -- INTRODUCTION TO PERSONAL TRAINING, EXS 01000 -- KINESIOLOGY OF EXERCISE, EXS 01100 -- PHYSIOLOGY OF EXERCISE, EXS 01200 – HEALTH RISK APPRAISAL, EXS 01300 – FITNESS ASSESSMENT AND PROGRAM DESIGN, EXS 01500 – MUSCULAR FITNESS TECHNIQUES, EXS 09100 -- FIELD EXPERIENCE IN EXERCISE SCIENCE
Education

M.S. Physical Education, California State University, Hayward (EastBay); 1985. B.S. Physical Education, California State University. Hayward (EastBay); 1980
College Teaching

Adjunct Lecturer: Continuing Education, Marymount Manhattan College, New York
Adjunct Lecturer: Department of Physical Education, St Francis College, Brooklyn
Adjunct Instructor: Extension Division; California State University, Hayward (EastBay)
Adjunct Lecturer Department of Kinesiology; California State University, San Francisco
Adjunct Lecturer: Department of Exercise Science, University of San Francisco
Institutional Affiliations / Professional Societies

1988 Strength & Conditioning Specialist: National Strength & Conditioning Association
1987 Health Fitness Director: American College of Sports Medicine
1984 Health Fitness Instructor: American College of Sports Medicine
1982 Exercise Test Technologist: American College of Sports Medicine