Catherine Olubummo
Marine and Academic Center
Nursing
Contact:
Phone: (718) 368-5550
Email: Catherine.Olubummo@kbcc.cuny.edu
Office Location: M-401, Marine and Academic Center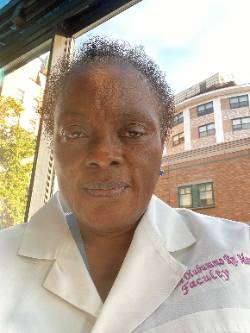 Kingsborough Community College hired Professor Catherine Olubummo as an Assistant Professor in the Nursing Department in March 2005. She received her Bachelor of Science in Nursing from William Paterson University, her Master of Science in Nursing with a specialization in Family Nurse practitioner from Long Island University and a master's in health management from Long Island University as well. She received her Doctor of Nursing Practice from Chatham University. She is also a Family Nurse Practitioner. She has over 20 years of teaching experience in undergraduate and graduate in nursing education. Since 2018 she is a Full Professor. Over the years, she has served on numerous committees in both the Nursing Department and the College. She has worked for most of her nursing career in the Obstetric department of various hospitals in New York. She is a member of several professional organizations. She is married to a Science Professor and has four grown children and three grandchildren. In her spare time, she enjoys attending the gym shopping, and traveling.
Courses
NUR 1900 – Family-Centered Maternity Nursing
NUR 2300 __ Nursing of Children
Education
Doctor of Nursing Practice, Chatham University, Pittsburgh.
Master of Science, Nursing – specialization, Family Nurse Practitioner,
Long Island University.
Master of Science in Health Management, Long Island University
Bachelor of Science in Nursing, William Paterson University, New Jersey.
College Teaching
Kingsborough Community College 2005-present
Bronx Community College 1993- 1999
Herbert Lehman College 1997-1998
Selected Publications and Other Resources
Olubummo, C. (August, 2017). The Use of Simulation to Increase Critical Thinking of Perinatal Nurses in the Care of Preeclampsia Patients. Nursing Practice and Research. (2017) 1, (2): 1-7
Olubummo, C. (October 2017). Job Satisfaction among Hospital Staff and Agency-Employed Nurses. Nursing and Care, (2017). 1, (4): 1-7
Olubummo, C. (October 2017). Severe Uterine Bleeding. Gynecology and Obstetrics Research (2017) 1, (1): 1-4
Olubummo, C. (December 2015). Classroom Assessment Techniques. Nursing Management. (2015) :46 (12),16 – 19.
Olubummo, C. (November/December 2009). Rheumatoid Arthritis. Nursing Made Incredibly Easy. Nov.-Dec. issue
Gattullo & Olubummo, C. (December 2009) Sizing up Gestational Diabetes. Nursing 2009 39, (12): 54-56.
Olubummo, C. (August, 2008). Asthma Epidemic: Tighten Your Treatment Options. The Nurse Practitioner Journal. (2008): 33(8),12-18 ·
Gattullo & Olubummo, C. (2008). Two Epidemics: Obesity and Early Onset, Type 2 Diabetes. Nursing 2008 Journal. Accepted for publication
CONFERENCE (AND SCHOLARLY) PRESENTATIONS
Faculty Development: RN Faculty development
Research Interests
Obstetrical Nursing and Women's health
Awards Recognition, Distinctions and Grants
Faculty Achievements Recognition Award by the provost and the President, 2009, 2016, 2017.
Institutional Affiliations / Professional Societies
Sigma Theta Tau International Honor Society of Nursing, Mu Upsilon Chapter
The Nurse Practitioner Association, Manhattan Chapter
Member of Association of Women's Health Obstetrics and Neonatal Nurses
Magazine distributor for the Association of Women's Health Obstetrics & Neonatal Nursing.
National League for Nursing
Association of Nurse Executive
Association of University Professors