Distance Learning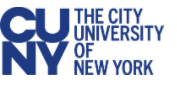 Sent: August 25, 2021 at 7:28:52 PM EDT
Subject: URGENT Info - Register for the CUNY Testing Program
OFFICE OF THE CHANCELLOR
Dear CUNY Student,
As we open an increasingly in-person Fall 2021 semester, we want to remind you of the details of an important piece of the University's reopening plan that requires you to be vaccinated against COVID-19 if you are enrolled in an in-person or hybrid course on any CUNY campus.
Test Until Vaxxed
Until you provide proof that you are fully vaccinated, defined as two weeks after the last shot, in CUNYfirst, you are required to be tested at a CUNY testing site not more than seven days before you visit campus.
You should have received an email from Cleared4 on behalf of CUNY today with a link to enroll in the COVID-19 testing program. This email was sent to your email address stored in CUNYfirst. If you don't see your email from Cleared4, please check your SPAM folder.
The registration can be completed via mobile phone or computer. Enrollees should read and approve the testing consent, and validate their personal information. Be advised that enrollees will not receive their test results from the Cleared4 testing sites unless they have included their email address, telephone number and date of birth in their profile.
Students Under the Age of 18
Students under the age of 18 must obtain parental/guardian consent to receive results from the testing program. Students will be allowed to schedule appointments and submit samples prior to receipt of consent if necessary.
For more information about CUNY's COVID-19 testing program, please see the Testing FAQ. For a list of testing locations, visit here. If you need help locating your student ID (EMPLID) to complete your registration, visit here.
Below are key dates and reminders including information about how to upload your vaccine documents for approval by the October 7 deadline.
Key Dates:
Today or Tomorrow: Respond to the email you received from Cleared4 to register for regular testing until you are fully vaccinated and your vaccination documentation has been uploaded and approved in CUNYfirst;
Tomorrow (Aug. 26): deadline to get first shot of Moderna vaccine and meet the Oct. 7 deadline;
Sept. 2: deadline to get first shot of Pfizer vaccine;
Sept. 23: deadline to get single shot of Johnson & Johnson vaccine;
Sept. 27: deadline to upload proof of vaccination documents to CUNYfirst (details below);
Oct. 7: deadline to be fully vaccinated and have your vaccination documentation uploaded and approved in CUNYfirst or face potential academic withdrawal from your classes that could also impact your financial aid and make you ineligible for refunds on your courses. (This does not apply to students who have been granted a medical exemption or religious exception.)
Anytime: Get your Everbridge VaxPass after your uploaded proof of vaccination has been approved in CUNYfirst (details below).
Key Reminders:
Upload Proof of Vaccination - All Students registering for a fully in-person or hybrid class for the 2021 Fall Term must be fully vaccinated to attend in-person classes unless you have been granted a religious exception or medical exemption. Students now have until September 27 to upload proof of vaccination into CUNYfirst. For a guide to submitting your information to CUNYfirst, please visit here. After your form is uploaded to CUNYfirst, you will know that it has been approved when the status changes from "Approval Submitted" to "Approval Approved." Please check the status of your form on a daily basis.

Everbridge VaxPass - Everbridge app is no longer in use; instead, the app now displays a CUNY VaxPass for those whose vaccine information has been submitted and approved in CUNYfirst. PLEASE NOTE that you will not be able to download the Everbridge Vax Pass until your uploaded vaccination documents have been approved in CUNYFirst. After your uploaded form status changes from "Approval Submitted" to "Approval Approved," you can download the Everbridge VaxPass. For simple, one-time setup instructions, please check the VaxPass User.
If you still have questions, we are here to help. Just reply to this email and we will get back to you.