National Therapeutic Recreation Month: Meet KCC-Trained RT Victoria Bombe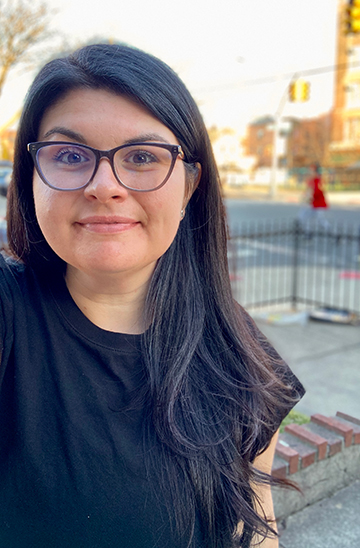 Victoria Bombe had initially planned to work in the field of psychology, but put her career plans on hold when her father was diagnosed with metastatic cancer in 2015. While caring for him full time, she saw firsthand the benefits of Recreation Therapy (RT).
A recreational therapist utilizes purposeful activity interventions to address a client's assessed needs and help them to achieve their goals. Activities address all domains of health, and include interventions such as art, crafting, games, creative writing, movement groups, and community outings. The RT works with the individual to identify specific leisure activities and hobbies that may be useful during their therapy.
"RT helped me and my family through one of the most difficult experiences we had ever faced by focusing on something other than disease, cancer, and death," recalled Bombe. "It helped us to continue to form positive memories right up until my dad's passing. It not only saved our last Christmas, but somehow made it enjoyable, reminding us there were still opportunities to enjoy life. After my dad died, I decided I no longer wanted to pursue a career in psychology. I wanted to be a recreation therapist and help facilitate meaningful experiences for families like my own."
In 2018, she enrolled at Kingsborough as a non-degree student to prepare for her career change. "Since I already had my bachelor's degree and some graduate credits in psychology, I only needed a few extra courses to be eligible to sit for the national RT certification exam," she explained. "After some researching online, I saw that KCC had an associate degree program in recreation therapy. Kingsborough was affordable and close enough to where I live, so I figured this would be a good place to take the courses I needed."
She admitted she'd initially thought she would just be a number at a public college. "I reached out to the rec department and promptly received a call back from Mimi Fierle," she said. "She guided me through the entire process – she was so thorough! She didn't even know me, yet she always returned my calls. She also took the initiative to call me and make sure I was all set and registered for the right courses. Being new to the field of RT, I was overwhelmed and wanted to make sure I fulfilled all the requirements put forth by NCTRC (the national accrediting body for recreation therapists). Professor Fierle helped to ease my anxiety by reviewing my transcripts and telling me exactly what courses I needed. I found this so impressive."
Bombe found her time at Kingsborough to be pivotal as she progressed toward her new career path. In addition to providing valuable education in the classroom, including sharing their real-life experiences in the field, they encouraged students to be active in the real world, including presenting at professional conferences — which is not typical at the community college level. "The conferences helped us to network and learn about the importance of research and new developments. We were also encouraged to participate in conferences, either via volunteering or presenting."
After completing her courses at KCC, she was encouraged to attend Lehman College to obtain a master's degree in recreation therapy. "Being an older student, I was reluctant at first: I just wanted to get certified and start working. I had already done doctoral work in psychology, but didn't complete my degree. The thought of starting another graduate program seemed exhausting at the time. However, I trusted my KCC professors." She ultimately earned the degree and was offered a job as an adjunct professor at Lehman. "I'm now in my fourth semester teaching at Lehman. I do not think any of this would have happened without the encouragement from KCC."
In addition to teaching, Bombe is currently a certified therapeutic recreation specialist (CTRS) assigned to the medical units at the NY Harbor VA Hospital – Brooklyn Campus. "I primarily work as part of the palliative care team, working with veterans who are facing serious or life-threatening disease. My job is to work with patients and their families to help create memorable and enjoyable moments, even as they approach end of life. Sometimes this involves confronting death; other times, it involves using leisure as an 'escape' during a chemotherapy session."
Her favorite part of the job is helping patients to experience joy and peace as they cope with their transition to palliative care. "I don't know what it is like to be dying, or to be told that you are dying, but I can imagine that it is scary and overwhelming and depressing. I try to use empathy to validate patients' emotions, and purposeful activities to help patients see that there are still ways to find happiness, even when faced with the unthinkable."
Her biggest challenge is the emotional toll of the work. "While this job is extremely rewarding, it can also be very sad. Working with people to help them accept terminal illness and with families who are grieving is hard – and sometimes it gets to you. But you must practice what you preach and use recreation as a form of self-care."
Bombe feels the training she received at Kingsborough was comprehensive. "They provided me relevant coursework that I continue to reference today as I work. Additionally, I still consider my professors from KCC as resources. If I have questions, I feel comfortable reaching out for advice."
She wants people to know that the faculty and staff at KCC really care about their students. "They hardly knew me and helped me get my life back on track. They took on that challenge and invested time in me. That is something I will always be grateful for."