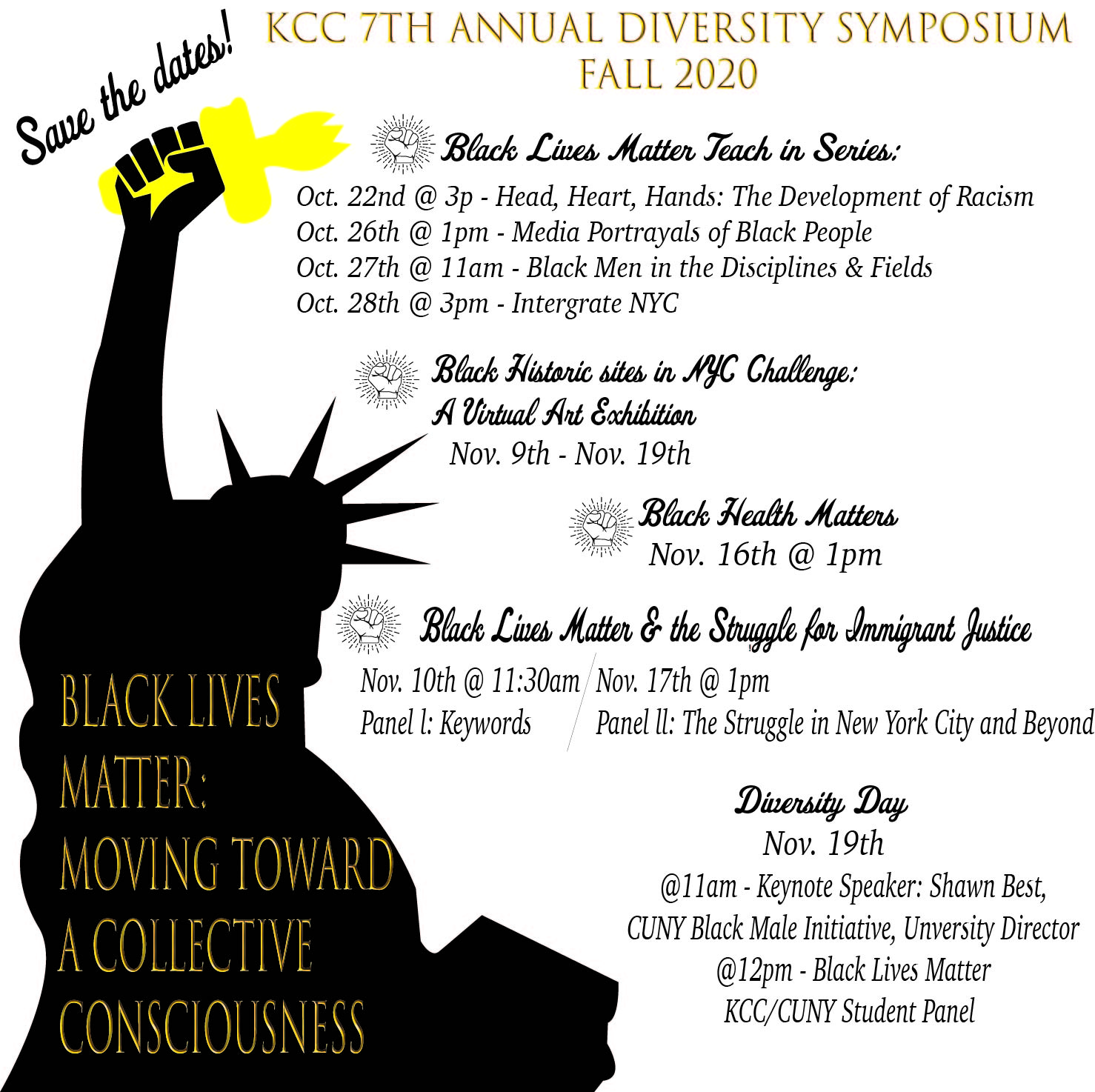 About
The KCC Diversity Symposium was developed to generate a forum in which we could come together as an institution to educate and share issues related to diversity, equity, and social justice. The idea of the diversity symposium spawned from the former Diverse Faculty Interest Group (DFIG). The DFIG was a source of support, and an outlet, to discuss experiences and share other information that would support underrepresented faculty (i.e. people of color, women, LGBT, persons living with disability, etc.) on campus. We soon realized that a one-day symposium would allow us to generate dialogue about diversity and equity issues among campus so that the entire college community could participate. The purpose of the symposium was to address concerns that came up in group meetings that might also be of concern to other faculty and staff members, as well as students.
The first Diversity Symposium was hosted in the Fall of 2014. Each year following, the Diversity Symposium program expanded. The second year a Film and Arts Festival was added, the third year Immigration Day (to address the issues related to our extremely diverse student body, with students from many countries and speaking over 50 languages), and the fourth year grew to include Food Day (to celebrate and discuss food justice, access, and disparities). Over the years, the one-day symposium had expanded into a four-day program.
Beginning in 2021, the Diversity Symposium will be renamed as the Equity and Anti-Racism Summit (EARS) to reflect the ongoing collaborative efforts from faculty, staff, students, and other individuals and offices across our campus community working together to address diversity, equity, and social justice.
Past Diversity Symposium Programming
Fall 2014 – Creating Safe Spaces in a Diverse Environment
Fall 2015 – Identities in Context
Spring 2016 [Event] - Between Two Worlds: Experiences of Migrants in the U.S
Fall 2016 – Social Justice and Diversity: Moving Past Tolerance
Spring 2017 - A Struggle to Unity: Why are we so easily divided? (Student Led)
Fall 2017 – Activism 101: The Fight for Human Rights
Fall 2018 – Women and Minorities Leading the Charge
Spring 2018 – In Pursuit of the Dream: Peaceful Activism in Precarious Times
Fall 2019 – From Humane Thought to Humane Action: What does it take to Do the Right Thing?
Fall 2020 – Black Lives Matter: Moving Toward a Collective Consciousness
Co-Chairs:
| | |
| --- | --- |
| | |
| Dr. Kevicha Echols | Dr. Juan Morales-Flores |
Committee Members: Dr. Anthony Alessandrini, Dr. Libby Garland, Cris Izaguirre, Denise Jacobs, Helen Nasser, Dr. Michael Rodriguez, Maya Stansberry, Dr. Keisha Thompson, Dr. Tisha Ulmer, Dr. Stella Woodruff