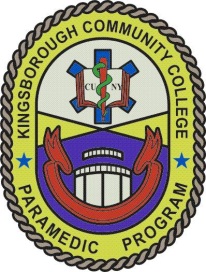 KCC Paramedic Program Overview
The Kingsborough Community College (KCC) Paramedic Program is a 60-credit AAS in Emergency Medical Services (EMS) degree. An Emergency Medical Technician (EMT) provides basic pre-hospital care and a Paramedic provides advanced pre-hospital care.
A Paramedic is the highest level of provider in the pre-hospital setting. The New York State Department of Health Bureau of EMS approved the KCC Paramedic Program on April 1, 2013, making it the first college-based program in Brooklyn. The graduate of the KCC paramedic program will be eligible to sit for the paramedic examination for NYC, NYS and the National Registry.
The paramedic program will offer three tracks to its students:
Track A: a student with no college credits can enroll in the program and take 60 credits resulting in an AAS in EMS degree
Track B: a student who is already an Emergency Medical Technician (EMT) will receive 6 college credits and will continue to take the remaining 54 credits of the KCC paramedic program.
Track C: a student who successfully graduated a paramedic program from an accredited institution will receive 34 college credits and will need to take the remaining 26 credits of the KCC paramedic program.
Kingsborough Community College has invested a significant amount of space and resources to prepare the learning environment for its students. KCC has developed a state-of-the-art Simulation Center for Emergency Care and the Health Sciences which uses the latest high-fidelity human manikins.
Students enrolled in the KCC Paramedic Program conduct their clinical rotations at various hospitals and EMS agencies such as Maimonides Medical Center, Downstate Medical Center, NYU Lutheran Medical Center, Wyckoff Heights Medical Center and Transcare in New York City. One unique feature of the KCC Paramedic Program includes a partnership with an international paramedic program where KCC students will be able to visit and observe the role of a paramedic in another country. Furthermore, Kingsborough has selected the leading EMS professionals to lead this new program and make it the best college-based paramedic program in the region.
KINGSBOROUGH COMMUNITY COLLEGE PARAMEDIC PROGRAM OUTCOME SUMMARY

YEAR OF GRADUATION

# OF STUDENTS
ENROLLED

RETENTION / ATTRITION

# OF STUDENTS
GRADUATED

STATE EXAM

% OF STUDENTS EMPLOYED OR CONTINUING THEIR EDUCATION

TOTAL ATTRITION

ATTRITION
%

RETENTION
%

FIRST ATTEMPT PASSING

THIRD ATTEMPT PASSING

PASSING RATE SUCCESS

2016-2017

30

4

13.3%

86.7%

26

21

26

100%

100%

2017-2018

22

4

18.2%

81.8%

18

15

18

100%

83.3%

2018-2019

30

7

23.3%

76.7%

23

14

20

100%

78.3%

2019-2020

16

3

18.8%

81.3%

12

11

12

100%

76.9%

2020-2021

26

2

7.7%

92.3%

24

23

23

95.8%

95.8%

2021-2022

35

Not Yet reported

Not Yet reported

Not Yet reported

Not Yet reported

Not Yet reported

Not Yet reported

Not Yet reported

Not Yet reported