Phishing Secret Shopper Scams
September 17, 2019
Dear Kingsborough Students,
A recent phishing email scam has been brought to our attention. An email announcing students were selected as a "Kingsborough Community College Job Placement & Student Services as a secret shopper" has been circulated from other Kingsborough email addresses. This email was not distributed by Kingsborough Community College. KCC will never ask or instruct any students to deposit checks, purchase gift cards, or solicit personal information via email. Office of Information Technology Services reminds our student community to be vigilant when browsing internet and responding to emails.
Please be aware of common scams:
Copycat and fake websites pose as legitimate ones to capture personal and financial information
E-cards, unexpected "gifts" and job offers ("secret shopper") from unknown senders can be scams or may contain links that lead to malware
Fake advertisements, coupons or shipping notifications may include infected attachments and/or contain links that lead to malware
Phishing email messages and fraudulent posts on social networking sites may request support for phony causes or offer "too good to be true" deals on merchandise
Security or "fix or tune up your PC" software offered as an unexpected pop-up ad
We continue to hear about "secret shopper" scams being aimed at CUNY students.
Several students have been victimized by a "Secret Shopper" or Gift Card scams
Background: some marketing/merchandising companies hire "secret" or "mystery" shoppers as a quality assurance measure. Such anonymous shoppers make a particular purchase in a store and then report on the experience. Typically, the shopper is reimbursed and sometimes the shopper keeps the purchase and/or receives a small payment
In these scams, students are emailed a secret shopper employment offer, sometimes from a fellow student's compromised email account
If a student responds, they will typically be asked to purchase gift cards and provide the card codes with the promise of reimbursement/payment
Of course the reimbursement never comes
The fact that legitimate secret shopper jobs exist bolsters the credibility of the scam. The offer email may also refer to a CUNY "job placement"
https://www.consumer.ftc.gov/articles/0053-mystery-shopper-scams
Below are some samples of what has been received by some of our students: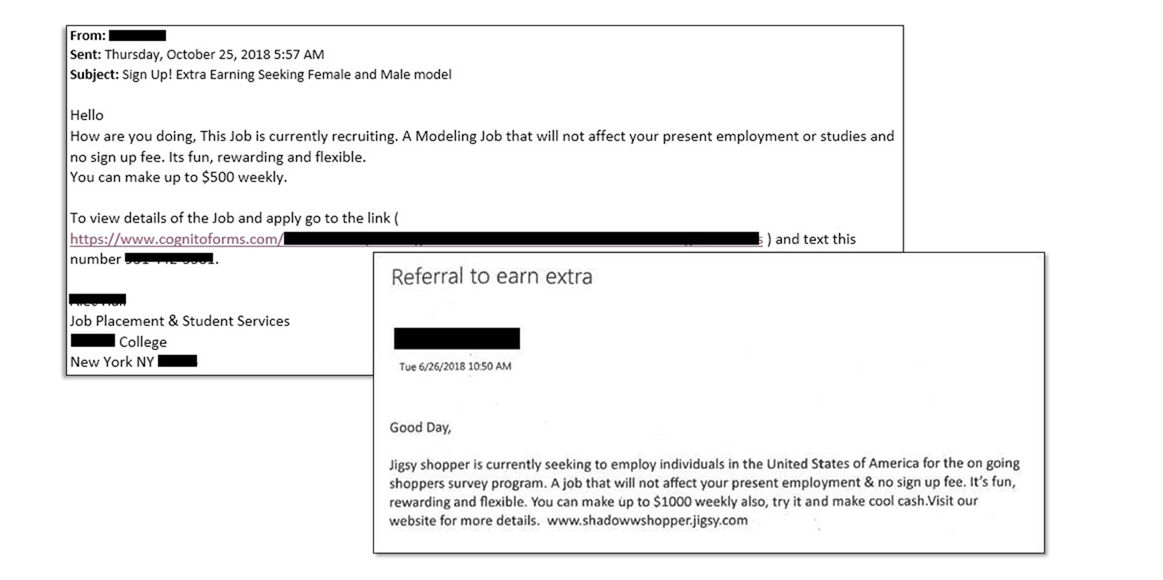 If you believe you are a victim of an online scam or malware campaign, please report it and consider the following actions:
Advise your financial institution immediately of any account information that may have been compromised. Watch for unexplained charges to your account
Immediately change any passwords that you might have revealed. If you used the same password for multiple websites make sure to change it for each account, and do not use that same password in the future.
Please contact Public Safety at 718-368-5069 or call the Office of Student Affairs at 718-368-5563.
Thank you for your attention to this matter.
Sincerely,
Asif Hussain
Assistant Vice President/Chief Information Officer