KCC Faculty on Teaching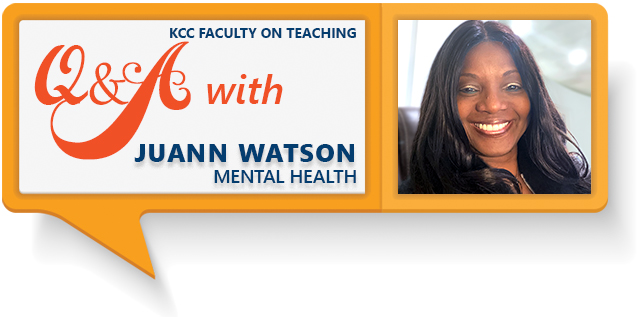 Q&A with Juann Watson
Mental Health
How did you get into teaching?
I worked as an assistant in the clinical psychology field in the late 1980s. One of my roles was to make presentations on drugs, adolescents and mental health, to name a few, to schools, hospitals, and businesses throughout the New York City metropolitan area. It was a role that was satisfying and exciting and I enjoyed it immensely. When I later worked for the New York City Department of Education, I missed having the contact with information on such a wide scale, yet personal level. I missed their questions and how I could not only answer them, but guide and give input on a level that was readily received. That is when I sought adjunct teaching positions, while pursuing higher education.
What career did you imagine for yourself when you were in college?
I'd initially imagined a career in journalism. I finished my last year of high school in an advanced program where I earned six college credits. I knew that I was very fond of writing but found that I wasn't too enthusiastic about journalism. There was no passion in it for me. In my second semester, I took a psychology class as an elective. It was exciting and fascinating, and I could not wait to learn all about the brain and behaviors. I was passionate about the field. I felt I'd found my niche and decided to change my major that second semester. To fulfill my requirements of becoming a sophomore, I had to attend summer school. I expected that and enjoyed the psychology classes I attended.
What do you love about teaching?
I love connecting with students. This connection is shown when the students understand the material I am teaching and, with great enthusiasm, paraphrase all that I say.
What's your favorite teaching experience?
My favorite teaching experience occurred this semester. I was on campus after not being there due to the pandemic. Students in my on-campus classes were eager and expressed how much they learned in every class. A young lady in my afternoon class stated that she absolutely looks forward to my class because it gives her the ability to see her future. She continued and said she knew she was in the correct major, for the work is precisely and easily explained. The young lady concluded by stating that all her doubts and fears about her future educational endeavors were gone.
In what ways do you bring your professional experience into the classroom?
In the classroom, I practice active listening, observational skills and have great empathy for the students. With these skills, I allow them to take their time and ask and/or answer a question. They are gently encouraged to answer a particular question in a different way, if it needs more clarity. There is no judgment by classmates or me in the classroom: It is a learning atmosphere that is safe and welcoming.
What advice do you have for current students?
My advice to students is not to allow their fears of an exam or quiz to paralyze them emotionally. Instead, let it all motivate and push you towards your goals.