KCC Faculty on Teaching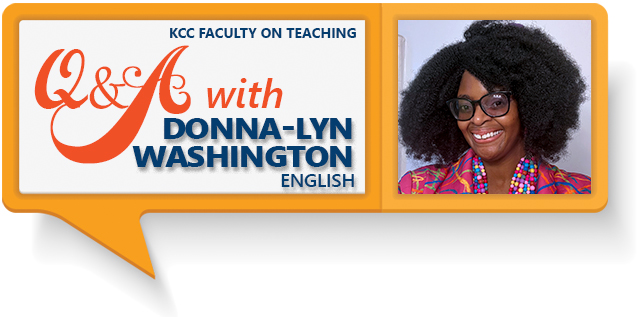 Q&A with Donna-lyn Washington
ENGLISH
How did you get into teaching?
I became a tutor here in 2006 and sent in my resume to become an adjunct in the English department a year later. That fall, I taught my first class: English 91. It was a rigorous, remedial course. I remember using materials from when I was a KCC student (class of '92), such as essays from The Immigrant Experience. And the primary text I used was The Color of Water. But if you asked anyone, they would tell you that I was always teaching. I tutored high school and college students when I was in junior high. And in my previous career as an executive secretary in nursing administration in a hospital, I was the liaison for every department. It meant learning about the policies and procedures of the entire hospital and how to interact with staff. It was a good training ground for teaching.
What career did you imagine for yourself when you were in college?
I wanted to be a librarian. Research is my favorite aspect of writing and teaching. I can still spend hours in a library.
What do you love about teaching?
The past two years of straight-up remote learning, I missed what I love the most about teaching: engaging in person with students. Although, through Blackboard's Zoom-like function, there have been moments where a student has brought energy to the online class, I've found that, in a classroom, one person can spark a conversation that leads in an unexpected direction.
What's your favorite teaching experience?
I've had several great teaching experiences throughout the 15 years I've taught in the English department. Students will surprise you with what they get out of the books I've assigned or the films we watch. A few years ago, I taught an English 93 course and one of the materials I used was the film Doctor Strange to aid in our course theme of identity. Doctor Stephen Strange is a top surgeon who gets into a car accident and loses the use of his hands. After spending everything he owns, he ends up in a place where he has to become a student again, this time in the mystic arts. He's initially terrible at certain parts, like opening portals, and excels at others, like time manipulation. One day, I was running to class and my student Amadou made the hand movement of opening a portal. I slowed down and we both laughed. Some of the lessons we learn may not appear tangible, but Amadou was able to interpret ideas in a film and translate it into everyday life. It made him a better writer. It will always stand out for me because there needs to be a space for us to learn at our own pace, even if it's in the confines of a 12-week semester.
In what ways do you bring your professional experience into the classroom?
Professional experience is a tricky thing. How do I navigate a space where I don't trigger my own traumas of when I was a student or fall into the trap of generalizing? I have a stutter and, growing up, I was quiet in the classroom. My mind would be racing but I couldn't get the words out. I learned how to control my stutter over the years by recording myself. I also sing. I'm not Whitney Houston, but singing helps with breath control and using your entire body to speak, not just your throat. Because students are individuals with their own experiences, I share that with them. I don't force anyone to speak in class. Instead, I use the discussion board on Blackboard, quizzes, and homework assignments so that students can have a voice, no matter how they choose to communicate.
What advice do you have for current students?
My advice to students is that time is not your friend or your enemy. While you cannot control it completely, you can make a plan from the syllabi you have for the semester. Read your syllabi: The answers to how to map out your semester and manage your time are there for you. More importantly, have open communication with your professors. We want to see you succeed. If you begin to feel overwhelmed, reach out. At the very least, we can point you in the direction to get help.