KCC Hosts Peace Vigil to Support Its Campus Community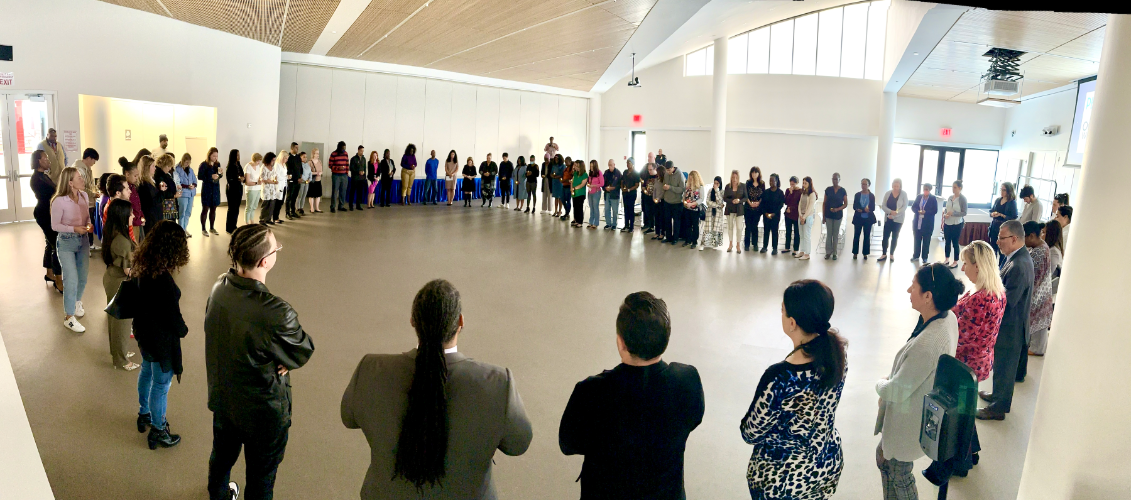 Standing Together for Peace: KCC Hosts Peace Vigil to Support Its Campus Community
At this morning's peace vigil, sponsored by KCC's Student Union and Intercultural Center (SU&IC) in conjunction with the Office of Student Life, faculty, staff and students held tea light candles in the dimly lit room as they gathered in the name of peace to support and honor their fellow community members both here and abroad. SU&IC Director Helen-Margaret Nasser gave the main address, emphasizing that we all are seen, loved, and belong here at KCC.
The Student Union and Intercultural Center is committed to fostering awareness, education and respect for all races, gender identities, sexualities, religions, cultures and class statuses. The Center works to create safe spaces and training opportunities, such as FaithZone hosted Oct. 13, as well as events that bring peace, acceptance, understanding and love to our community.
Nasser's remarks highlighted Catholic and Islamic prayers for peace and unity. A rendition of Hine Ma Tov, a Jewish hymn calling for unity, began as the words "together all the world breathes as one; unite in peace and love" played through the speakers.
"It was a very emotional gathering but I am uplifted by the fact that we created a space for empathy and compassion and convey the strength of our community," said Nasser.
President Schrader also shared words of comfort, reinforcing that, while those in attendance stood as individuals with their own beliefs and faiths, we all share pain and the call for peace.
Following the spoken portion of the event, all were invited to join for a moment of silence. Attendees formed a large circle to symbolize our connectedness, sense of community, and strength of togetherness while holding their tea lights in solidarity. The event concluded with members of the KCC community offering their support and love to one another, meeting every tear shed with an embrace and words of encouragement.
The purpose of KCC's Interfaith Meet, Greet and Eat was to help bring the campus faith communities together to form a connection and good relationships.
Kingsborough Community College is advancing its commitment to diversity and science education with the launch of the "Here 2 Observe" — or H2O — cohort program.
As Climate Week in New York City wraps up, New York Economic Development Corporation (NYCEDC) and New York City are continuing to advance New York's offshore wind (OSW) industry