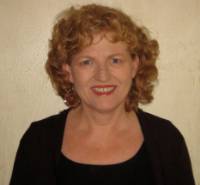 Laura Kates
Professor
Behavioral Sciences
(718) 368-5122
V-115F, Academic Village
Biography
Laura Kates, Ed.D., is an associate professor and the deputy director of the Education Program.
She joined the faculty of Kingsborough in the fall of 2006. Prior to that, she was a New York City
teacher and, for fifteen years, a curriculum consultant and staff developer in the New York City schools.
In her role as a professor, Laura continues to be committed to the continuous improvement of pedagogy and
practice and is involved with many of Kingsborough's Teaching and Learning initiatives including KCTL and
Opening Doors and Advanced Learning Communities. She is a WAC certified instructor, a member of the Brooklyn
Public Scholars Faculty Seminar and a frequent presenter at the KCC Faculty Forum. She is also the co-chair
of the Middle States Committees on Institutional Assessment and Assessment of Student Learning.
Laura has participated in many CUNY-wide activities including attending the Faculty Fellowship Publication Program
and the Professional Development Institute's Articulation Workgroup and presenting at the CUNY
General Education Conference, the CUNY Education Conference, the CUNY Undergraduate Education Conference,
and the CUNY Early Childhood Education Faculty Research Symposium.
Laura conducts qualitative research related
to how to best prepare teacher education students for the rewards and challenges of twenty first century
classrooms and schools.
Courses
EDC 02000 Foundations of Education.
EDC 090A4 Seminar and Practicum in Teacher Development
HUM 00200 Early Literacy and Children's Literature
HUM 08181 Development of Literacy in Children
Education
Ed.D. in Curriculum and Teaching, Teachers College Columbia University, 2005
Master of Science in Education, Bank Street College of Education, 1990
Bachelor of Arts in Philosophy, New York University, 1983
College Teaching
Teachers College, Columbia University (Fall 2003 – Spring 2005)
Bank Street College of Education (Fall, 1991- Spring, 2000)
Selected Publications and/or Other Resources
Kates, L.R. (2013, in press). Aspiring teachers becoming strategic readers: Instructional scaffolds and social supports. The New Educator.
Kates, L.R. (2011). Toward meaningful assessment: Lessons from five first grade classrooms. Bank Street Occasional Papers, #26. http://bankstreet.edu/occasional-papers/issues/op-26/
Kates, L.R. (2011). Building a bridge from the experiential to the textual: Preparing critical readers for a complex teaching terrain. In Cohan, A. & Honigsfeld, A., (Eds.), Breaking the mold of pre-service and in-service teacher education: Innovative and successful practices for the 21st century. Lanham, Maryland: Rowman and Littlefield.
Kates, L.R. (2010). Student perspectives on transfer and articulation: Implications for teacher education pedagogy and practice. The New Educator, 6(1), 30-55.
Events and/or Key Dates
May, 2013, Presentation at the Ninth Annual CUNY CUE Conference: "Scaffolding Strategic Reading in the Undergraduate Classroom: Engaging and Effective Practices"

March 2013, Presentation at The Annual Conference of the National Association of Community College Teacher Education Programs: "Aspiring Teachers Becoming Strategic Readers: Instructional Scaffolds and Social Supports"
April 2012, Session Chair: "Transitions and Transactions: Literature Pedagogy In Community Colleges" Conference, Borough Of Manhattan Community College, CUNY
May 2011, Paper presented at Kingsborough Community College Faculty Forum: "Fostering the Development of Critical Reading Strategies: Utilizing a Simplified Seminaring Approach"
May 2011, Paper presented at The CUNY Education Conference:"Fostering the Development of Urban Teacher Education Students' Critical Reading Strategies: A Social Constructivist Approach"
May 2010, Paper presented at The Sixth Annual CUNY General Education Conference: "Constructivist Techniques, the Writing Process and the CPE"
April 2009, Paper presented at the Annual Meeting of the American Educational Research Association: "Student Perspectives on Transfer and Articulation: Implications for Teacher Education Pedagogy and Practice"
April 2009, Paper presented at the First Annual CUNY Education Conference: "Teacher Education Students Talk About their Transfer: Implications for Research and Practice"
October 2008, Paper presented at the CUNY Early Childhood Education Faculty Reception and Research Symposium: "Student Perspectives on Transfer and Articulation: Implications for Teacher Education Pedagogy and Practice"
March 2008, Paper presented at the National Association of Community College Teacher Education Programs (NACCTEP) National Conference:"Transfer and Articulation in the Urban University System: Integrating Student Perceptions and Perspectives Into the Knowledge Base"
June 2007, Paper presented at National Association for the Education of Young Children (NAEYC) 16th National Institute for Early Childhood Professional Development:"Making Mandates Mean: Critical and Constructivist Approaches to Professional Development"
April 2006, Paper presented at the Annual Meeting of the American Educational Research Association (AERA): "Making Mandates Mean: Streams of Influence in Six Teachers' Sense-making about a Literacy Performance Assessment"
Research Interests
Teacher education pedagogy, policy and program design
Students' perspectives on their learning experiences
Integration of critical literacy into undergraduate teacher education
Awards Recognition, Distinctions and Grants
GRANTS
Graduate NYC! Curriculum and Alignment Project, 2013-2014
"A Standards-Based Approach to Cross Institutional Analysis of Student Work"
President's Faculty Innovation Award, 2010-2011
"Fostering the Development of Critical Reading Strategies: Utilizing a Simplified Seminaring Approach"
CUNY Faculty Development Grant, 2007
"Identification and Remediation of Challenges in the Transfer from Community to Senior College for Early Childhood Education Students: A Study of the Transition in the Jointly Registered Program between Kingsborough Community College and Brooklyn College"
Coordinated Undergraduate Education Initiative (C.U.E.), 2007
"Kingsborough-Brooklyn College Transfer Project for Early Childhood Education Students"
AWARDS
2008-2013 Kingsborough Community College Faculty Achievement Award
Institutional Affiliations / Professional Societies
MANUSCRIPT REVIEWER FOR
Contemporary Issues in Early Childhood Education
Journal of Early Childhood Teacher Education
The New Educator
PROPOSAL REVIEWER FOR
American Educational Research Association, Division K
National Association of Early Childhood Teacher Educators
PROFESSIONAL MEMBERSHIPS
American Association of Colleges of Teacher Education
American Educational Research Association
National Association of Community College Teacher Education Programs
National Association for the Education of Young Children
National Association of Early Childhood Teacher Educators
Personal Interests
Cooking
Eating
Reading
Movie Going
Museum Going
Yoga and Meditation