Playing to Win: KCC Recreation Therapy Alum Spends a Lifetime in a Beloved Career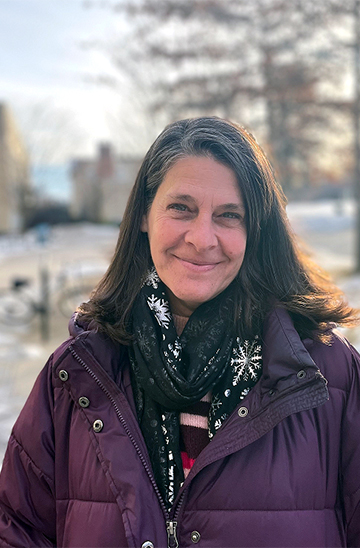 Noelle Molloy, MSEd, CTRS ('86) knew she wanted a career in therapeutic recreation since high school. "I volunteered at a nursing home and was placed in the activities department," she shared. "Once I learned about the field, I never looked back."
Sometimes dismissed as "playing" for a living, recreational therapists are crucial to the rehabilitation process. They use recreation and other activity-based interventions to address the assessed needs of clients with illnesses and/or disabling conditions to meet and often improve the client's physical, cognitive, emotional, social, and leisure needs. They meet their clients where they are, focusing on the specific strengths and interests of their clients and incorporating them into the therapy, with the goal of achieving optimal outcomes that transfer to their real-life situations.
According to Molloy, life as a recreational therapist is never boring. There is always something new to learn daily. The Canarsie native chose to attend Kingsborough Community College because it was one of the few colleges offering the major at the time – and because it was close to home. She enjoyed the small classes and the community feel. "The students within the major became like a family," she recalled.
Participating in required fieldwork as a student helped confirm her choice for the profession. "I don't remember where I completed my fieldwork, but I do remember that recreational therapy was where I wanted to be. I knew that this field was part of my heart and soul."
While at KCC, Molloy was a member of the recreation club and has fond memories of their activities, including planning an annual carnival on campus, but two student experiences still resound all these years later. One was a weekend retreat to the Pocono Environmental Education Center with her outdoor recreation class and their professor, Dr. Richard Kamen. The class participated in a variety of outdoor recreation activities designed to prepare them to work as recreational therapists. "One activity sticks out in my mind the most," she said. "We were taken on a night hike into the woods by the center staff and then left there, with no flashlights, to make our way back to the main part of the center. We had to work as a team to get back safely. It took several hours, but we were successful."
The other was a field trip with her professor, Dr. Lester Rhoads, that changed her life. "I would have to say Dr. Rhoads was most influential on my life as a recreational therapist. He was friends with the director of Therapeutic Recreation at Blythedale Children's Hospital and took our class to the hospital on a field trip. I remember visiting the hospital and hoping that one day I would be able to work there. I later had the great honor of working there for 10 years."
Kingsborough also helped propel her to the next level. "I received several scholarships and financial aid and was able to attend NYU to earn my bachelor's degree at no cost." After completing her associate and bachelor's degrees in therapeutic recreation, she earned her certification as a CTRS (Certified Therapeutic Recreation Specialist). She worked for one year at the Astor Home for Children in Rhinebeck, NY, a residential treatment facility for children and adolescents with emotional disabilities.
From there, Molloy began what she calls her "dream job" at Blythedale Children's Hospital, working 10 years as a recreational therapist at the physical rehabilitation hospital that serves children from birth through 18 years old. She later went on to earn a master's degree in therapeutic recreation from Lehman College.
Molloy has spent the last 24 years as a Credentialing/Test Development Specialist at the National Council for Therapeutic Recreation Certification (NCTRC), the organization charged with issuing CTRS certification for recreational therapists. She is responsible for reviewing applications from individuals applying for certification as well as those seeking recertification, and for the development and maintenance of the international certification exam.
After completing 35 years as a CTRS and working in the field she loves, Molloy is still as passionate about the field as she was from the day she first started in 1988. "I am blessed that I was able to choose a profession that I love and continue to work in to this day."
"I believe that KCC is a perfect starting point for those who may not know what they want to do or where they want to go. It is a small school with a big heart. The college gives you confidence and a solid foundation to continue on to great things. The campus is beautiful and the staff and students that I met while attending KCC were incredible."
Molloy has some advice for students just starting at KCC: "Don't become complacent. Get comfortable with being uncomfortable. Be willing to go out of your comfort zone and try new things, even if they scare you. When you take a risk and succeed, you will surprise yourself and become a better person. And finally, always be kind to others but especially yourself."