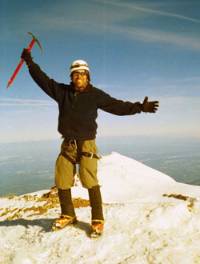 William Winter
Professor
Behavioral Sciences
(718) 368-5649
D-301, D Cluster

Born and raised in Brooklyn – privileged to teach here.

Courses
Psy 11 (Intro psych)
Psy 34 (Personality psych)

Education
B.A. Brooklyn College, Psychology, 1989
Ph.D., Experimental Psychology, Graduate School and University Center of CUNY, 1995

College Teaching
Kingsborough 1998 to Present
Brooklyn College: 1990 -1995

Selected Publications and/or Other Resources
Winter, B. & Reber, A.S. (1994). Implicit learning and natural language acquisition. N. Ellis (Ed.). Implicit and explicit learning of languages. London. Academic Press.
Winter, W.E., Broman, M., Rose, A.L., Reber, A.S. (2001). The assessment of cognitive procedural learning in amnesia. Brain and Cognition., 45. 79-96.
Winter, W.E. (2001). The uses of a skill-based activity in therapeutic induction. American Journal of Clinical Hypnosis. 44:2, 119-126.
Winter, W.E. (2002). Acquisition of expertise on a difficult perceptual motor task by an amnesic patient. Perceptual and Motor Skills, 94, 59-67.
Winter, W.E. (2004). The performance of ESL students in a content-linked psychology course. Community Review. 18, 76- 82.
Winter, B. (2004). The two levels of commercialization in higher education, and why students should be students and not consumers. Ethical Human Psychology and Psychiatrics. 6 (1), 147-149.
Winter, B (2008). Towards a taxonomy of theories. Poster presented at the annual convention of the National Institute for the teaching of Psychology.
Winter, B. (2009). Gender related attitudes towards achievement in college. Community College Enterprise. 15, 1. 83-92.
Research Interests
Cognitive Neuropsychology
Learning
Memory
Positive Psychology
everything else

Institutional Affiliations / Professional Societies
Association for Psychological Science, New York Academy of Science

Personal Interests
Hiking
Mountain Climbing
Blues
World Music
Bass Guitar