The Women's Center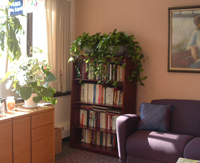 The centers hours are:
Monday - Friday
9:00A.M. - 5:00 P.M.
Room M382
Marine and Academic Center
(718) 368-4700
Staff:
Frances Robinson, LMSW
Program Manager
Joan Olivery
Administrative Assistant
The Center offers women a welcoming, supportive environment in which to explore educational, professional, and lifestyle issues. It is an ideal place to meet and network with other students who are also working towards a successful transition to college. The Center offers women and non-traditional students
What Is The Center For Women ?
The Center provides women a place to gather, socialize, network and examine the transitioning lifestyles that will allow them to develop to their fullest potential.
What activities does the Center support?
The Center co-sponsors (in association with departments, programs and clubs), lectures, workshops, seminars and peer support groups that include: sexual harassment, domestic violence, stress management, legal issues, assertiveness training and leadership skills, health & wellness, financial planning and budgeting, parenting, career counseling and mentoring. Support groups are formed in response to students' needs and schedules.
Services:
Speakers and discussion groups on relevant topics of concern to women and non-traditional students
Special programs, projects, seminars and workshops
Lending library
Open house for all students each semester
Women's support groups
Current events discussions, mid-life issues and single parenting
Individual personal and life transition counseling
Brochures and information relating to women's issues
Information about women's study courses and women's issues
PROGRAMS:
The Center offers and co-sponsors in association with departments, programs and clubs, lectures, workshops, seminars and support groups concerning the issues of women and non-traditional students.
Sexual Harassment
Domestic Violence
Stress and Time Management
Legal issues
Assertiveness and Leadership Training
Health and Wellness
Referrals for Financial Planning
Parenting
Career-related issues
WE PROVIDE A SAFE AND INTIMATE ENVIROMENT FOR MOTHERS WHO ARE NURSING AND NEED A QUIET SETTING TO "PUMP" AND/OR STORE YOUR MILK!
ROOM M382
MONDAY - THURSDAY - 9AM TO 5PM
FRIDAY - 9AM TO 4PM
718-368-4700

GOALS:
The Center for Women offers support and services to those students who are encountering life transitions. Through our on-going services we encourage retention and academic success for women and non-traditional students by providing specialized support programs and referrals to community resources for identifiable populations including re-entry, low-income and special services. We help our students identify and foster an awareness of the possibilities for academic success and positive personal development.